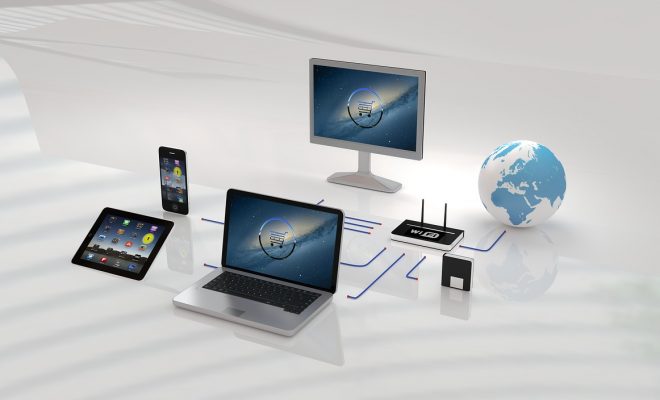 Business Tips
How Personalizing Content Can Help Your E-commerce Business Score High?
By
|
"I love receiving emails that begin with 'Dear customer.'"
Said no one, ever.
But what if knew that an email had products that you like? Chances are that you'd open that letter to see what's there for you. Let's not stop there: what if the email had discounts for some of your favorite products, just for you? Sounds awesome, right?
It is, and that's what a lot of customers expect from eCommerce businesses. Moreover, 61 percent of U.S.-based and 48 percent of UK-based consumers are willing to share their data with online companies to get personalized communications with them.
Not only personalization of online marketing communication makes sense to customers, but also makes quite an impact for advancing their relationships with eCommerce businesses. When asked if personalization has some impact on that, a whopping 98 percent of marketers said "yes." Moreover, 74 percent of them reported that the impact was either "extreme" or "strong."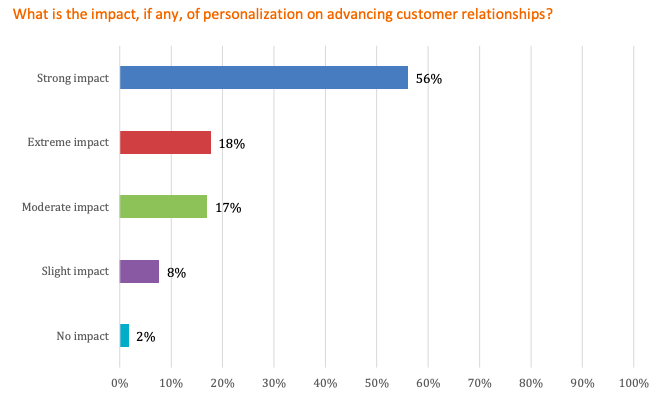 Credit: 2018 Trends in Personalization Survey, Evergage
Clearly, customers crave personalization, and you should know them better to make purchasing easier for them. There's no need to ask why personalization needs to be a part of your digital marketing strategy because the right question would be "How can I use personalization to improve my eCommerce sales?"
That's why in this article, we're going to explain how personalization of emails, mobile apps, and websites can increase the effectiveness of an eCommerce content marketing strategy.
Email Personalization
Emails are huge in eCommerce because they allow reaching customers directly. As far as personalization goes, they also play an immense role in increasing your online sales, as they bring custom offers based on the browsing history of the recipients. That's why 77 percent of digital marketers personalize emails, according to the abovementioned 2018 Trends in Personalization survey.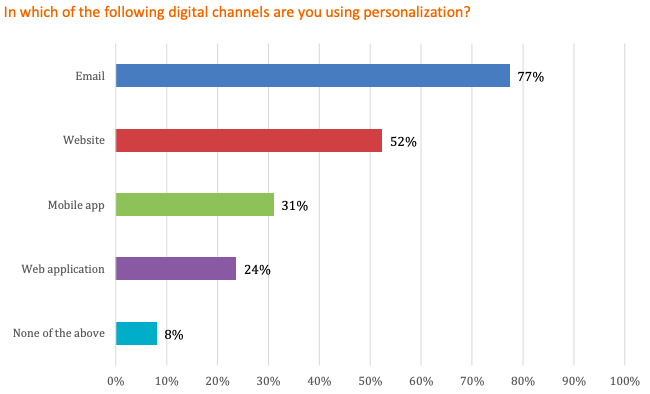 Credit: 2018 Trends in Personalization Survey, Evergage
Now let's take a look at what makes personalized eCommerce emails effective and how you can take advantage of this communication channel, too.
Each email you send to your potential customers can be personalized by:
including an offer such as a discount on a product they've viewed or product they might be interested in based on their browsing history
sharing content related to what that customer did (more similar products etc.)
their behavior on your site; businesses often send behaviorally-triggered email campaigns including cart abandonment emails, website browse abandonment emails. For example, here's a cart abandonment email, courtesy of the British health retailer Holland & Barrett.
sharing holiday offers and birthday offers (basically these include special offers like 20 percent off the order + free shipping for a customer who uses a birthday discount code in the promotional email)
having the recipient's name in the subject line and/or in the body of the email
sending apology messages for a poor experience with a previous order. According to Accenture, 45 percent of shoppers think this is the coolest engagement tactic that can make them return.
As you can see, there are many ways in which you can personalize your email campaigns. Achieving all of these goals is easy with modern email marketing management platforms. For example, here's an example of a personalized email based on the browsing activity of the recipient. It comes from Booking.com and offers the customer deals based on the dates and the city they used to search for visit options.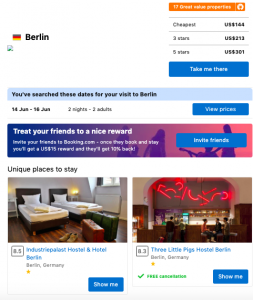 Clearly, an email like this has a higher chance of grabbing the attention of the recipient than one that has non-personalized offers.
However, keep in mind that the copy of an effective email is short, sweet, and to the point – customers don't have the time to read long texts. This means that professional copywriting is needed, but if you don't have an email copywriter or an editor in your team, you can always outsource this task to Studicus, Grammarly, Grab My Essay, and Hemingway Editor.
Mobile App Personalization
As the above image from the 2018 Trends in Personalization report showed, more than 30 percent of marketers personalize mobile apps. Indeed, there are some good reasons why personalizing the content of your app should be in your eCommerce content strategy.
First, an app is another excellent way to connect with customers, share information with them, allow to make purchases, and drive them to landing pages. Second, the fact that a person has installed your app means that they're interested in your business or the products or services that you're selling, so giving them personalized content is simply a must to keep them engaged.
Thankfully, an app allows implementing this. For example, an app that is connected to the Internet can identify the user and deliver appropriate content and functionality to them. Here are some ways to deliver this, as described by Sandy Thornton, a digital marketer from Trust My Paper.
Use push notifications, SMS, and in-app messages. For example, a push notification about a sale or another interesting offer can convince the user to open the app and check it out. However, the message should be convincing enough to maximize the engagement; for that, marketers often use tools like WebEngage for flexible templates to create these concise messages and keep app users engaged;
Consider location-based marketing if your business has brick-and-mortar locations. Advanced proximity marketing tools send app users messages when they come close to a physical store
In-app recommendations. This means providing users with product recommendations based on their buying history or the products they have in the shopping cart (see an example below)
Social media integration. By allowing to sign in via a social media profile, you can collect the data about the interests of the user (with their permission, of course).
An excellent example of an app that delivers a personalized experience to users is Amazon Shopping. As you can see in the image below, the app's starting page is personalized, as it displays product recommendations based on the user's browsing history and the products they've placed in the cart (a CTA at the top – "Proceed to Checkout" – reminds the user about those products, too).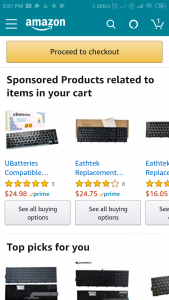 By personalizing the content, the users see and interact with your app, you can greatly improve customer engagement and awareness of the deals that you have. While in-app purchases are great, all roads still lead to your main selling machine: the website.
Website Personalization
Simply defined, personalization means delivering the right content to the right customers at the right time, which makes your website one of the most important tools for securing conversions. Tools like emails and mobile apps help to bring customers back to the site, and you need your best offers to make sure that they don't leave empty-handed.
Here's what to keep in mind when personalizing your eCommerce website.
Important! If you're selling to international customers, website localization is a must. It's a known fact that more than 72 percent of customers prefer to buy from websites in their language, so have your website properly checked and localized before going international. You can check the reviews of translation companies with tools like IsAccurate.
Another, equally important way to stay relevant to the customer is to identify their location in order to show the prices in their local currency, let them know about shipping options, and offer similar products.
A good example of this basic personalization is an online fashion retailer Rue La La. The website automatically determines the location of the user and displays the prices in the local currency (however, this can be changed in the account settings).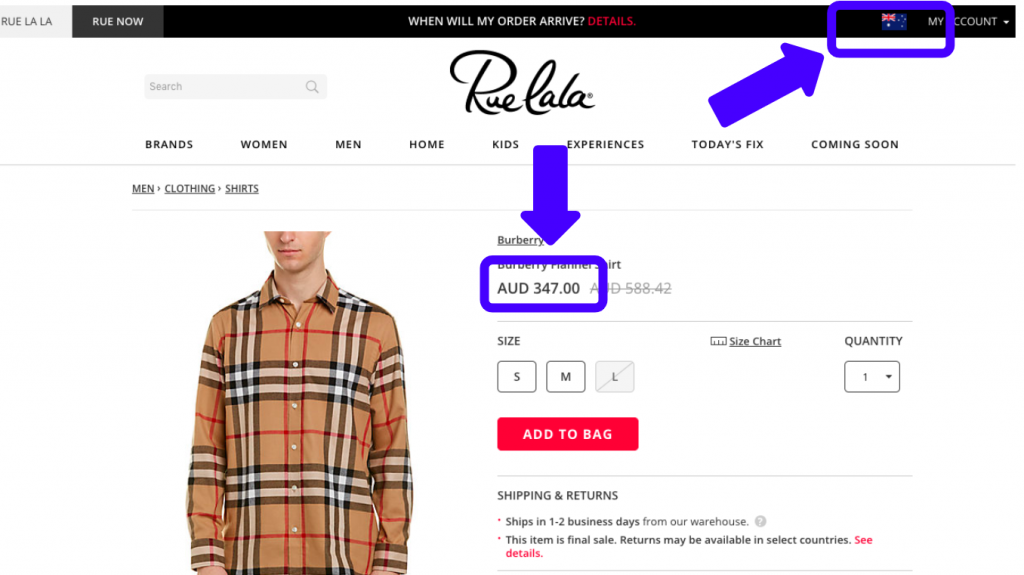 If the customer has doubts about buying a product, your website should display recommendations to keep them browsing more products and visiting more pages. This is a very popular and effective technique; for example, the recommendation engine on Amazon's website was responsible for 35 percent of the company's sales.
No wonder that an eCommerce website like Rue La La also has the recommendation engine.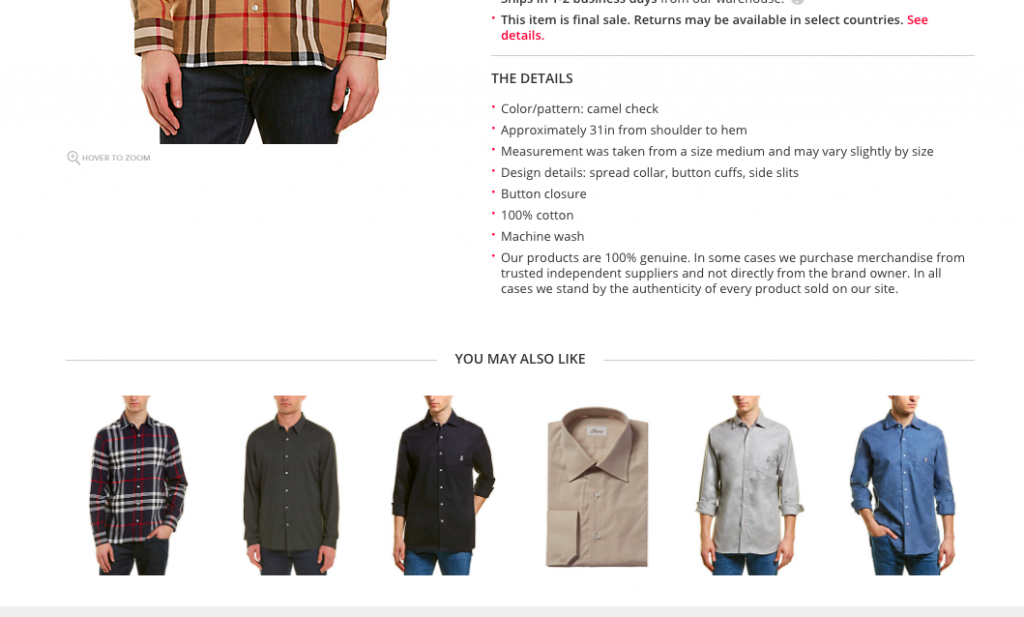 As you can see, choosing a similar product becomes very easy because of the engine; moreover, the recommended products come from the same category, so the visitor can comfortably browse some more options and hopefully find something they like.
So Why Make Things Personal?
Customers need personalized communications with eCommerce brands, and meeting this requirement can help to achieve amazing goals. For example, the abovementioned 2018 Trends in Personalization survey identified the following most important benefits of using personalization.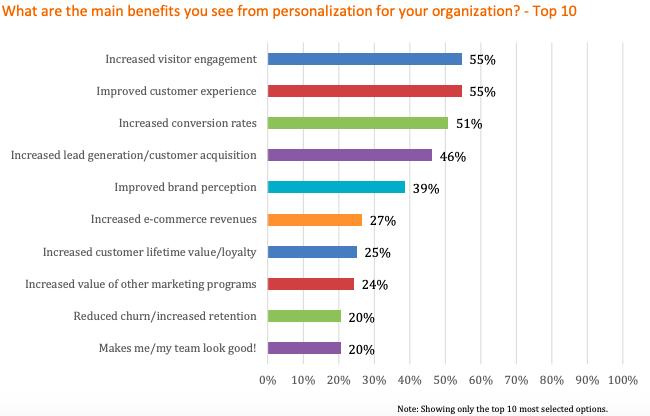 Looks like something worth pursuing, agree?
If you do, I hope that this guide was helpful to you to start personalizing your content and improving the experience of your customers as well as your online sales figures.