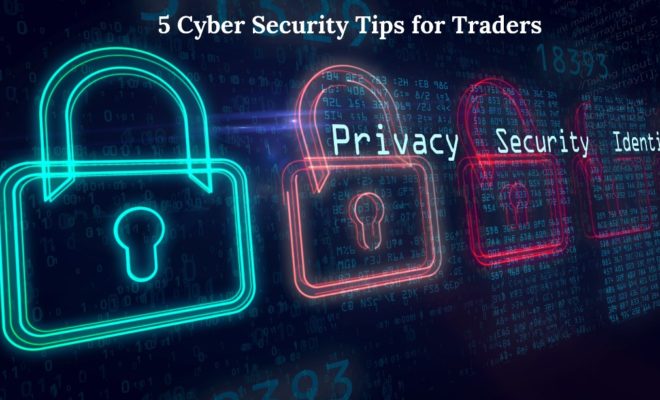 Trading strategies
5 Cyber Security Tips for Traders
By
|
If you're new to online trading there are already plenty of new things you need to learn more about. Getting into trading, although not too difficult, still requires a careful approach. Finding the right broker and figuring out your taxes are just the tip of the iceberg. With so many things to keep in mind, it's quite easy to forget about arguably the most important one and that's security.
Cybersecurity is a very serious topic in this day and age. No matter if you're just a casual internet user or you're using the internet for business purposes, you need to ensure your cybersecurity is on point. Considering the amount of personal information people leave online each day, cybersecurity becomes even more important. So, let's discuss 5 cybersecurity tips every online trader needs to hear.
Get familiar with potential threats
In order to be able to protect yourself from threats lurking online, you first need to know what those threats are. The potential online threats you'' be exposed to, as an online trader, are numerous. That's why, ideally, you should do somewhat of extensive research and find out more about how you can protect yourself. Do know that even if you're not the main target of an attack, you can still potentially be affected by it. So, make sure you also learn more about dealing with that type of situation. By raising your own awareness, you'll ensure that you're at least better prepared for anything that may come your way.

Choose the right security system
The next thing you should do is choose a good security system. Aside from your trusted anti-virus program, you should also look into different anti-malware, anti-spyware, and similar software solutions. Simply put, you want to ensure that nobody can access your personal information, and even if they do, that they can't do anything about it. Security breaches that are not discovered on time can have serious consequences. But all of those consequences can easily be avoided with just a bit of research. Word of mouth recommendations are a good place to start, but you should also do your own independent research online.
Learn how to avoid being targeted
Learning more about possible threats and ensuring you've got the right security in place is mandatory. However, you should also learn more about how to avoid becoming a target. Do keep in mind that cybercriminals don't solely attack individuals. Sometimes they can even attack the whole stock market. If that happens, there's really not much you can do to protect yourself from it except to hope that the market is well-secured. As far as personal safety is concerned, there's a useful guide for trading beginners you should definitely check out. Additionally, make sure you keep your eyes open for scummy behavior and steer clear of trades that seem too good to be true. Spoiler alert, they usually are.

You can never be too safe
As we already mentioned, one can ever be too safe when online security is concerned. This is particularly true for new online traders. With the amount of information you'll be leaving online you need to make sure that it's safe. Aside from all the security measures we've previously discussed, you can also add multi-layer security. This way, even if someone manages to hack your security system, they won't be able to access your information. At least not unless you give them the authorization. Two-step authentication via SMS is still quite popular. Of course, this is not the only option you'll have but it's arguably one of the better ones. And the best part about this type of multi-layer authentication is that it's completely free.

Have a contingency plan
In the end, no matter how safe you are online, there's a chance that an attack will still happen. That's just something that's out of your reach. However, while there's not much else you can do to stop the attack, there are ways you can lessen the damage. That's why you should always have a contingency plan. Know-how and what you'll do in case of a security breach. Here, it may also be wise to consider how and where you'll store your assets. If all of your apples are in a single basket, the proverbial hacker could potentially score a real feast.
No matter the type of online activity you're taking part in, safety should always be your number one concern. This is particularly true for online traders. As online trading is gaining in popularity, cybercriminals are starting to pay more attention. That's why you should do all in your power to ensure you stay safe. This way you will not only protect your personal information but all of your valuable assets as well.