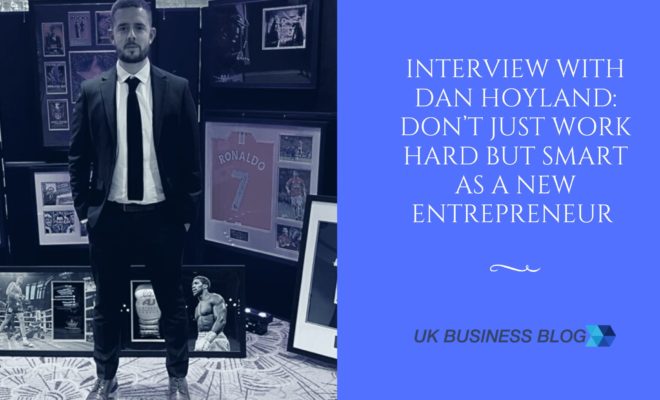 Business Tips
Entrepreneur Interview with Dan Hoyland: Don't just work hard but work smart as a new entrepreneur
By
|
In 2020 alone, there were almost 726,000 new businesses created in the UK. Sadly, around 1 in 5 of these fail within their first year.
Entrepreneur Dan Hoyland started buying and selling sports memorabilia from his bedroom. Fast forward 8 years, his company "The Fan Cave" now has a Meadowhall store and turns over 7 figures every year, organising signings and selling items from the likes of Jack Grealish, Phil Foden, and Ronnie O'Sullivanhow.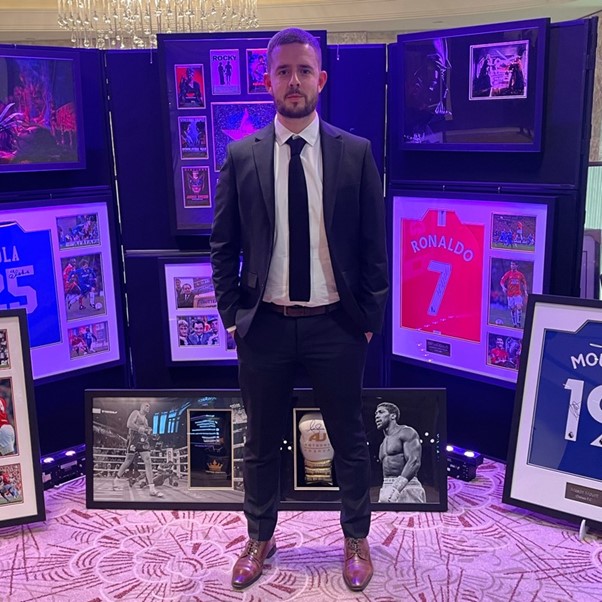 In this entrepreneur interview with the UK Business Blog he shares his personal experiences and insights to help new entrepreneurs with starting a business from the ground up.
1. Can you please tell us a bit about your background and how the business idea for The Fan Cave came about?
For as long as I can remember, I've been surrounded by football culture. This extends far beyond the stadiums, and fan culture is a massive part of Sheffield life. Events in the style of 'An evening with…' became popular, but I quickly figured that it was a saturated market. Something I saw a gap for though, was merchandise.
It started in my spare room in 2016, buying stock like signed shirts and selling them through marketplace, Facebook groups, things like that. Soon I had hundreds of shirts and other pieces of merchandise moving through the business, and I set up the Meadowhall store in 2018. The Fan Cave is now a team of 20, and hosts regular signings with big names in football, snooker, boxing, and we've even branched into TV and movies.
2. What was the biggest challenge of setting up and growing this business?
When it comes to memorabilia, authenticity is everything. If people are parting with their money for a really special piece, they need to know it's genuine. While we know everything, we source is 100% authentic, it takes time to build your reputation and show customers that you're a trustworthy supplier. When I started out, there were a lot of ingenuine suppliers in the market, so of course people can be sceptical.
Even once we developed a solid local reputation, it's the same story when trying to expand and grow nationally. You need to gain the trust of that wider audience from scratch. Of course, by then you do have the foundations in place, which does ease that pain a little. Every time we host a signing, we make sure to get photos or videos of the player with The Fan Cave sign, to show our buyers that what they're buying is the real deal.
3. Did you need funding to start this business? How did you finance it?
To start with I worked on a sale or return basis, which made the business viable in those early days. Once there was investment, we merged with Redtooth Memorabilia, and started bringing processes like framing in-house, which made operations more cost-effective, and allowed us to grow.
4. How did you market this business? You have nearly 10k FB followers and 3k Twitter followers – is social media marketing important for your business?
When we were working locally only, social media marketing was everything. It's still important of course, but back then it was our main method of reaching our target audience. Social media is a landscape which is constantly changing, so we're working hard to stay ahead of the game in that respect and continue reaching our buyers through those channels.
5. When you set up The Fan Cave did you have a business website made? How important is an online presence in your opinion?
We didn't have a website for about a year and a half, largely due to time and staffing restraints. On reflection, when the site was up and running and I saw how beneficial this was, it's something we should have sorted out sooner. Especially throughout Covid, when no-one was able to visit the store, it enabled us to continue reaching not only our national audience but our local one too.
6. Your business organises signings with famous sports people. How do you secure signings with in-demand sports people?
We have a fantastic member of staff who's well submersed in the industry, with great contacts and works with players on a daily basis, as well as working closely with agents to set up signings.
7. How do you guarantee that the signings are authentic?
We make sure to take pictures or videos with the players holding our Fan Cave sign – it's simple but it works. Of course, we have all the necessary paperwork like the COAs to go alongside that, but it's the clearest way to show our customer at a glance: yes, we've actually met with this player, and yes, the signatures are legit.
From the initial signing to the framing and distribution, we do absolutely everything within The Fan Cave and can guarantee not only authenticity but quality. As soon as you outsource, you give away part of that ownership and control over the quality of your product, so we prefer to keep it all in-house.
8. How do you source the memorabilia used to remain profitable as a business?
Aside from very specific pieces of memorabilia, who we used trusted suppliers to source, we arrange the signings ourselves, which means there is just one main cost – we don't pay every business along a longer supply chain. We also make sure that during our slots, we get as many items signed as possible – that's essential for a signing to be financially viable.
9. Why do you run a store in Sheffield and an online store?
The reason we have a store is so customers can see clear accountability. When businesses only exist online, it's much easier for them to run and hide, so they're more difficult to trust. Trust is non-negotiable for this business to work, so it's great to be able to say to customers: "If you're not happy, here we are. Come and speak to us. Come and see us in person." But why Sheffield? Because that's our home. It's where we began. Meadowhall is also so supportive of small businesses, particularly through the difficulties of lockdown.
The online aspect obviously allows us to serve customers much further afield. It wouldn't be possible to go through the kind of growth we have without offering products to fans all over the country, so that's why we have the website.
10. What is the ultimate lesson you have learned as an entrepreneur that you'd like to share with other new entrepreneurs?
It's all well and good working hard, but you need to work smart. If you work hard but don't take the time to carefully consider business decisions, all you're doing is running yourself into the ground. Surround yourself with people who have similar goals, and you'll move forward much more quickly.
Thank you Dan for this insightful entrepreneurial Q&A!
For more information about The Fan Cave, please visit https://www.thefancavememorabilia.co.uk/or check out their socials:
https://www.facebook.com/TheFanCaveMemorabilia/
https://twitter.com/thefancavemem?lang=en
https://www.instagram.com/fancavememorabilia/?hl=en