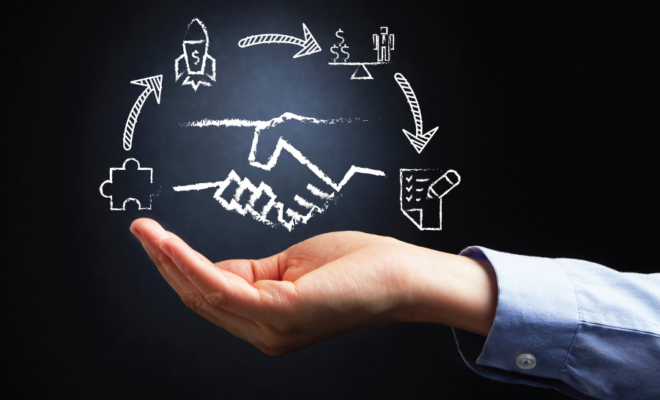 Entrepreneurship
How can Direct Sales Companies in the UK enter the Direct Selling Market in Germany?
By
|
With an annual revenue of $18B USD and more than 900,000 direct sellers, Germany is the largest direct selling market in Western Europe with an upward growth trajectory spanning over a decade.
Geologically based in the heart of Europe with more than 80 million residents, Germany is treasured for its strong and dynamic economy, innovation, and stable political environment.
Because it's a growth market with enormous potential, it's at the top of the list for many British direct sales companies in the UK who intend to expand their European presence.
If you are a direct sales company looking to expand into the German direct sales market, then you may want to know what to consider for this undertaking.
The German DSA (Bundesverband Direktvertrieb Deutschland – BDD) recently published a guide for companies who are considering entering the German direct selling market.
The English guide, "How to succeed in Direct Selling and Social Selling – a guide for starting a business in Germany" is now available either at Amazon (print or eBook) or directly at the German DSA website ([email protected]).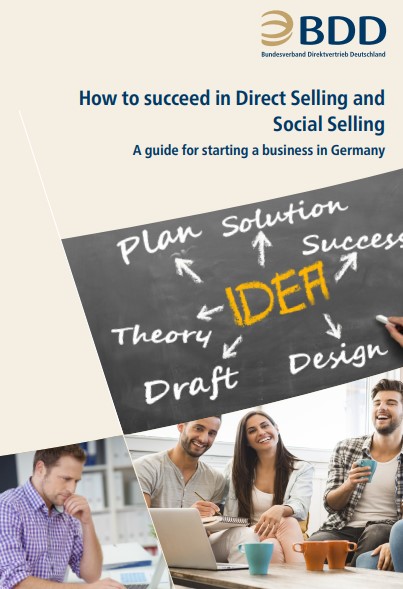 Top practical & legal tips for direct selling in Germany from the BDD
As the BDD frequently advises companies who are interested in entering the German direct selling sector, and organizes an annual Founder Seminar, they have written outlines for start-up and expansion inquiries for global companies.
The guide helps with identifying the correct legal form for collaboration with sales partners such as self-employed commercial agents and resellers while explaining the advantages and disadvantages of the two legal forms.
Tip 1: Things to consider for direct sales via the Internet
In Germany, direct sales companies together with commercial agents can offer uniform consumer pricing and restrain direct sellers from selling the products on internet platforms such as Amazon or eBay.
Direct sellers working as commercial agents can be required to make use of replicated websites designed by the direct sales company – a fact that might be interesting for companies seeking to present a controlled brand image and avoid unprofessionally designed eCommerce shops setup by direct sellers.
In addition, direct selling companies receive the consumer's coordinates and hence, may contact them for repeat purchases even after the commercial agent has left the organization.
In contrast direct sellers working as resellers often engage in price low-balling on the internet, which direct selling companies cannot prevent. For legal reasons direct sales companies also cannot stop resellers from establishing and maintaining amateur eCommerce shops.
Additionally, direct selling companies working together with resellers do not receive any consumer data and therefore lose the consumer contact as soon as the direct seller resigns. It is important to know, that if a contract between the consumer and a direct selling company is concluded via a replicated website, the direct seller serves in the legal form of a commercial agent.
Tip 2: Things to consider with regards to the EU competition law & other legalities
The decision about working together with commercial agents or resellers also impacts the compensation plan. One important aspect for companies working with direct sellers in the legal form of commercial sellers is, that EU competition law does not allow any mandatory "investments" of the commercial agent in areas that are necessary to perform the work as a direct seller. Hence, in the entire European Union sign-up or renewal fees, mandatory costs for enrolment kits, training materials, or replicated websites are a violation of EU competition law.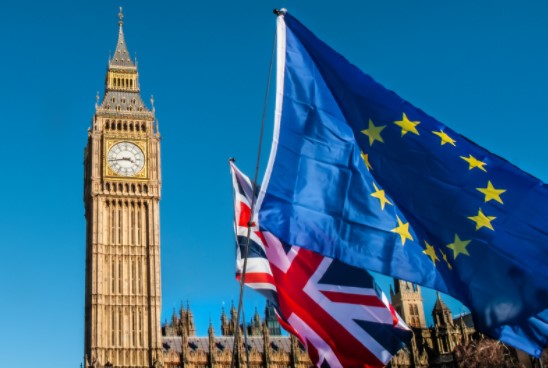 Therefore, the guide recommends making the purchase of enrolment kits and other services optional. This practice has shown no effect on the turnover for companies where starter kits and other optional services are made attractive for the direct seller. Thus, possible small changes in the compensation plan, which might be necessary to comply with EU law, have no measurable influence on the business.
Following the guidelines in the publication can also help distinguish your company from so called bogus self-employment practices, which could have severe legal consequences and may even be a criminal offence in Germany.
Dictating to a direct seller as to when and where to appear or how to perform may turn a self-employed direct seller into an employee. Also, technical solutions which monitor the whereabouts of the direct seller or an electronic calendar where the company enters dates for a sales presentation could classify as an employment relationship in Germany.
Tip 3: Things to consider for business registration, taxing & set up
The guide describes start-up formalities such as business registration, tax office notification or immigration regulations. In this context the content will also explain the requirements of a direct selling contract and the legal organization of a new business site in Germany (subsidiary, branch of a foreign-based headquarters) which is not to underestimate as different taxes apply in every city in Germany.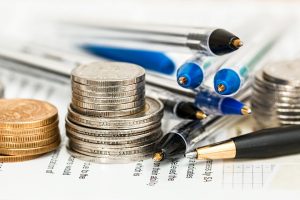 Taking a close look at the unique taxations up front can save money on taxes after launch. British direct sales companies often choose locations with international airports, such as Frankfurt am Main or Munich as site of their subsidiary. Frankfurt am Main in particular is a preferred spot as it is ideally positioned in the middle of both Germany and Europe.
Another plus is that the capitals of neighbouring countries such as Paris, Amsterdam, Brussels, Luxemburg or Zurich can be reached by plane less than an hour or in three to four hours' time spent in comfortable and affordable high-speed trains called ICE.
In closing, legal requirements can often be challenging to understand in Germany, especially for foreign direct sales companies. The BDD's guide is designed to be read by the lay person and refrains from using legal jargon, containing several practical tips in most chapters, which readers should benefit from for a comprehensive and enjoyable exploration.
Ready to enter the German Direct Sales Market? The BDD is here to help
For any company registered under the DSA in the UK, the German DSA (Bundesverband Direktvertrieb Deutschland – BDD) is a helpful partner for the expansion into the German market. It was founded in 1967 and is based in Germany's capital Berlin. The association promotes the interests of its 50+ members, their sales partners and therefore the entire direct selling industry in Germany.
Member companies benefit from legal expertise and advice, political representation of interests as well as from a strong network that guarantees a continuous exchange of information and experience.  With three lawyers and three other staff members specialised in direct selling and PR, the BDD-team is the top address for companies who want to enter the German direct sales market.
Further information also in English can be found under: www.direktvertrieb.de
Interview with the BDD's General Manager about the Direct Selling Guide
Mr. Clausnitzer, you are the BDD's General Manager since over ten years now and together with your team wrote the Founder Guide. Which changes could you observe in the last decade within the German Direct Selling Industry?
Multi-channel distribution, especially personalized eCommerce-Shops linked to the direct selling channel, have become the new normal. The widely used social media have made it easier to attract new customers and direct sellers to the channel. Direct selling gets more and more digitalized, and part of the social selling has become a sort of interactive "eCommerce deluxe" with personal presentations of the product.
Direct Selling in Germany is growing constantly, how do you explain this success?
Direct Selling has grown by more than 60 percent in the past decade in Germany. In 2020 the BDD member companies have heavily invested in the digitalization of their sales channel and social media marketing and managed to increase their turnover by more than 14 percent.  Especially in pandemic times online parties have become increasingly popular. It is vital for any direct selling company to constantly adapt to the customer's needs and technological developments.
You organize a founder seminar every year. Can you observe that this form of selling is getting more popular?
Yes, besides all the technological changes people remain social beings: Customers find retail business or internet shopping increasingly impersonal and therefore cherish the personal presentation of products in the direct selling channel.
Why did you decide to publish the guide now?
With the UK having left the European Union more and more internationally expanding companies contemplate where to situate their EU headquarters. Germany being the largest direct selling market in the centre of Europe is the obvious option with the highest potential for high growth rates. Hence, in the past years we experienced an increasing number of requests especially from US companies. To translate our guide into English therefore was the logical step to better serve companies from abroad.
How does the BDD support new Direct Selling companies?
Besides our guide our legal team offers legal and strategic advice for any US company that is interested to enter the German market. In the process of becoming a member all the contracts, the compensation plan and marketing materials are being checked by our legal team, a competition law professor, and the managing director of the German Centre for Protection against Unfair Competition. We also can rely on a strong network of more than 40 recommended business partners being experts in the field of law, consultancy, and IT.
Jochen Clausnitzer
Jochen Clausnitzer has been the General Manager of the German Direct Selling Association (BDD) since 2011. Before the attorney was representing the legal department in the Brussels office of the Association of German Chambers of Industry and Commerce. He studied law in Berlin and Constance, Germany.