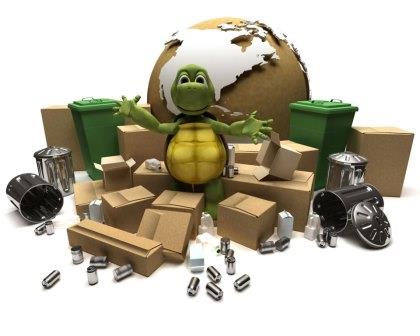 Business News
How To Start A Rubbish Removal Business In UK
By
|
Rubbish removal business in the UK is a thriving industry, with millions of pounds exchanging hands each year.
Where there are humans there's always rubbish generated; whether at homes, offices, in entertainment spots, public parks, and construction sites, and so on so forth.
Are you actively considering starting your own rubbish removal company here in London, or in any other major city around the UK? Congratulations, you're best advised to proceed and proceed fast! Remember there are many other like-minded people looking to start similar businesses, and the earlier you get started, the better for you. The good thing about starting an own rubbish removal company is that you'll need minimum investments. You can even offer rubbish removal services alone before your business expands enough to allow you to hire other employees.
But first things first! You'll need two things in order for you to get your rubbish removal company thriving;
A reputable name
Sustainable workflow.
These two are intertwined, you'll need to brand yourself properly and put yourself out there before the steady workflow starts flowing your way. In this guide, I'll list down everything you need to know about establishing your own company, branding it, and marketing yourself. In my compiling of this guide, I sought to hear from the experts, from those that have succeeded as rubbish removal companies. One such example is Quick Wasters, one of the leading rubbish removal companies in London. I was privileged to speak to its founder, Mr Ruwan Hettiarachchi and his hindsight came in handy. 
Market research
Registration and legal hurdles
Equipment and tools
Hazardous waste
Branding/Marketing
Offers
Thick skin
Market research; long before you have put in any coin towards your supposed business, it's important you to do some market research. Market research is more than just knowing who the local competitors are; it's also about knowing what the clients want! If you're a Rubbish Removal Company in Birmingham, you need to target clients and their needs in Birmingham and surrounding areas for example. Are you targeting residential homes, offices and business premises, construction sites, or what? While some rubbish removal companies multitask, it's best to specialize in one area as you begin, then hopefully expand along the way.  In the words of Mr Hettiarachi; "When we started Quick Wasters, we initially concentrated on households. But as our confidence grew and our clients recommended us to their friends, we found ourselves being invited to remove rubbish from offices and commercial premises. Everything happened so fast" Additionally, do market research on pricing and the rates, find out how much the top companies charge for their services. As such, you'll be able to know how to price your services when you start offering your services. Setting the price so high means you'll alienate many clients; setting it too low may make some clients doubt the efficiency of your services. Thus, strike a balance between those two.
Registration and legal hurdles; UK laws are very clear on the steps to follow when starting a rubbish removal company. Luckily, all these are hurdles you can manage once you engage the local authorities. Failure to register your rubbish removal company will see you slapped with a £5,000 fine! Yet registration will cost you a mere £154; to register your waste removal company, just click here.  The moment you get your company registered, even prospective clients and visitors will be able to see the company listed publicly among those certified to handle rubbish removal. It's also vital that you get insurance for your business, and get a transportation license. Transporting waste to a landfill without a transportation license may see you fined heavily, as authorities are very tough on fly tipping.
Equipment and tools; once you're done with the legal hurdles and have gotten your business successfully registered, you can now start getting the tools and equipment for the job. You'll need a shovel, rake, several garbage bins, gloves and protective clothing, computer and internet access, a mobile phone, and a lorry. Heaven knows, rubbish removal is never a suit and tie kind of job; you only put on a tie when going to the bank to withdraw cash you made earlier on. Be prepared to encounter all manner of scavengers and rodents when collecting rubbish; a rake comes in handy in case you have to scare such away. In the absence of a lorry or truck, you can do with a small van; basically, you just need the means to be able to transport the rubbish to the landfill or for recycling.  Opt for a lorry or van that has a huge load capacity, one can handle several bins of rubbish at one go; it's also important that the vehicle is fuel efficient.
Hazardous waste; there is the usual home and office waste like kitchen waste, gift wrapping, shredded papers and the likes, and then there's toxic waste. Toxic waste is also known as hazardous waste and can be harmful to you, to the environment. Think of waste like old damaged electronics known as e-waste, asbestos, solvents, pesticides, oils, and such like. Usually, it's better starting off handling the other kinds of waste, before you graduate to handling toxic waste. However, if you decide that you can handle toxic waste from the word go, make sure you mention that when registering your company. Hazardous waste should never be mixed with the regular waste and there are designated disposal sites for such. Learn more about everything you need to know about toxic waste here.
Branding; why on earth would a 'rubbish removal' company need to brand itself, who'd even notice? Well, every business needs branding, whether it sells Gold, serves dishes, or even handles waste removal! Branding is about making your business known, felt out there. Nowadays, the battle for marketing and winning clients have been digitized. So step number one, contact a reputable SEO and Digital Marketing Company like ClickDo.  SEO experts will help you come up with the right words and content so that users have an easier time finding you on the major search engines. For instance, if you're operating in Liverpool, Manchester or even London, you have to design your services in such a way that anyone in these areas finds you at the top of their searches. Besides, when visitors come to your site, they will want to see your home page, About Us, Services you offer, and so on so forth; only a reputable SEO company like ClickDo has the professional skills and know-how of local businesses in London and larger UK. After a nicely designed website, with the right content and keywords, then what next? This is where digital marketing comes in! The business site should be promoted online via social media, Facebook paid ads, blogging, link building, and so on so forth. In essence, you're trying to pull traffic towards your business site, inviting interested clients to make queries, to try your services. With such huge traffic directed towards you, converting that into actual clients becomes easier. Most beginner businesses tend to download the importance of digital marketing and assume that a business website is all that's needed; only to learn the hard way!  "Any rubbish removal business without vibrant digital marketing is always destined to fail.  Digital marketing is the new battlefront for clients and profits, for both big and small businesses", warns Quick Wasters Mr. Hettiarachchi.
Offers; now, in a field or industry where you're probably competing with tens of similar businesses, it's important that you establish something unique about your business. Some business opts for trendy and luxurious, customized rubbish removal trucks, others dress their removal crews in nicely branded uniforms, and so on so forth. But the best way to go about this would be to offer lower pricing and handsome offers every once in a while. Remember, most people would be okay sticking with the same rubbish removal service provider as long as they're getting the rubbish removed properly and on time. In order to reach out to such households, you can offer them something enticing like free garden clearance or free garage junk removal each time they hire you. Be creative, have a business nose to smell opportunities and go for them. In your first days, your concentration ought to be on building your name, rather than making profits. Thus, if you have to offer your services at a reduced price just in order to prove that you offer the best removal services, then so be it!
Thick skin; rubbish removal business is never for the faint-hearted. This is to say that you should always expect criticism, some households and clients will be rude, or complain about poor services even when you did your best. This doesn't mean that you should give up, or stop approaching more clients. I sought to find out from Mr Hettiarachchi how he coped with such challenges in his journey of starting Quick Wasters from scratch and seeing it grow into a leading, reputable brand. According to him, it takes nothing short of 6 months before all your efforts start yielding any tangible, positive results; "It wasn't easy at first, in our first 6 months we only managed to work for 10 clients and out of these, 5 never got back to us! We never really gave up nor stopped hoping for the best. Today, our client base is huge and we remove rubbish from over 100 different premises in London alone each month!"  In other words, be content starting small, laying the foundation even as you give the business time to grow and expand. The problem why most rubbish removal companies quit along the way is because they are impatient and too focused on instant profitability. Nay, that's not the way to go! Rubbish removal is unique in that you have to win the trust and confidence of those you seek to work for; yet, how do you do that if they are not willing to give you a chance to prove your worth? By being patient. And persistent. Drop your business cards to offices and household without tiring. Sustain your marketing and business promotion even when the results are not trickling in. Because it takes just one happy client to recommend your services to a friend or family friend, who'll, in turn, recommend you to another, and so on and so forth.
Conclusion;
While at it, ensure that you put in place flexible and easy payment options for your clients.
Most of the leading rubbish removal companies today enable their users to use credit cards, bank transfers, or even PayPal. The more the payment options you have, the more convenient it'll be when dealing with different clients.
When your business expands and you're able to hire more people to work with you, always ensure that you vet them carefully. Ensure that they are permitted to legally live and work in the UK, that they do not have any criminal records. Who wants to allow people of questionable character to their homes or workplaces, all in the name of rubbish removal? You want someone with high levels of integrity, someone who's polite, respectful, and trustworthy. Any valuables that go missing in the line of duty or any items damaged will be your responsibility; avoid such eventualities by carefully vetting your rubbish removal crews. Besides, you risk ruining your reputation if clients can't trust you around their premises.
Strive to network and meet real estate managers, Airbnb property owners, and so on. Networking is important in any business and in this case, you can try and offer handsome cuts to those that would help advance your business. Rather than waiting for the traditional home or office removal services, target the emerging market segment looking to rent out their Airbnb properties. Airbnb rental properties business is another multi-million Pound industry in the UK and each time a guest vacates, rubbish removal and clearance services will be needed.
Promote yourself by promising to offer fast, efficient and affordable services. That you are able to clean multiple premises in case there's a client with multiple properties that need to be cleared or rubbish urgently.