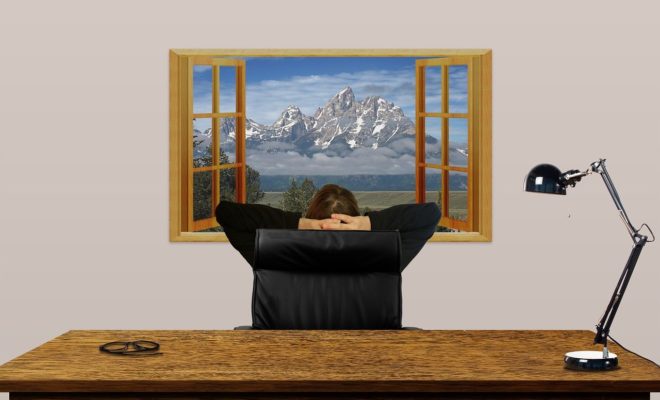 Home & Living
7 Eco-Friendly and Healthy Home Office Ideas for Remote Workers
By
|
To do your best work as a remote worker, you need to be able to focus on your work at home to be as productive as you would be in an office or workplace.
It is therefore vital to create a distraction-free and healthy workspace in your own house. But that is easier said than done.
The quality and effectiveness of your home office is dependent on the type of office furniture and home office décor you use to set it up.
Since the outbreak of the Covid-19 pandemic in early 2020 more people are working from their home office and they're now confronted with such new challenges as are employers to support them while working remotely.
In this article you will find out about some healthy and eco-friendly solutions to create a home-based workspace that will allow you to work productively while contributing to protecting this planet by making your living space greener.
Top 7 Healthy & Efficient Home Office Ideas
1.   Identify your Ideal Workspace Location
Deciding where the best space for your home office is in your home is the most impactful aspect. Ideally, the home office workspace should be within a space that can be separated from home life to allow you to focus. It should be flooded with natural light and air and fairly spacious, offering you enough flexibility for a basic office set up with equipment and storage you will need. Bear in mind that you should also allocate a space to unwind or take a break. Take the measurements of your ideal space and look for the best home office solutions that fit in it. They are coming, just keep on reading.
2.   Get the best Ergonomic Office Desk
Because musculoskeletal injury such as back pain is among the biggest reasons for employee absenteeism in the United Kingdom, according to an ONS Study, investing in an ergonomic office desk is crucial to creating a healthy work habitat. Investing in an adjustable desk that allows you to switch from sitting to standing easily, also known as a "sit-stand" desk will certainly pay off. A height-adjustable desk can reduce your sitting time while at work by over an hour per day and decrease upper back and neck pain by 54% as one study has found. Hence, an ergonomic desk will encourage you to remain active and increase productivity. Conduct meetings with the team while standing or remain seated while doing writing tasks that require critical thinking. Ensure you adjust your desk for optimal height while sitting or standing so that you are in a neutral position to keep your spine straight for the best ergonomic posture. Pick one that uses sustainable and environmentally friendly materials like bamboo for example.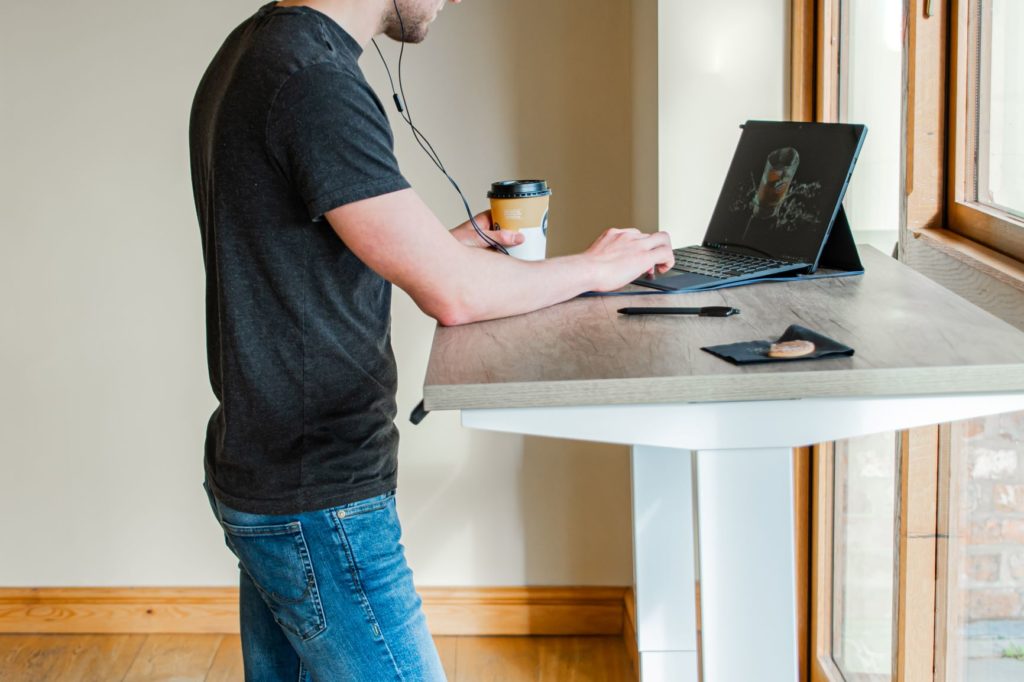 3.   Choose a Comfortable Chair
You need to be comfortable while sitting down and working to avoid common posture mistakes. An ergonomic chair will help you remain in a neutral posture and promote a healthy sitting posture by adjusting the seat with built-in headrests and lumbar support for better spine alignment. Other office ergonomic support products like office footrests, monitor arms and keyboard trays can help to support yourself with keeping your spine straight for the majority of your workday. Ensure you check that the chair is made from recycled raw materials to reduce your carbon footprint.
4.   Plan your Storage
Organise your clutter so you find it easier to focus and find the supplies that you need faster. Get a storage unit or vertical storage to have easy access to everything you may need while working without having to bend. A vertical storage method reduces the difficulty grabbing what you need by providing you with easy to reach access. You should also have all your necessities within an arm's reach near your desk and if you require support with keeping your home office tidy, you should arrange professional home office cleaning.
5.   Install suitable Lighting
Your workspace should ideally have windows allowing natural sunlight to seep in so that you can use natural lighting as much as possible during the daytime. Natural sunlight offers many health benefits like being a good source of Vitamin D, improving the quality of sleep, and increasing productivity without caffeine. Additionally, it reduces electricity bills and energy consumption. Ensure your workspace is well lit, so you don't strain your eyes. To light up the home office space in the dark, you can use full-spectrum bulbs that are energy savers and imitate daylight. Or opt for an energy-efficient LED desk light lamp lasting much longer than normal light bulbs.
6.   Use Productivity Tools
Using online productivity tools to help you stay on top of your remote work from home will give you a home advantage. Some tools offer cooperation and communication features to help work teams stay connected, share updates, documents, and track progress. Online tools reduce the use of paper and its wastage and online whiteboards for note taking are also more eco-friendly compared to paper sticky notes.
7.   Don't dismiss a Relaxation Space
Taking breaks between work to unwind is just as important as ensuring you're as productive as possible. Create a cosy space with a few indoor plants to add warmth and improved air quality to the workspace. Keep an eco-friendly non-disposable flask of water close by. If you are a tea lover, then use loose organic tea leaves, as normal tea bags are made of plastic. Purchase sustainably grown coffee beans, grind, and manually brew the coffee rather than getting coffee plastic coffee pods for a coffee machine. You can use a reusable teacup, or a coffee mug to avoid using disposable single-use cups. Used tea leaves and coffee grounds can also be reused as fertilizer for your garden.
Create a healthy Home Office while saving the Planet
Hopefully, you are now inspired to create a home office space that is healthy, eco-friendly, productive, and efficient. Your employer should support you with this undertaking and you can consult with Emotion Office, supplying you with an adjustable desk to match perfectly with your requirements. You should also be able to cut down your cost at home if you go for greener options in your home office, so try it out.