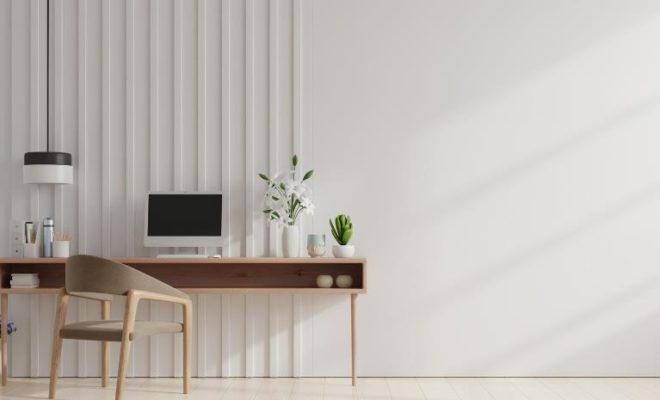 Business
How To Design A Minimalist Office Space?
By
|
Most people can understand the appeal of minimalism. However, most people's imaginings might centre around the home space, where living up to the mantra, 'less means more', can lead to a simpler lifestyle.
These ideas don't always readily translate to the workplace. Some business owners like their premises to appear busy and productive and might subsequently fear a minimalist theme. There could be a misconception that it might make places of business feel soulless.
However, minimalism has a long and storied history, and there are still varying takes on what it can deliver. If you make the right design choices, you can make minimalism work for your workplace.
So, how can this be achieved? Read on after the jump as we've prepared some tips and tricks on how to succeed.
How To Design A Minimalist Office Space?
Empty the Office
Some businesspeople work backwards when it comes to redesigning their offices. Unfortunately, it's not the best approach to creating a space honouring minimalism.
After all, minimalist spaces have very little in them. These changes can't be slowly implemented or picked away at any time. It's best to work from the ground up rather than make subtle tweaks over months. So, in most decorative cases, that will mean resetting everything back to zero.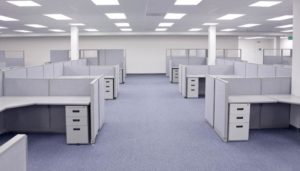 It might feel strange or even be quite tough, depending on the history you have with your business premises, but kicking things off by emptying the office is in your best interests. You'll potentially need new furniture, new walls, or even hefty refurbishments. You can also make clearer design decisions with a blank canvas before you.
Emptying the office doesn't mean you need to permanently dispose of everything. Yes, some items and furniture should be discarded, but anything of significant value to either you or your colleagues can be placed in a storage unit and dug out later. These solutions are secure, affordable, and easily accessed, so this strategy isn't inconvenient.
Think About Your Walls
Businesses usually utilise their walls for a few different things. 'Loud' wallpaper or paint designs might be displayed, or company slogans and CEO quotes can be plastered right across them.
You might want to tone down these ideas if you're going for a minimalist theme. Instead, your walls should be colour neutral, playing it safe with warm whites or soft creams. The hues shouldn't be bland and void of character but soothing. Remember, minimalism doesn't mean getting read of everything – it means being more economical with the space. Still feature colour and slogans in spots, but don't overdo them.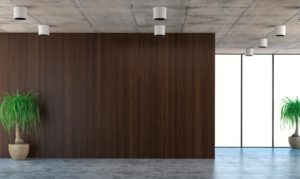 Look at this collection of light switches for a good idea of what to feature. As you can see, great clear light switches are available here, allowing more of your neutral walls to be featured. The switches themselves can be made from things like clear bronze or antique brass, but they can be utilised in a way that doesn't obnoxiously draw the eye. Every option is worthy of inclusion in a work environment, so browse the range.
So, by combining a neutral wall with a clear light switch, you will have consistent and unprovoking walls. They'll beautifully frame your further efforts in minimalism and ensure that the bones of your commercial premises uphold the theme you're striving for.
Go Digital (If You Haven't Already)
Companies are investing more heavily in digital solutions than ever before. A tech-driven future was written in the starts long before the pandemic, but those events only spurred on these inevitable changes being made.
It affects everything, too, from business administration procedures to building stronger connections with customers that are demanding better service than ever. Digitisation is barreling forward – but how does this affect your ability to create a minimalist interior design trend in your workplace?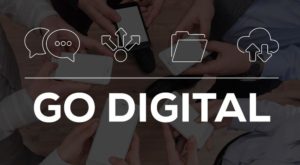 Well, workers may be able to work from home under a hybrid work scheme. Fewer daily workers mean your office needs less stuff to accommodate everybody at one time. Don't worry; the premises will still get used; just ensure a sustainable rota is in place. That way, everybody doesn't show up at once!
Another benefit is that your company can go paperless. The fewer physical files you have, the less storage you'll need. Depending on your line of work, you may not need a printer or copier, and you certainly won't need filing cabinets and shelving units for ring binders. It all frees up space!
Let in Natural Light
Natural light plays a huge role in any minimalist aesthetic. It can also make your company more eco-friendly, and improve the moods of your workers in the process, so there's a lot at stake here. Not to mention all the minimalist benefits, too – less artificial lighting creates space and reduces costs!
That said, there are some things you can add to the space that might help your effort. For example, mirrors can reflect natural light incredibly well, sending it bouncing around your work area. Note where the sun streams insight, and position and angle the mirrors accordingly. It also doesn't cost you a penny to avoid installing and using curtains, so keep your windows clear of them.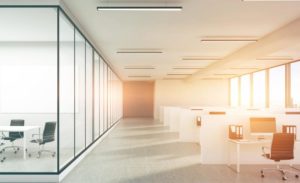 Further measures feed back into the colour palette we mentioned before; warm, light colours. This is because these hues reflect the natural light best, making it go further and harder for you and your colleagues.
If you want to go all-out with these measures on your commercial premises, you may wish to step beyond low-cost solutions. That's valid! In those instances, you could install a skylight to ensure the daylight streams into the office. Perhaps installing larger windows appeals to you as well? These changes are probably big enough to warrant a temporary relocation while work is underway, but it's all worth doing if you're serious about the sunshine.
Talk to Your Employees
Going from a hectic office to a minimalist design can be quite a stark change. If people aren't prepared, productivity may halt instead of prospering because of the transformation. Still, it won't be the fault of minimalism but rather that of improper strategies and communication.
Try to bring your colleagues in on key design decisions. At least asking for their opinions can help them anticipate changes and think about ways to adapt workflows ahead of time. The minimalist office space has to work for them, but at the same time, they have to make it do so too. Adapting well is crucial.
The workspace is for everybody. People from all walks of life must utilise it to its fullest potential. A minimalist office design may not be the preferred option for everyone, as not all homes follow the trend, after all.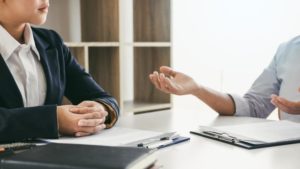 Still, no design decision can be implemented without some degree of compromise and reconciliation. Minimalist office arrangements are no exception to those principles, so ensure you negotiate the matter with your colleagues.
Expect some resistance, and be prepared to try and persuade people to come around. Enquire for their ideas, and make the case that minimalism isn't just an aesthetic consideration but a practical business enhancement too.
Conclusion
Minimalist interior designs can seem very straightforward, but putting them together isn't always the same story. Still, by following some of the guidance outlined in this article, you should hopefully be able to more fully appreciate what minimalism can do for your workplace and feel more confident implementing the designs. Empty the office, redo the walls, go digital, bring in natural light, and keep workers informed. It will all keep things moving in the right direction.