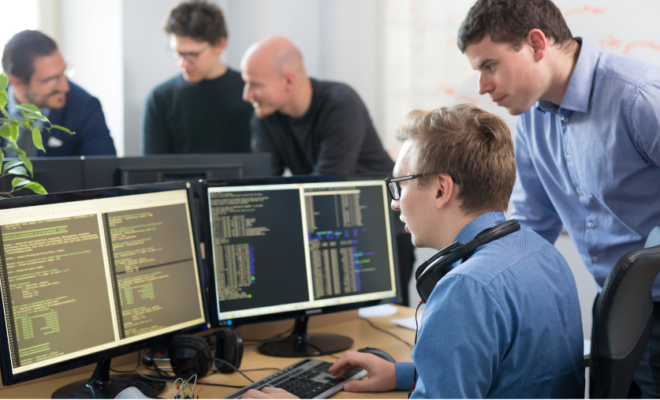 Business
5 Most Important Traits of a Software Development Team
By
|
A professional and communicative development team is the foundation of any successful project. In the software development industry, people know they are responsible for the quality of the product. The terms it's created in and its relevance to the customer's requirements plays a role too. Also, a healthy work environment, even an online one, has a strong positive impact on each member's individual performance.
Yet, finding the right members for the team and gathering them together isn't always an easy task. Especially counting modern realities, where most of the companies work remotely. But don't worry, you don't necessarily need to do everything yourself. There are plenty of services that will provide you with a dedicated development team for any of your needs. Just contact them and you'll have a group of true experts at your disposal. If you want to know how these services achieve such levels of teamwork and professionalism, here's a list of the most important traits of a dedicated development team. Read along and you'll not only understand how to find the right specialists but also how to create a friendly and productive team yourself.
Communication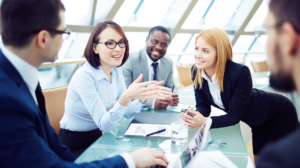 It all starts with improved communication. People are social creatures, and they need to transfer information between each other. This specifically affects creating software. First of all, the conversation inside the company doesn't always need to be formal and strict. Pretty much the opposite—the more approachable the management is, the easier it is to understand each other.
Yet, it's necessary to remember the professional side of the conversations too. All the technical specifics, requirements, and things like that must be discussed more formally to provide a demanded level of quality in these aspects. Healthy communication is when all the members know where there's a need to notify or inquire someone about something, and how to do it effectively. A good professional always understand the differences colleagues might have and knows how to solve conflict situations delicately.
Also, a common mistake many companies make is holding the meetings every 2-3 days, or once in a month. Of course, gathering together for discussions is very important. But it's also crucial to understand when it's needed. For example, if a part of the development process requires 2-3 months to be finished, there's no need to gather everyone together every 3 days. In some cases, it may even be a distraction. Holding conferences too rarely is bad for the performance too. Because one of the main goals of such discussions is to remind everyone about the goals and check up on the process. The most optimal frequency is once a week. This allows the members to gather enough information to present and reminds them about the direction of the project.
Transparency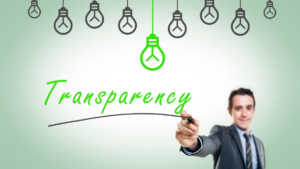 In a good team, everything is transparent. All the responsibilities, the goals, the salaries, everything. This helps to build trust between the workers and contributes to their understanding of each other and the development process in general. Transparency also means that the members should not be afraid to signal about their failures or celebrate victories. Analyzing and working on the mistakes and weak points is the crucial algorithm in learning. Because improving own business skills while working always has a positive impact on the performance. Defining who is responsible for what particular aspects is important too. It eliminates the possibility of misunderstandings and situations when the same task is done by two people simultaneously. It ensures the efficiency of each worker both individually and a team as a whole.
Cross-functionality
The key point in the cross-functionality of the team members is the balance. First of all, all of them have a particular field of expertise. For example, graphic designers are the most proficient in working with graphic design, developers know how to write the code, UI/UX designers can create a perfect interface. Right, all of this is obvious, but it's important to understand what is the strongest point of each individual. Because this helps to reveal their additional abilities and make them cross-functional. For example, most UI/UX designers are also capable of graphic design, coders can create a project plan and architecture, and so on.
Sometimes, their cross-functionality may depend on previous experiences and fields of work. A person who used to work in the marketing industry but is now a developer may be of use when creating or analyzing marketing strategies. To balance the team, each worker must be in the position where their main abilities are used. But sometimes, the need for their additional skills comes. This often happens when working on a tight schedule, or when accidents like illnesses happen. Knowing where and when a particular member could be used can save you a lot of extra expenses and provide them with a new experience.
Commitment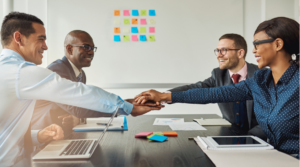 If the goals are clear and achievable, it's easy for the team members to fully commit to them. Being able to work at full throttle is crucial, especially in software companies. It means that the project will be done in the shortest terms, decreasing the potential expenses, increasing the reputation of the company, and being a great example for all the workers. However, commitment heavily depends on all the other aspects of a professional development team. For example, committing fully to the project where you don't understand the goals, or where the communication is lacking is not possible. It's a part of the puzzle, which only makes sense in the combination with all the other pieces.
Professionalism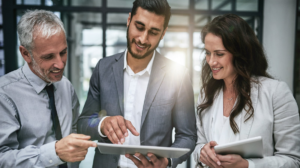 All the previously mentioned qualities of the team and all the individual ones of each member are very important. Yet they are all pretty much useless without the core – professionalism. The software development industry is a harsh environment, where only the strongest businesses survive. The competition is huge, the customer's requirements may be confusing, the schedule is really tight, and the technical aspects are hard to master. To ensure that the company is able to survive and succeed in the market, it must contain true professionals. Those who know their craft and are always ready to use their skills.
For the developers, a list of the must-have qualities looks like that:
Problem-solving skills and adaptability
Programming language knowledge
IDE, framework, and libraries knowledge
Critical thinking
Mathematical approach
Time management skills
Attention to details
Self-analysis and readiness to improve
Of course, the list of precise requirements for each particular company is different. But having those qualities ensures that the individual is ready to take on any task in this industry. Some technical specifics can be learned, but critical thinking and adaptability need to be developed for years.
Wrapping It Up
Creating a software development team isn't that hard. It's just a challenge to find the right professionals for your project. You need to gather them together and create a healthy work environment to open their potential. This can be only done with a good level of communication by giving transparent goals and responsibilities. Cross-functionality of all members, their full commitment, and professionalism will come after. And now, knowing all these basic aspects, creating such a team should be a much easier task for you. Good luck!