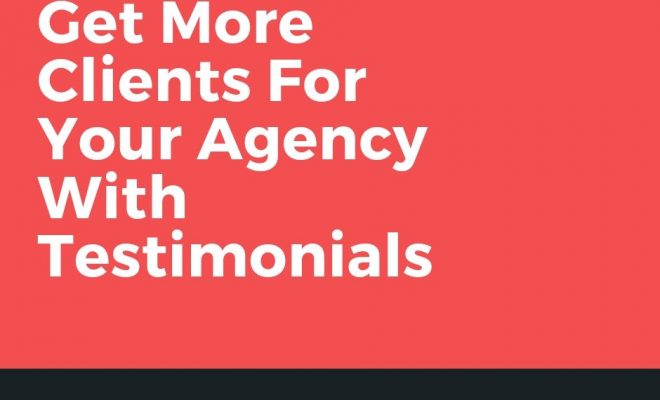 Business Strategies
How To Get More Clients For Your Agency With Testimonials
By
|
One key part to getting more clients for your agency is to get great testimonials that you can show to your latest prospects.
With so many agencies and consultants right across the country, it can be hard to stand out from the noise.
Think about it, every business on a daily basis gets an email saying
"We can get you to the top of Google"
or
"We can design you a high converting website"
I am sure you have received some yourself.
This is why testimonials are so powerful, they help build trust in you and your services.
For example if you are looking to target lawyers as your clients, then it makes sense to have some testimonials from other lawyers saying you did a great job.
This will work a lot better than random testimonials from random businesses.
For example, a testimonial sent to a lawyer that has a business owner who is a plumber won't hold as much weight.
People want to know one thing when they hire an agency to handle their digital marketing, whether that is a website development, PR, SEO or social media.
That one thing is
"Will this company be able to do what they say they can?"
It is one thing saying it but it is another thing showing it.
With a testimonial from someone in their industry, your prospect is more likely to trust you and have confidence in your ability.
Think about it who would you rather have as your brain surgeon
a super talented surgeon with many years of experience operating on many different people with different issues
a brain surgeon who only works on brain surgery
I mean its a no brainer (no pun intended), you want the person who knows your industry inside out and upside down.
You want the person that tells you what problems there are in the industry and what solutions there are to fix it.
You want the person who has done this job many times and it's no big deal – its just another day at the office.
When everyone else is shouting about how they can rank their website at the top of Google or bring in more customers through some form of digital marketing.
Then your email stands out because it is specific to them and their needs.
Which do you think looks better in a business owners inbox?
We help rank businesses at the top of Google
We can bring more customers to your business
We build beautiful websites
or
We help dentists rank at the top of Google – proof inside
We help dentists get more customers – proof inside
We build dentist websites that convert more customers – proof inside
It is obvious, right?
But 90% (I made that figure up) of people are doing the first strategy.
It doesn't have to be a cold email – this testimonial video could be sent after a cold call but one way or another your prospects need to see the testimonial.
Our Video Testimonial From 1 of our Happy Clients
We just recently ranked Angel Orthodontics number 2 for the search term Orthodontist London using our Guest Post Network.
This search term gets 1900 searches per month, so they are very happy right now.
Which you can see the Google results here
Fariba was so happy with the results she gave us this great video testimonial for our agency.
The way we got Fariba and her Orthodontist business results is the same way we get all our clients results – which is with our proven SEO techniques and posting articles on our high powered Guest Post Network to give great backlinks to Fariba's website.
Did we have to tweak our strategy to make it work for an Orthodontist – yes of course because different niches have different requirements.
However, the fundamentals of what we do are the same. The fundamentals work across any industry.
So basically, in a nutshell, get good at your craft and pick a niche, then dominate it by being a specialist.
Find out what works in that industry, find out what problems the businesses in that industry have that is unique to them, figure out the solutions to these problems.
Then you have a blueprint that you can pretty much copy and paste to other business owners in the same niche.
But the fundamentals like I say stay the same. For us, it is good SEO techniques and using our Guest Post Network.
You can see our full case study with the results we got for Fariba here – Orthodontist SEO case study.
So the question is
Do you want to get great testimonials like this for your agency?
Testimonials like this work so well to help get new clients.
It is kind of like that TED talk about
How to create a raving fan base / How to start a movement
The key is having 1 or 2 people (who are happy with your service) to show other people that it is OK to join in, and be part of something great.
You can use these videos to send to potential clients and also use them for advertising on places like Facebook and Youtube.
We get great results for our clients when it comes to SEO and we can help you get great results for yours too.
If you would like to use our 100+ Guest Post Network to get great backlinks for your website, visit our Guest Post page.
Remember to use your special code GPN when you buy to get 1 Free Guest Post added to your order.