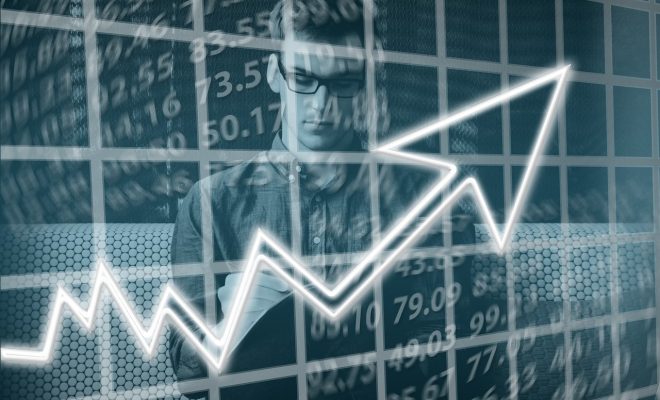 Business News
The Best E-commerce Opportunities Around the World
By
|
International expansion of your business is now easier than ever before, owing to the flexibility given by e-commerce opportunities. If you're thinking about stretching your business overseas, it's worth knowing where the best opportunities are. You need to check who is spending the most, where new markets are opening up, and which industries are seeing the biggest successes.
Digital marketing agency, Search Laboratory, have put together a new study uncovering the answers to these queries.
Who's Spending the Most?
It's no surprise that the world's biggest economies also dominate the top ten countries that are seeing the biggest total e-commerce spend.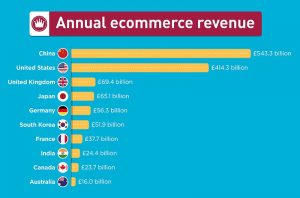 Italy and Brazil are the only countries that feature in the top ten largest economies but don't also star as one of the biggest places for e-commerce revenue. Looking into which countries have the biggest total e-commerce spend indicates where the biggest potential revenue number is for your company, should you be successful at breaking into the market. If you're looking at promoting your e-commerce site internationally, the above markets are important to consider for the best return on investment (ROI).
Where do People Spend Big?
When planning international e-commerce expansion, it's important to be aware, not only of which countries have the highest total spend, but where individuals part with the most cash. Total e-commerce spend is likely to be high in some countries, like China, at least in part owing to their large populations. Looking at average spend per capita highlights where you're likely to get the best revenue numbers with exposure to lower numbers.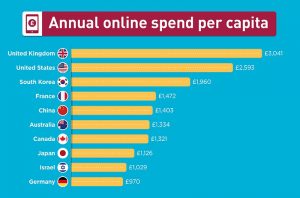 The UK leads the way in terms of highest average annual e-commerce spend. Brits were found to splash an average of £3,041 in online spend every year. The US is also a big player by this measure. South Korea presents an interesting opportunity, highlighted by the study. The East Asian country has the third highest average spend per capita, coming in at £1,960.
Looking beyond total e-commerce spend and into spend per capita can highlight great opportunities for your business. Here, you potentially need to get your brand in front of fewer people in order to earn more revenue than other alternatives with larger total markets. This can mean you are spending less on advertising and promotion, without compromising on revenue.
Fastest Growing E-commerce Opportunities
If you're looking at cementing your business in the long term, look at future opportunities, not just what's going on right now. Investigating where e-commerce spend is on the up gives an indication of which markets are likely to see continuing growth in terms of return in online revenue.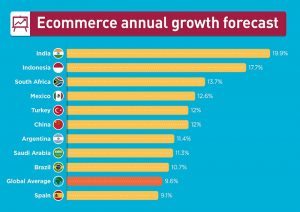 This list really helps us understand the changing shape of the global economy and highlights where businesses can invest in new and exciting opportunities. India, already seeing high total e-commerce revenue, continues to dominate when it comes to growth. India remains one of the fastest growing economies in the world, so getting in on the e-commerce front now could be a great investment for the future.
When it comes to growth, other countries are also showing great potential. Indonesia and South Africa sit just behind India when it comes to growth, and other opportunities can be found across Asia and South America.
It may be worth looking at investing in these growing e-commerce locations over some of the more traditional options, as they represent a growing market that could give you greater returns. In contrast with the options above, the UK is currently predicted an annual e-commerce growth of just 5.8%
Dominant E-commerce Industries Around the World
When looking into where your business can be expanded around the globe, make sure you investigate the wider market in new countries. Investigate what buying trends are like in potential new locations. Is there going to be interested in your brand? If you are going to the effort of promoting your e-commerce business in a new place, you need to make sure there's demand for it.
To give you a top-level insight into which countries may match up with your brand and product line, Search Laboratory's study has highlighted the biggest sector for e-commerce revenue in the top ten countries for per capita online spend.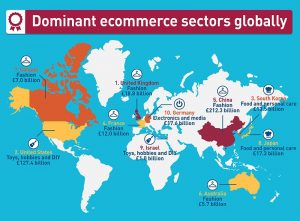 Fashion leads the way in terms of commerce revenue generation. Five out of the ten countries with the highest average spend per capita see most of their e-commerce spend in the fashion industry. Toy, hobbies and DIY, food and personal care, and electronics and media make appearances elsewhere. Aligning what your brand sells with markets you are looking at expanding into is key to a successful business. It's worth putting in the time to understand new markets you're moving into and looking at where they invest their cash.
The information above gives a top-level insight into where opportunities exist for e-commerce revenue. These can serve as a jumping off point for businesses looking to start expanding into new markets. Research like this highlights a variety of opportunities for e-commerce businesses and can be built into forwarding plans to ensure the best use of investments.