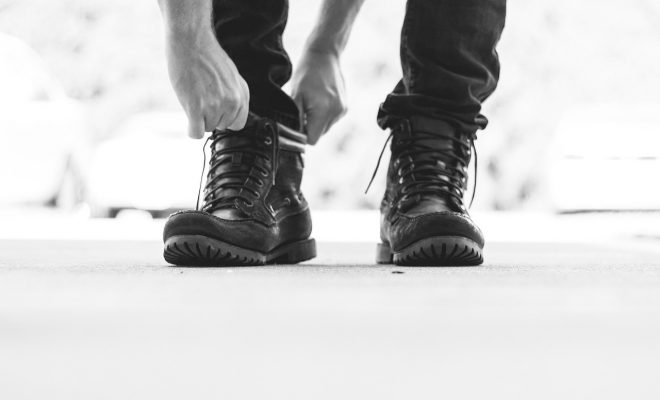 Business Tips
5 Steps to Bootstrapping Your First E-Commerce Business
By
|
Do you want to know the greatest gift the internet ever gave?
You can argue that it's the never-before-seen level of connectivity and communication that online services brought with them.
Sure, it's nice to be able to hear from your distant relatives or overcome the distance barrier to connect with people overseas. To me, however, the biggest impact the internet had is how it re-shaped the entire business landscape.
Aspiring bloggers, small businesses, e-commerce entrepreneurs — anyone with a profitable idea can turn it into reality with the help of cloud-based, self-service tools.
Is success guaranteed?
Of course not!
But with the internet, you have opportunities that people can only daydream about a decade ago. It's only a matter of acquiring the right knowledge, honing the skills, and being patient as your efforts inch you closer to your goals.
In this post, we'll share with you the steps on how to build a profitable e-commerce business from the feet up.
There's no need for financial backers or a business loan — these steps are designed to yield results with minimal resources.
Without further ado, let's begin.
1. Identify Your Niche
The first step in every online endeavor is to always identify your niche.
You can't just set up a virtual storefront and sell anything that comes into mind. Instead of casting a wide net and hoping for the best, everything you do must be calculated and targeted toward a narrow audience.
As simple as this step may sound, finding a profitable niche you're passionate about can be incredibly tricky.
By now, most if not all lucrative niches are already saturated with competitors. You need to look at every nook and cranny for smaller niches that still have the potential to generate cash.
A keyword research tool like Ubersuggest is a great place to start.
Let's say you've always been passionate about gaming. Using the keyword "PC gaming," Ubersuggest will provide you with the following keyword variations: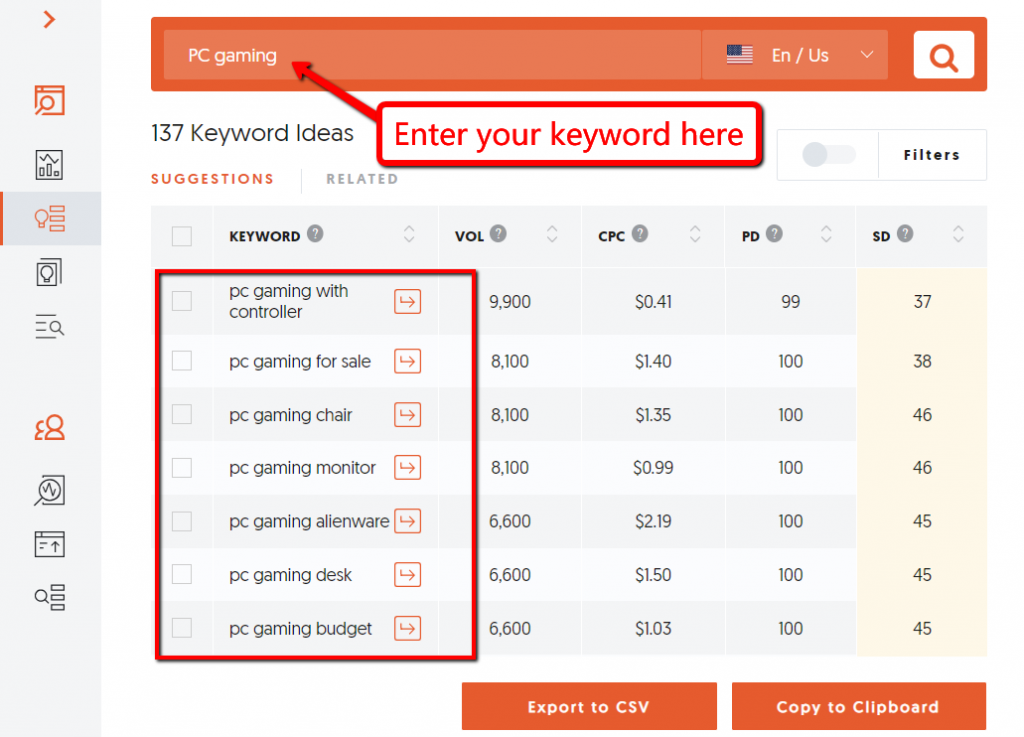 Ubersuggest also provides metrics that can help you gauge the current demand and competition in a specific niche. As a rule of thumb, look for keywords with a monthly search volume of at least 100 and an SEO difficulty or SD of 30 or less.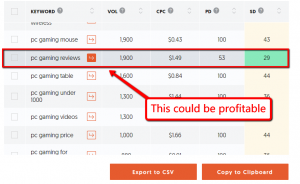 Take note that these keywords don't necessarily have to pertain to the products you'll sell. Rather, they could represent the problem that your would-be visitors are trying to solve.
For example, the keyword "PC gaming budget" may relate to users who are looking to get into the hobby in the most affordable way possible. This will enable you to come up with content topics and product ideas to sell down the line.
2. Find Products to Sell
Now that you have decided on a niche, the next order of business is to look for products to sell online from home.
The specific steps involved in this process depends on the platform you intend to use.
For example, if you want to build your e-commerce website using Shopify, a cost-effective way to find products is through a built-in dropshipping app. Once configured, all you need to do is enter a keyword that aligns with your target audience's needs to view prospective product ideas.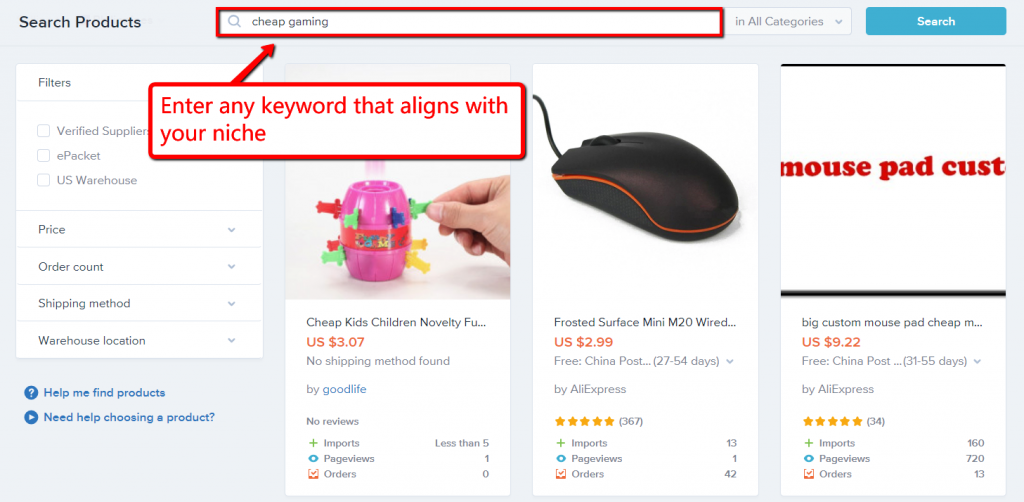 Before you get over excited and start importing products, here are a few crucial tips you ought to remember:
Don't order in bulk just yet — capitalize the flexibility of dropshipping to "poke" or test the profitability of a product first.
Minimize your risks by choosing only verified suppliers.
Look for suppliers with positive reviews in e-commerce platforms or wholesale directories.
3. Create a Blog
If your idea of a profitable e-commerce business is a website laden with product pages, you need to think again.
A website that generates a consistent stream of traffic requires a library of valuable content — usually in the form of blog posts — that addresses the audience's pain points.
Thanks to the integrated content tools found in most e-commerce platforms, creating a blog on your website should not be a technical challenge. The real hurdle, however, is positioning and promoting your content to boost traffic on your online store.
A surefire strategy is to promote your articles on Quora posts that request for that information. Just like keyword research tools, all it takes is a simple keyword to get the ball rolling: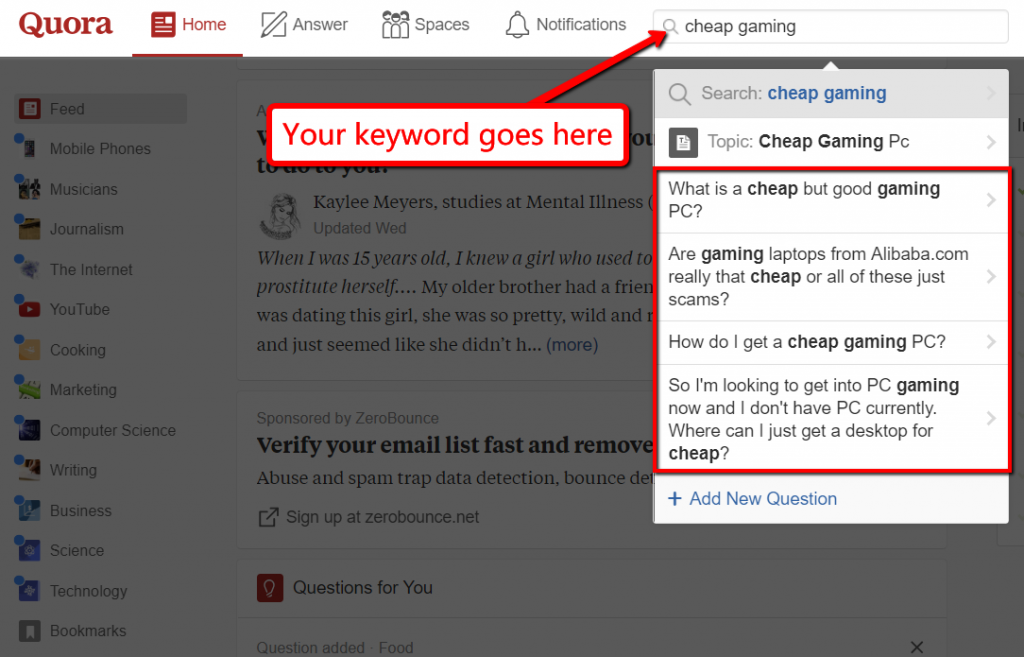 4. Invest in CRO
Keep in mind that the value of the information found in your content is only a piece of the puzzle.
Every other element found in your web pages — from your headlines to call-to-action buttons — affect the likelihood of visitors to convert into paying customers.
That's where Conversion Rate Optimization or CRO steps in. And as far as this goes, landing pages will be the focal point of your efforts.
Unfortunately, there's no one-size-fits-all blueprint that every e-commerce entrepreneur can just pick up and roll out. There are a plethora of factors that could determine whether or not a visit can lead to a sale.
Your best bet is to use an A/B testing tool to compare multiple versions of your landing pages and let data decide the best layout for your online store. Hotjar can accelerate this process by producing heatmaps — visual representations of your website's cold and hot zones.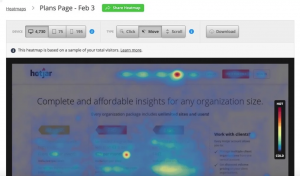 5. Build a Social Media Presence
Finally, utilizing social media is perhaps the quickest way to build brand awareness and establish your online presence.
Within a day, you should be able to create official business pages while garnering a handful of followers along the way. However, the tricky part is generating engagement in the form of comments, content shares, and likes.
Now might be a good time for you to delve into the art of PPC advertising. But if you want to stay within the low-cost path, you can try launching a social media contest that will help you build trust and buyer confidence.
A hashtag contest on Instagram is, by far, the most straightforward way to do this. You just need to require your customers to share your post or upload a photo with a specific hashtag, which will enable you to handpick the winners using the social network's built-in search feature.
Conclusion
Congratulations — you now know the fundamentals of launching a successful e-commerce business from scratch.
With the strategies above, your total overhead costs should only be hundreds of dollars tops. You may have a prudent approach, but as long as you do everything right, these tactics should give you the traction you need.
If you have any other tips, suggestions, or questions regarding what you learned, feel free to use the comments section below. Good luck!