Technology
Video Meet on iMind Features and Feedback from Users
By
|
The iMind video conferencing platform is a great solution for one-on-one meetings and for small teams. It allows clients to organize conferences with audio and video communication.
During the pandemic, many companies offered to work from home. iMind.com helps plan daily meetings and conference calls.
Features of iMind Video Conferencing Platform for Free and Business Plan
The iMind video conferencing platform has options for management, communication & leadership.
Free Plan
The main ones in terms of Free video meet on iMind are:
hosting up to 100 participants
group meetings of up to 24 hours duration
simultaneous display of screens
unlimited cloud storage
license and user rights management
unlimited room URLs
personal and group rooms
custom branding
It's a great option to try to organize your work with this service and make further decisions about continuing.
Pro Plan
The main options of the Business plan are everything the Pro plan has:
a personal customer service account
custom subdomain
connection to storage via WebDAV
multimedia streaming
cloud-based localization
on-site delivery
priority support
For advanced users and large companies, this solution will be indispensable.
More Features That You Didn't Know About
Every user can create a meeting room. It is enough to enter the name of the room and get a link. The user then copies it and sends it to the participants. Every participant can join the meeting,  just follow the link.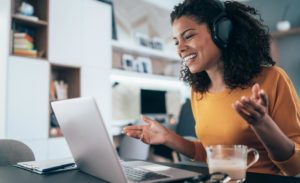 However, you should be aware of the following features:
Web conferencing capabilities allow for easy video conferencing and messaging on any device. iMind is available on Android and iOS without any additional software. Just go to any browser on your phone and join a meeting.
There are no passwords on the platform, so it's much harder to hack an account. Instead, participants receive a one-time code by email and enter it on the platform.
Chat for Business allows participants to communicate online and solve current workflows. Remote team participant can also use conference calls and video meetings.
Also, there is the ability to keep track of who comes to the conference. When a participant enters the conference, iMind asks for a photo and sends it to the presenter.
Main Advantages of Using iMind Video Conferencing Platform
iMind.com has many advantages of using video conferences, chats and meetings. First of all, it's easy to create a meeting room. You type in a room name and you get a link. Then just copy it and send it to the participants. Joining a meeting is easy. Participants just follow the link.
Participants can use the video conferencing platform in a browser. Users can customize the volume of participants. They can also record multiple conferences simultaneously in different rooms in the Pro plan.
User Feedback on iMind
Customer feedback is the most valuable aspect of iMind chat for business organizations. When people leave feedback, they often mention the quality of the recording during the online conference, the multiple screen sharing feature, the ability to join and chat with another participant for free through the tool, and the ease of use.
Many users leave positive reviews about iMind. They write about the great features, useful features, and the best way to communicate through online chats, video conferencing, and meetings.
Conclusion
You don't need to register just to communicate. It's also convenient that you don't need to download or install anything.
Thus, iMind is a fantastic app for both large and small business.