Business
Unlocking the Full Potential of Your Business
By
|
If you are an executive or manager of a company, you know that one of the most crucial factors in achieving the proposed objectives is that when making decisions, these must guide you to a solution or path that helps you to achieve success or the resolution of problems and obstacles that stand in your way.
Unlocking the Full Potential of Your Business
According to experts at Professional Master's Degree Executive MBA, one of the strategies that will help you to manage your business processes in a more optimal way is Business Intelligence; if this term is somewhat unknown to you, we will help you to understand it better. Below, you will find out how this strategy works.
Business Intelligence – key to decision-making and business growth
The term Business Intelligence or BI refers to the use of tools and strategies that will help you to transform data into information and will let you know how your business is performing, allowing you to optimise your enterprise by making better decisions based on data. In addition, this information drives and adapts to changes in the market or demand.
Data analysts can benchmark this strategy so that they can operate effectively, improve data accuracy, identify market trends to benefit revenue and sales, improve recruitment processes, analyse prospect behaviour, detect problems, and even compare data with competitor information. On the other hand, Business Intelligence facilitates the mechanics of research, consultation of reliable data and combination of sources that will guide the next steps of the business.
This captured information is stored in a customised database based on the needs of your company, allowing you to work with a large mass of data.
Some of the Business Intelligence solutions are based on the creation of predefined and customised reports, together with their automated distribution (reporting). Among these, we find:
Forecasting
Dashboards
Data Warehouse or Datamart
Query tools
Benefits of BI
We know that for you, allowing mistakes in your company is something that should be almost non-existent, therefore, sales data analysis must be effective and of high quality when possessing key data for you, as thanks to the Business Intelligence system this can be mitigated, avoiding the performance of your business.
The more right decisions you make, the more profitable your business will be, that is why BI will lead you to the right decisions with a well-structured model, as well as increase profits and decrease unnecessary costs.
An optimised and aligned company with a strategy that has sufficient tools and knowledge to find errors and opportunities for improvement will contribute to an increase in internal processes.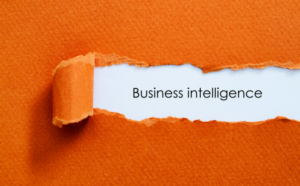 The possibility of seeing the perception of the target public in front of the company, as well as knowing their behaviour and their profile, will give way to structuring strategies that are more adjusted to their interests, as well as offering products and/or services that meet their needs.
Identifying opportunities for growth in order to achieve optimal efficiency is offered by Business Intelligence, as it allows to analyse and recognise details of its operation and performance that can optimise the business image in the market.
In conclusion, if you are looking to boost your company, Business Intelligence and all that it encompasses will be of great support for this process, since, in besides the corporate gains it offers you, you will be at the level of large modern companies with this modern model.