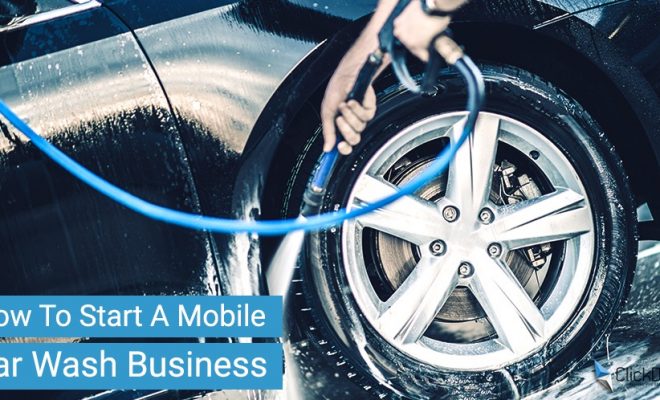 Startup Tips
How To Start A Mobile Car Wash Business
By
|
Like in every other business, excelling in a mobile car wash business will require patience, passion, and perseverance. Passion is particularly important because this is what will keep you going long before you've established yourself as a brand and built a client base. A car wash business in the UK is lucrative and profitable; however, be ready to start small and work your way up.
But wait, what about the "massive capital", machines and equipment, or the physical location, how can one finance these all at once? This is a frequent worry for most people seeking to start a car washing business. But the truth of the matter is that things have changed, you need not have a physical location in order for you to open a car wash business; today we have mobile car wash services.
How do mobile car washes work?
There are around 50,000 car washes across the UK, most of them in larger cities and towns.
Over the last 2 years, a huge chunk of all new car washes being opened were mobile car washes.
This trend has been driven by the fact that, a mobile car wash is highly convenient for the client; and for the owner, it pays well and requires low startup costs.
More and more people want a service provider who can wash their cars in their homes, work place, or even when out shopping. Thus, you'll just need to go to the client with your tools of trade; water, washing detergents, pump, and so on.
In this guide, we will not delve into the more obvious aspects of starting a business like book keeping, accounting, et al. You will of course need to do a bit of research. Visit local car washes; go in like a client looking to have their car cleaned. Observe how they work, and what machines and products are being used. How many cleaners does it take to clean one car, what's the duration? What about the cost? Take note of such facts. If possible, try and find out as much as you can about any challenges that car washes face. It's also vital that you get to know the competition you're facing from your area; which is why it's important you make up your mind fast and get started early. What are the demographics in your area, who exactly are you targeting?
Here are the basic things you'll need in order to start a mobile car wash business;
A mobile phone
Business permit
Vehicle
Water tank with a hose, extension cords, and pump.
An electric generator
Cleaning products like detergents and indoor air fresheners.
Cleaning tools like brushes to scrub tires and soft clothes to dry up mirrors after you're done.
Lastly, you'll need some marketing materials like brochures and stickers. In this day and age, having a business website or social media presence is a great way to market yourself, at minimal cost.
Now that you have the materials and tools for trade, you, as the owner or founder of your business need to sit down and craft a quick guide or strategy of how you want your business to operate. Remember, whether you employ others to help you or have a friend who'll assist, you have to take the leading role.
Design a logo; come up with a slogan or business vision to define your business. For instance, Land Rover has their slogan 'Land Rover. Go Beyond". Thus, just be creative but keep it short; the slogan should capture all that you're offering, in a nutshell.
Decide what's your business policy; Major brands do this and it works. Amazon for instance, has a policy where the customer always comes first. You too need to have a clear policy; it doesn't necessarily have to be written. A policy is best demonstrated and practiced, not hung on walls. In any case as a mobile car wash, your clients should come to understand what you stand for by the services you offer, rather than by writing it down.
Visibility in mobility; most car washes have signs and a signage placed strategically, to alert car owners of their presence. But in your case, maintaining this kind of visibility will be hard.  As we mentioned earlier, brochures and car stickers will come in handy here. Also consider going personally or getting some young sales people to stand near shopping malls and at entrances to business centers; let them offer the brochures and flyers and stickers to passersby. In those brochures and stickers, say you offer professional mobile car cleaning services, include your contacts and email address.
Trustworthiness; people will be leaving you with their cars and they need to trust you. Get an SEO company to design a professional Website, design some branded uniform for all your employees, complete with your company logo. These two acts are important and will help potential clients give you the benefit of doubt and trust you with their cars.
Insurance; liability insurance is a sign of goodwill; it demonstrates to your clients that you're a professional and dedicated service provider. Don't forget to include this fact on your business card, flyers, and website too. In case of any unexpected damage or  chemical spill during cleaning, the insurance company will come in handy
 Have a mentor; in every business, you need to have a mentor, a brand or company that inspires you. In this case, you can look for a mobile car wash company that has been there for awhile and is doing well, try to learn a thing or two from them. Woshline is a good example; it's one of the leading mobile car wash companies in London. They pride themselves of serving hundreds of clients each month, their marketing strategies are clever and their reach is limitless. Woshline even has its own App meaning that prospective clients can learn about their services, and even order services directly on the app. Why am I saying all this? It's because as a beginner, you need to have a brand in your industry which inspires you, one that you look up to.
Getting started;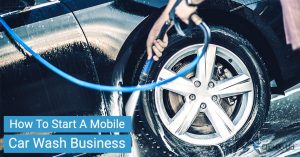 So now everything is ready, you have a clear strategy for your business, you have the tools, permits and licenses. Yet, you have no physical location! How do you get started, how do you go public?
Well, there are a few ways you can go about this. But the best way to go about it would be with pomp and color! This doesn't necessarily mean spending a fortune or much money; be creative and confident. One week before your launch, have your sales people give out the stickers, flyers, and other marketing materials.
One the day of the launch, organize a cleaning day in a parking lot near a busy shopping center or business. In order to make it more attractive, you must have a catchy offer that most won't resist. For instance, offer your car washing services at a discounted price, or even for free! Remember we said you have to be willing to start small, right? At this stage it's more important to demonstrate how good your services are, and win the confidence of the clients than to make a huge profit. In any case, car owners owe you no favor so for them to come over for your services, you have to give them a reason to; do so by demonstrating that your company offers fast, efficient, and affordable mobile car wash services.
You can also schedule your launch to correspond with a local charity event like a church fund raising, or a festival. You can give a part of your profits back to the organization you partnered with afterwards. The crowds are the target you should focus on. Have your team ready with everything they need. When people come over to find out more about your services, explain that you offer mobile services, the advantages of mobile car washes, and the fact that you use eco friendly cleaning business products.
When offering your services, it is better to widen the scope of your services so that you attract more clients. For instance, combine both exterior and interior cleaning, ensure that in case a client wants both, you don't mumble and fumble saying sorry, we only offer exterior cleaning. You want your mobile car wash company to offer total cleaning solutions, not partial solution! Thus, include additional services like car waxing, leather conditioning, pet hair removal, engine cleaning, mold removal, etc. The more services you offer, the wider the range of clients you're likely to attract.
When cleaning a car's interior, be very careful by opting for eco friendly cleaning agents, rather than the strong ones that contain acids and emulsifiers. Most people would rather have their car cleaned with something that is gentle and eco-friendly.
 Achieving profitability as a mobile car wash owner;
At the end of the day, we're in this to maximize on our profits, right? So, getting started is just the first step, you have to sustain that energy, dedication, and passion demonstrated during the launch. Keep that vibrancy going; text clients and those that made enquiries at the launch; tell them about special offers and discounts.  Have a social media presence where you post photos and videos of your company offering services in different locations; at a parking lot near a shopping mall, at a home garage, and so on. Visit a local radio station where you can speak more about your services; the point is that you have to make your presence felt and noticed. What you lack for in physical location, you make up online and on digital platforms.
One of the greatest secrets to thrive as a mobile car wash is to understand that convenience on the side of the client is mandatory. A resident surfing their internet at home, relaxing and resting, can shop online, pay bills, and have goods delivered right at their doorstep. Why can't they also order your services online? Most people would rather not drive all the way to a car wash, if they're assured of getting similar or better services right from the comfort of their homes.
In that regard, be innovative and forever explore new ideas. Why not consider having an app designed for your services? So that the same resting home owner can not only shop and complete errand from home, but also book your mobile services on their phone? According to Miss Lin, founder of Woshline Mobile car wash company, an app offers clients total control on their Smartphone or any other hand held device; they can see your services on the app, book what they want, and sit back and await your arrival.
You may not have the funds to develop an app or buy the best eco-friendly cleaning products as a beginner; but for the sake of profitability and business excellence, these are things you must prioritize. You must endeavor to continually upgrade in order to stay ahead of the competitors.
In Summary;
Be ready to have people turn down your services despite the best marketing efforts. That's normal, it happens in all businesses. Perseverance means that you're willing to approach the next client with confidence and a smile, even after the previous one has declined your services.
Passion means that even if you clean just a single car all week, you do so enthusiastically and to the best of your ability.
Patience means that with time, things will work out and everything will fall in place. What matters is that you don't cease the marketing campaign and that your services remain top notch.
Watch YouTube videos during your free time to acquaint yourself with the latest technology and machines for washing cars. Read expert sites and blogs on how to wash cars and learn the latest techniques.
You'll soon realize that you're implementing the tips you've learned and that clients do notice the difference.
The moment a client is impressed with your work they will start recommending your services to others. Slowly and gradually; that's how business empires are built.