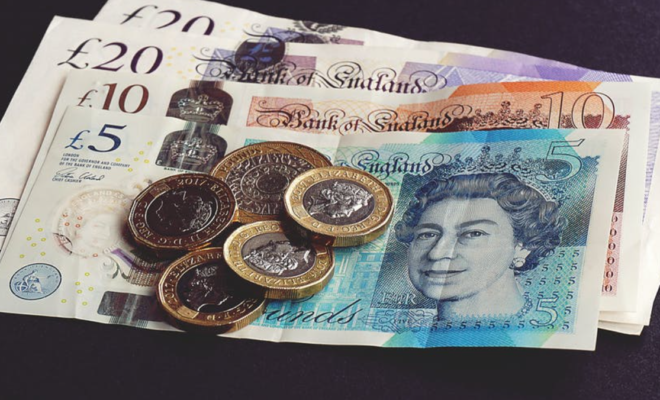 Business
Best Money Transfer Companies in UK for Small Businesses
By
|
Managing and taking care of finances has been a challenge for small businesses, despite which they have managed to flourish overall corners of the globe. From purchasing goods to paying remote workers for their services, remitting and receiving money has become a crucial part of their day to day running.
As a result,the most innovative and ambitious fintech or financial technology companies in the small business sector have funneled in more investment in the United Kingdom, than any other industry, in an effort to cater to the needs of startups and small business entrepreneurs.
As more and more operators vie with each other to get a foothold in the competitive fintech space, it becomes increasingly tough to sift through them in order to identify the major leaders. We have, therefore,carefully prepared a list of some of the best money transfer companies in the United Kingdom to help you make your own informal decision. Only a thorough comparison of what they each have to offer, will allow you to determine which service is best suited to fulfill your small business needs.
Currencies Direct
+44(0)20 7847 9400
Currencies Direct is a currency exchange service through which one can transfer money to over 120 countries worldwide. Established way back in 1996, Currencies Direct today operates from the UK, US, Canada, Portugal, Spain, India and South Africa.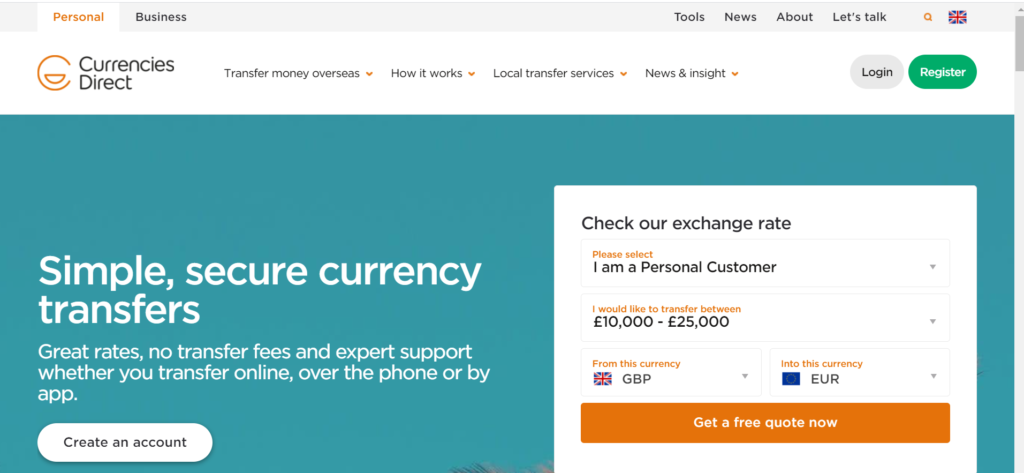 Customers in the UK can avail the services of Currencies Direct to cater to their small business needs in several ways including:
Opening a multi-currency account for an online retailer which allows them to conduct transactions in GBP, USD, EUR and JPY from the United Kingdom.
Currencies Direct supports most of the important online marketplaces such as Amazon, Walmart, eBay, PayPal among others.
International remittances to suppliers,employees,partners and others all over the world.
Forward Contracts to lock in an exchange rate.
Limit Orders when you wish to exchange money at a suitable rate.
Recovering overseas profit.
Sending/Receiving freelance
TorFX (Founded:2004)
Pz360 St Mary's Terrace, Penzance,
Cornwall TR18 4DZ
UK 0800 612 9625
+44(0) 1736 335250- Rest of the world
+44(0) 1736 369435.
TorFX is a multi-award-winning specialist currency exchange provider based in the UK and having branches in US, Europe, Australia, India and South Africa. They are one of the best UK money transfer companies when you intend to transfer large sums of money.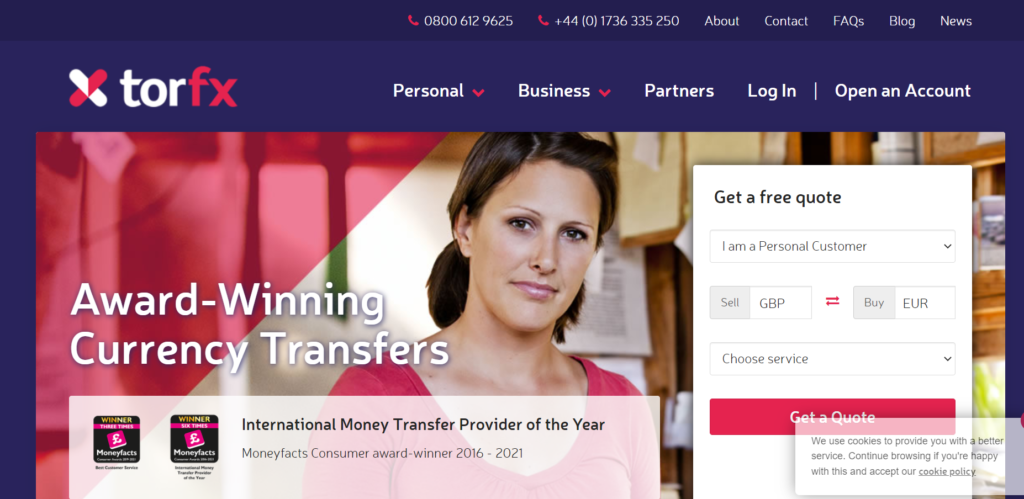 Features: 
Same owner as of the parent company Currencies Direct.
Over 450 employees on the rolls.
Credit risk rating Level 1(low risk) rated by Dun & Bradstreet.
Transacts in more than 60 currencies.
Best International Money Provider of the year award from 2016-2018 by Money Facts.
Spot and Forward contracts.
Transfer fees £0.
B2B money transfers.
Moneycorp (Cheap International money transfers)
Zig Zag Building Floor 5
70 Victoria Street London
SW1E 6SQ
UK +44(0) 207 823 7800(for SMEs)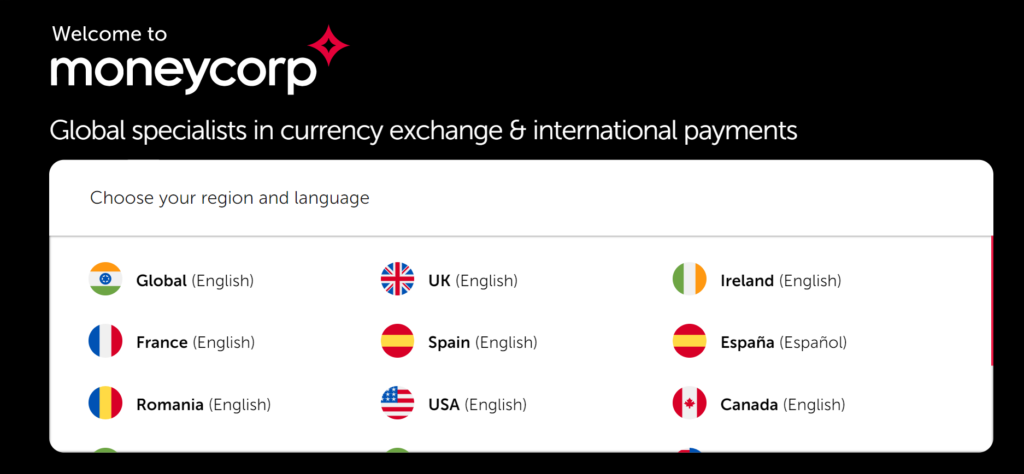 The expert team at moneycorp helps in navigating the currency risk and international payments for small businesses in the UK. Moneycorp understands the challenges these small businesses have to face when they attempt to enter a geographic market which is new to them. Some of the currency transfer services moneycorp provides are:
Dedicated relationship manager.
Market updates to keep the customer informed about currency movements.
Spot Contracts, Forward Contracts and Market Orders to deal with your foreign exchange requirements.
Global payment solutions.
Risk management.
Works with over 120 currencies.
Hedging solutions.
Competitive exchange rates offered through their panel of liquidity providers.
Buying a property abroad.
Making overseas mortgage payments.
Sending cash to family members.
Pension transfers.
Global Reach Group (founded:2001)
3rd Floor, 20 Wood Street
London EC2V 7AF
+44(0) 3465 8200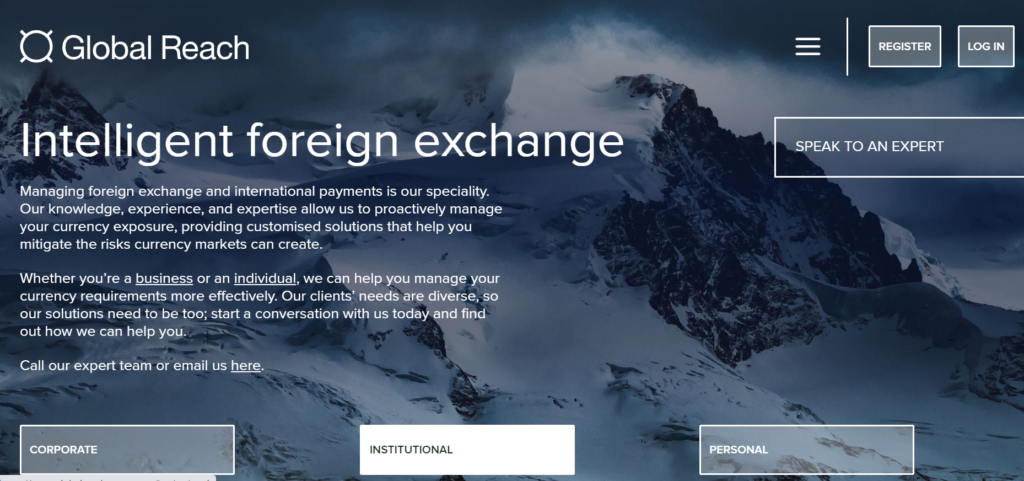 Small businesses have started to actively compete with their bigger counterparts thanks to the increase in ease and affordability of selling online.In an effort to address the foregin exchange goals of SMEs, Global Reach Group has managed to forge a strong business relationship and design proactive strategies.As a part of the Banks & Credit Unions Industry, this UK based international money transfer company has registered excellent growth in offering small business foreign exchange solutions in many ways like:
Currency exchange specialists: The experienced teams enable customers to make smart decisions whenever there is a positive shift in the market.
Low transaction charges: While there is a maximum transfer fee of £20 per transaction, there are no fees for transfers over £3000.
Supports multiple currencies: Their platform supports more than 140 currencies, including some of the least traded ones in the local currency.
Regional support: With offices in many locations in Europe and South Africa, customers can expect quick assistance in these regions.
Small business focus: With Forward Contracts that allow one to lock rates for up to two years and spot contracts,Global Reach serves small business clients with their structured products.
OFX (Founded:1988, Sydney, Australia)
4th Floor, The White Chapel Building
10 Whitechapel High Street, London
E1 8QS
Personal: +44(0) 614 4194
Business: +44(0) 614 4195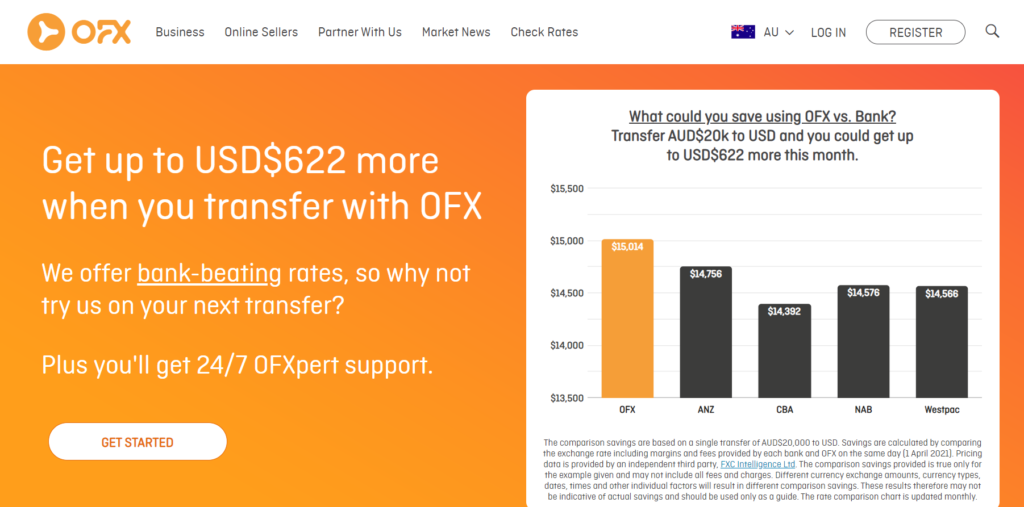 The global network at OFX (formerly OzForex) is designed to send funds to overseas suppliers efficiently and quickly. As one of the biggest foreign exchange companies and the largest non-banking FX provider in Australia, OFX has assisted over a million small business customers in 197 countries and across 55 currencies. OFX is well reviewed by customers because:
Exchange rates are the best all round as compared to banks.
Quick delivery, with same day delivery in most cases.
Easy and simple to use.
Top notch and friendly customer service.
Experts at OFX provide daily inputs on how the various currencies have fared in trading.
Fx options allow the customer (not compel) to exchange money at a pre-decided rate on a fixed future date.
Recurring transfers, Forward Contracts, Limit and Stop orders facility. 
WISE (Formerly TransferWise)
The Tea Building
56 Shoreditch High Street
London E1 6J
+44(0) 3695 0999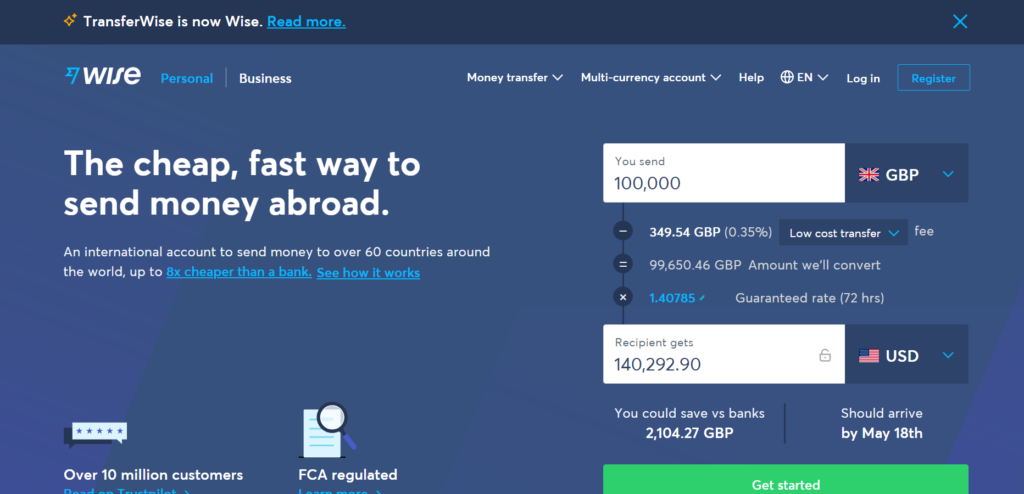 The name may have changed, but the essence of their work remains the same. Founded in 2011 as TransferWise, Wise has been offering some of the cheapest money transfer rates to its clients. This model has enabled Wise to sky-rocket itself to the second highest position in the money transfer market today. WISE has all you require to grow your business internationally because;
Your money is safeguarded in top financial institutions.
Authorised financial services provider.
Invoice payments,19 x cheaper than PayPal, in over 70 countries with rates no banks or any money transfer can offer.50% of three payments are done in seconds or arrive in sixty minutes maximum.
Get up to 1000 employees paid in one go without having to pay transaction fees.
Get IBAN, sort code routing number with your account opening.
Receive money in your account without having to incur high recipient fees or conversion rates.
Spend online without paying any transaction fee with your Debit Card.
Manage cash by transferring money instantly between accounts and keep all transactions in a single place.