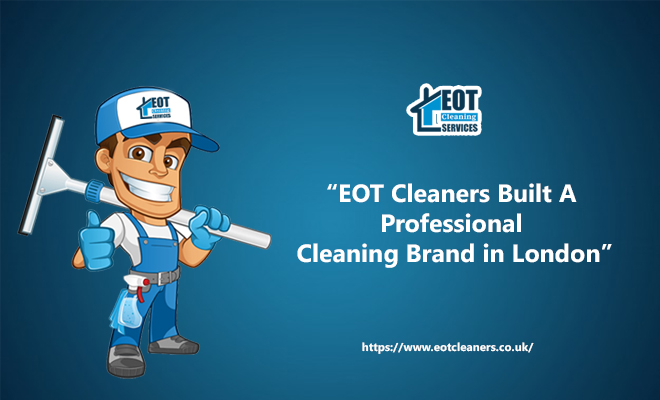 Business News
How EOT Cleaners Built A Professional Cleaning Brand in London
By
|
"The mind once stretched by an idea never returns to its original dimensions."
Nothing reflects the truth in that phrase more than the journey of one Mr. Ivan Ivanov. 8 years ago, Mr Ivanov was just a young man in London trying to figure out what to do with his life. But one incident changed his world and he came up with an idea that would later morph and crystallize into one of the leading end of tenancy cleaning companies in London. It so happened that Ivanov had to relocate from London to Manchester and had to vacate his apartment at the end of that month. Having not initially read the tenancy agreement keenly and with only a day left to vacate, he was informed by the landlord that he was obliged to clean the premises thoroughly and leave it as he'd found it. He had to clean the entire house, from the kitchen appliances to the carpet to scrubbing, and decontaminating the toilet all in less than 24 hours! Poor Ivanov was troubled. His deposit was on the line and he could not afford to lose even a cent at that moment.
"I was so confused as I had banked on getting a refund of my deposit to partly fund my travel and relocation to the new premises. I had to think fast and do whatever it took to clean up the apartment as per the landlord's expectations," recalls Ivanov with a chuckle as he narrated the episode which had greatly inspired him.
It turns out that he had a girlfriend he was living with and together, they made up their minds to take the bull by the horns. They quickly but silently embarked on a "Do It Yourself" end of tenancy cleaning, working meticulously all night. By the next morning, they had worked their way through the kitchen, bathroom and toilet, including, wiping the dust of the window sills and wardrobes. Long story short; Ivanov and his partner were able to impress his landlord and get his refund back in full.  It was then that an idea was birthed!
How many more Ivanov's were there in London who for one reason or the other found themselves in dire need of end of tenancy cleaning at the last minute? What if he branded himself and cobbled together a team of helpers to offer professional end of tenancy cleaning services? If a two bedroomed apartment would cost around £130 to £250 for a single end of tenancy cleaning, what if he targeted about 10 new clients each month? The questions just kept on coming, one after the other. Within 3 months, Ivanov had done enough research on end of tenancy cleaning and he was convinced that there were investment opportunities.
"I was greatly motivated to know that the UK contract cleaning industry was worth over £5 billion. I instantly knew that there was a niche for me, that with proper planning and persistence I could make good money," says Ivanov.
But like fate would have it, Ivanov's girlfriend left when she heard that he was quitting his full time job as a waiter at a Russian restaurant in Central London, to venture fully into contract cleaning.
"She thought I was crazy, she just left. But the business idea remained in my head, I was actually able to concentrate on conducting my market research and figuring out how I'd raise capital," recalls Ivanov with another chuckle.
Fast forward and today, Ivanov is the founder and CEO of EOT Cleaners, the premier end of tenancy cleaning company in London.  With over 15 employees and 4 fully equipped cleaning Vans, a client list inclusive of landlords, tenants, real estate agents and Airbnb hosts; EOT Cleaning is a big company that offers cleaning services to residential areas, offices, commercial properties and many other entities.
So, what was the secret to his success? Was it an easy road? What has made EOT Cleaners emerge as such a reputable brand in a market characterized by cut throat competition? Have a look at the do's and don'ts from the CEO himself on what has helped EOT remain ahead as a professional brand in London;
Start by doing market research;
According to Ivanov, part of the research he did was not just about the cost of end of tenancy cleaning around London, but also about the legal hurdles he'd have to overcome. First, he needed a license from the local authorities, as well as insurance for his team of helpers and equipment they'd be using. Secondly, he consulted ClickDo Ltd, a leading digital marketing agency in London.
"I learned a lot from my first meeting with ClickDo, their Chief Web Designer Kasun Sameera told me something I still remember to date. He told me that 'it's not about the number of cleaners you have or the vans and equipment; it's about a robust online presence'," confesses Ivanov as he goes on to emphasize the importance of hiring a professional digital marketer to brand and market your services. "Digital marketing opened my eyes and I started seeing things differently. A simple search for the keyword 'End Of Tenancy Cleaning' in Google.co.uk yields over 9,000 match searches each month; that was huge potential for making good money!"
As ClickDo embarked on the task of designing a modern, highly responsive website that'd market his services and raise awareness of the newest kid on the block, Ivanov was busy shopping for the equipment he'd need. These included;
A vacuum cleaner
Sweeping Machines
Buckets, gloves, washing detergents and sponges
Decontaminants and eco friendly odor removers
A mobile phone to engage with clients and coordinate things
A van
Launching with a bang;
"On the advice of my digital marketers at ClickDo, I decided that I'd launch my new company with a bang. How'd I convinced clients that I'd do a better job than the bigger, more established service providers they already knew? Only by demonstrating it! I wanted clients to know my brand for professionalism, meticulousness, and affordability; so, an idea came to mind," continued Ivanov.
He got in touch with his former Landlord and offered to do 3 end of tenancy cleaning jobs for free at the end of that month. The Landlord was more than glad to let Ivanov and his crew come in and do the job on behalf of the tenants who were moving out. Also on site, Kasun and his digital team from ClickDo were on standby taking photos and videos of Ivanov and his crew of 3 as they cleaned.
"The image of my 3 helpers and myself all dressed in "EOT Cleaners" branded t shirts was powerful, they made us look professional, disciplined and committed to our cause," recalls Ivanov. The Cameras were sure to capture the Green, eco friendly detergents and methods used by EOT Cleaners; this helped arouse more interest among prospective clients.
Needless to say, the client was very satisfied with the free services offered, the tenants who were vacating felt relieved and honored. "The pleasure is all ours," Ivanov politely responded. He had his business cards at hand and passed them out with a "In case you need end of tenancy cleaning services in the near future, or know of someone who does, please feel very welcome to contact us."
A Brand is born, a prodigal girlfriend returns
The next day, Ivanov received a phone call from one of the tenants he'd given a business card to the previous day. Apparently, she had gone to inspect the new premises she was moving to and found it dirty and in need of quick sprucing up. Could he and his team help, she was even willing to pay double if Ivanov and his team could get the job done before the day ended. "Yes, we'll be there in the next 2 hours", replied Ivanov as he scrambled his team for this urgent assignment. Mind you, EOT Cleaners as a brand was already up and alive but there was no formal office or headquarters; Ivanov operated everything from his apartment. All the equipment, staff t-shirts and cleaning detergents; all these he stored in his house.
By the end of that week, Ivanov and his crew were able to do a total of 4 end of tenancy cleaning exercises, excluding the free demos they had done for his former landlord. Not a bad way to start business, right? The EOT Cleaners Website was up and sitting comfortably on the top pages of Google. The phone calls kept on coming, the enquiries from interested clients and bookings increased.
Alas, Ivanov became the business research manager, the finance officer, the receptionist and customer care representative; surely, he needed a new team member to delegate some of these duties to.
By fate or by default, Ivanov's former girlfriend came back after 10 months. She was pleasantly surprised to find Ivanov and a crew of smart men all with branded t-shirts and equipment. Watching the crew load their equipment and buckets in the van, and Ivanov driving them off for their next assignment impressed her greatly. She quickly sought to be included in the EOT Cleaners fraternity.
"Women are wonderful planners and multi taskers, she was able to handle the phone calls from clients and pass the details to the cleaners and myself with excellent coordination," adds Ivanov. She was able to assist Ivanov and together, they managed to rent a Spacious Office in London that'd serve as the headquarters for EOT Cleaners. With that, EOT Cleaners was now a force to reckon with, handling over 20 end of tenancy cleaning exercises each month.
Sky is the limit
Today, it is impossible to talk of end of tenancy cleaning service providers in London without mentioning EOT Cleaners. The company has a huge client base and boasts of over 15 cleaners, 4 vans, and they can dispatch multiple cleaning crews to different locations. EOT Cleaners started off as a strictly end of tenancy cleaning company but along the way, they've had to diversify their services in order to meet the market demands.
"Airbnb is a fairly new phenomenon; it's only in 2016 that we realized there was an emerging market segment that we could tap into. Today, we have an entire department dedicated to offering Airbnb cleaning services to hosts and property managers," reveals Mr. Ivanov.
What does the Future hold for EOT Cleaning Services?
Mr. Ivan Ivanov is guarded and only offers a vague smile when asked what plans EOT Cleaners has for the future. But he hopes that EOT Clenaers opens a branch in all the major cities across the UK, to become a nationwide service provider to millions of tenants and landlords looking for cleaning services.
"Whether we'll partner and franchise our brand across the UK, or open our own directly managed branches, EOT Cleaners will conquer. We want to be an easily recognizable nationwide brand, known for our professionalism, effectiveness, and affordability. So far so good, we're clearly on that path," concludes the CEO beaming with conviction and a confident smile.
Ivanov's advice to small and medium upcoming businesses;
"If you think you can, or if you think you can't, you're both correct. I'm a living testimony that an idea mixed with determination and passion can turn to reality.  I stumbled upon the end of tenancy cleaning by coincidence, an idea was born out of it, I pursued and nurtured that idea; today EOT Cleaners is a testimony that it was all worth it."