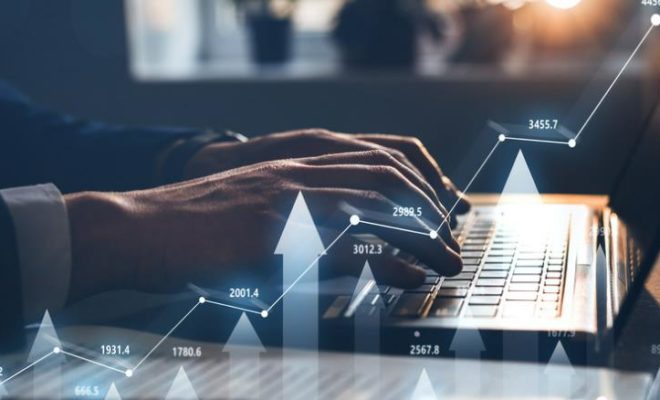 Business
How to Trade in 2022 – Why More People Become Interested?
By
|
Like many other things, digitalization drastically impacted trading markets. Trading apps and online trading companies democratize the conservative investment and trading environment, and you can monitor the constant growth of new investors globally.
Besides technological availability, new products also contributed to the volume and overall interest in trading. Instead of going to the standard knowledge base, new investors rely on channels like YouTube, Reddit and other social media. They learn how to trade forex, invest in crypto or NFT, and invest in stocks.
The past two years saw a considerable rise in investor numbers. Easy access to trading stocks and other investment assets led over 1.52 million active online investors to create an entirely new market. The rise in the number of investors is in double percentage figure. 
How to Trade in 2022 – Why More People Become Interested?
New ways to trade
Before the smartphone and broadband revolution, you would need a broker to trade stocks or other commodities in the traditional analogue world. However, the process was relatively slow and not accessible to a broader audience.
Like many fintech products that shook the financial and banking world, a similar thing happened with investment markets. What was once a formal nightmare with high entrance fees became extremely approachable to all who showed even the slightest interest.
Robinhood created a considerable buzz and experienced incredible growth in the last couple of years. A free trading platform has real-time quote information and trading in stocks without fees for every transaction.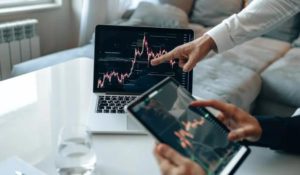 Etoro is another exciting app that lets you watch and communicate with well-established traders. You can oversee their transactions. StockTwits rely on Twitter to get insight from influencers on what they think about a specific asset.
Some apps like Robinhood have an average account worth $4000 but compensate for the single user value with a massive number of investors. Fidelity, however, has more than 60x higher single account value.
But it's not only unique and specialized apps that contributed to the sharp rise in new investors. Fintech companies like Revolut, a financial app with its own credit card, or a traditional player like Paypal also offer to trade within their respective apps.
Alongside investment apps, one other trendy product heavily influences the interest in trading. Robo-advisors are low-cost online platforms. They use advanced algorithms to handle day-to-day investing, while professionals set the backend strategy. You can start investing in minutes, and robo-advisors use common strategies without emotions and give advice depending on the risk and financial goals you entered. SoFi, Betterment, Vanguard Digital Advisor, and Wealthfront are some of this market's prolific names.
Trends that help drive the interest in trading
While huge brokerage houses still have the most significant turnaround, even the most prestigious players are adopting digitalization. One trend that is spreading rapidly through trading apps, brokers, and other trading channels is no commission trading. As a result, new investors are active, and although trading doesn't involve huge sums, the snowball effect from numerous clients results in increased revenues.
More and more brokers have zero commission for stocks and ETFs. It's a powerful tool to lure users into more profitable CFD trading. They also earn revenue from slightly higher currency conversions.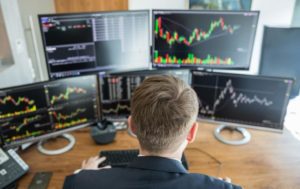 Trading apps making their way into traditional channels include price alerts where you can set the price you're waiting for buying or selling and never miss the opportunity. In addition, my Wallert is a convenient digital wallet allowing you to manage assets easily. Market news feed and get quotes features also create trading and investments more user-friendly.
Cryptocurrency markets are incredibly volatile, but they reached $1.8 billion in 2021 and were projected to go to $32 in 2027 before the dip in the market value in 2022. In addition, the number of mobile crypto apps downloaded rose over 400%.
Although global market turmoil shook the crypto market, trading on numerous exchanges and using digital coins as assets is still high. In 2022, you can find numerous news on creating a firmer legislative frame for crypto trading in Europe and the USA. For example, China's ban on crypto transactions and Sweden's push to outlaw crypto-mining could stifle the crypto market.
Things to watch for new investors
It has never been easier to start investing. Apps without fees and low entry deposits created available tools for the masses. The challenging situation in global markets could be problematic for new investors and an excellent opportunity to make significant moves.
High-profile stocks like Amazon have a high value of over $100. Trading apps allow you to invest in fractional shares, the minor bits of crypto, or other assets similar to microtransactions. If you monitor your investments smartly, those micro-investments can grow over time to more substantial assets.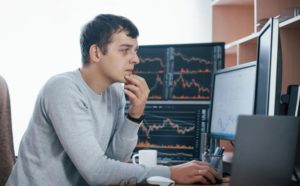 The wide variety of available assets and the convenience and availability of mobile trading apps, online trading platforms, robo advisors, and other democratized options drive the considerable interest in trading in 2022.
Streaming platforms like YouTube, podcast streaming platforms like Apple or Spotify, and social media hubs like Reddit and LinkedIn offer an abundance of great advice for new traders. Choose channels carefully. The number of followers and the comments are a great starting point. Then, follow the trading advisor for a while and see how their predictions work for you and your potential portfolio.