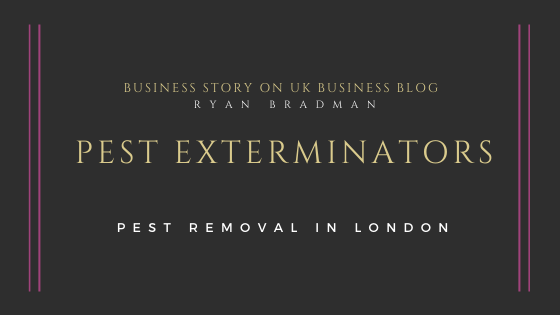 Business News
How Pest Exterminators Provide the Best Pest Removal In London
By
|
A common myth among Londoners is that you're never 6 feet away from the nearest rat. Over 186,000 rat complaints have been recorded by the local authorities over the last 5 years. This number rises when you include other types of pests like wasps, bees, squirrels, hedgehogs, bedbugs, etc.
Now, are you a resident of London and are tired of pests in your home or office? No worries, Pest Exterminators have the solution for you. This is business news I want to share with you after my interview with them.
Pest Exterminators are available 24/7, offering outstanding services to Londoners.
They have a wide range of tools and methods that they use, making them an efficient company when it comes to pest control services in London.
What Makes Pest Exterminators Unique?

You can reach them at any time of the day by calling 0800 772 3267. They have a friendly and experienced team to take you through all the available pest control methods. Pest Exterminators will conduct a free inspection before recommending the best methodology to eliminate the pests you're facing.
Their customer care and service delivery are very professional and efficient.
Types of Pest Control Contracts;
At Pest Exterminators, you're assured of effective pest controls methods that range from one-off treatments to regular maintenance contracts. A maintenance contract is aimed at customers who require regular extermination of pests in their premises. It could be a premise that's prone to wasp or rodent infestations purely because of its location or other factors; such a premise requires regular extermination of these pests.
Commercial Contracts
Pest Exterminators carries out its contracts efficiently and promptly. This ensures that the customer has the desired results, and their property is free of pests. They offer different types of contracts to suit the different needs of every customer. With Pest Exterminators, your commercial property is well taken care of in terms of exterminating and preventing a re-infestation of pests.
Their services are optimal, and they offer support as well as advice on all areas of pest control. They always go the extra mile to ensure you are satisfied all through your pest problem.
Why Is Pest Exterminators London's' Pride?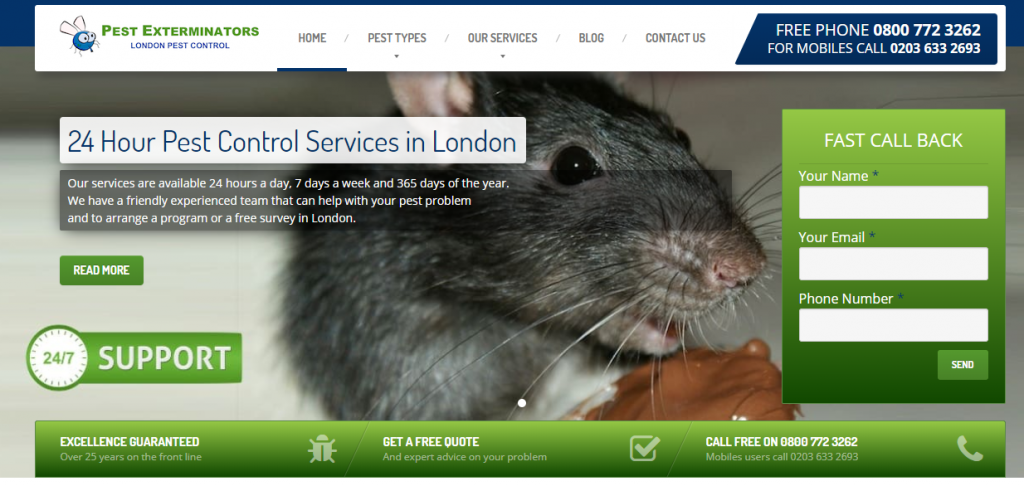 Pest Exterminators offers you thorough and comprehensive services when it comes to pest control. They are experts when it comes to pest control; from ants, termites, bees, wasps, rodents, birds, hedgehogs, bedbugs, to mention a few. Since their services are available round the clock, you can trust them to get the job done fast and efficiently.
Another feature that makes them a unique pest removal company in London is that they offer emergency pest control. Some pest problems such as wasps or bees can pose a clear and present danger to those living around. They should be treated as an emergency and in such moments, Pest Exterminators are there for you during that moment of panic.
With their contract, you will have the peace of mind that comes from knowing that you're dealing with a company committed to ridding your property of any pest infestations. Pest Exterminators allows you to go on with your life as they get rid of pests in your workplace or home.
Areas That Pest Exterminators Offers Services
Pest Exterminators have branches in various parts across London. They have experts in pest control in areas such as;
North London
South London
Central London
East London and
West London
So no matter where you live in London, Pest Exterminators has you protected at all times, in the best way possible.
Pest Control In North London
Are you a Londoner currently residing in the North of the city? Is your property home to unwanted guests like rodents, wasps, bees, mosquitoes, bedbugs, or such? Well, no need to break sweat over that anymore. Pest Exterminators will efficiently remove all types of pests in both residential and commercial properties of North London.
The crew at Pest Exterminators has enough knowledge when it comes to different types of pests and how they behave. They can also advise you on the best solution to remove or exterminate the pests. Additionally, they provide pest control in any situation from small residential flats, to large commercial properties.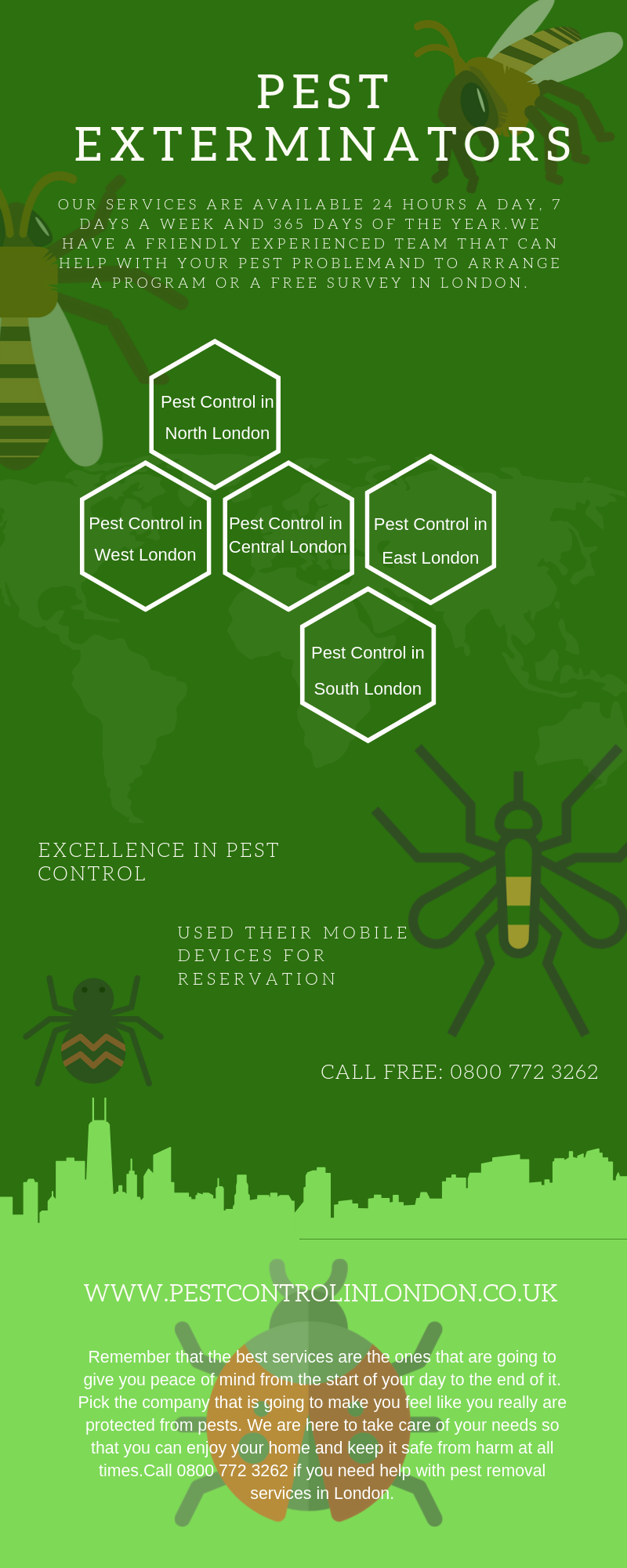 Pest Exterminators offers the following types of pest control in London;
Extermination and prevention of insects
Bee and wasp nest removal
Fox eradication
Rodent management (rats, mice, squirrels)
Expert advice regarding any level of pest controls.
Their services are customized to meet customer's specific needs and unique challenges. With their assistance, you are guaranteed of getting satisfactory services at all times.
The company's crews are CRB checked and can deal with any type of pests from bedbugs to rodents. Plus they offer the best support and advice during the whole process; Pest Exterminators are your caring partner at every point of the way.
What type of pests are you trying to get rid of? This should not bother you since Pest Exterminators offer both long-term plans and custom solutions based on what you want.  If you are in a large corporation, you will get a multi-site contractual solution; hence you will have peace of mind, regardless of where your colleagues are based.
In case you are looking for pest control services in North London, simply contact Pest Exterminators. You will get to talk to an expert who will offer you the best advice on pest control method, depending on the situation you're facing.
Pest Control In South London
Pest Exterminators is there to help you get rid of all types of pests in and around South London. They provide pest control solutions in your residence or workplace. The company's services are rated 4.5/5 in the UK, making it one of the best and most experienced company in pest control services.
Pest Exterminators services in South London include emergency pest control services. It is advisable that you consult an expert when you need help in pest control instead of doing it yourself; wasps and bees for instance, can be dangerous if you attempt to do it yourself.
Types Of Pests That Pest Exterminators Controls
Pest Exterminators offers pest control services on different kinds of pests such as rats, moths, wasps, ants, bed bugs, cockroaches, flies, squirrel, among others. They also ensure that they tailor their services to meet customer-specific needs. For best results in pest elimination, they offer one-off treatments as well as long-term contracts for commercial and residential properties.
Bee Nest And Wasps Nest Removal
These are various types of pests in London. Pest Exterminators Company is perfectly equipped deal with these pests in both commercial and residential properties. They have enough experience, manpower, and the skills to handle any type of pest infestation.
Wasps are more common during summer and early autumn. However, they will only sting when they feel their nests are under any form of threat. Even though a wasp's sting doesn't cause any known diseases, it's painful and causes irritation and allergic reactions to people.
The same thing happens with bees; they will only attack if they feel their colony is under attack. It is important that you're cautious when around bees, especially if you are allergic. Always try and remain calm when a bee passes near you; most likely, it's looking for pollen and isn't interested in attacking you.
You should not try to dispose of bees or wasp nests by yourself—instead, contact experts. Pest Exterminators have enough experience in bees and wasps disposal, and they can help you deal with the insects effectively.
Insects Eradication & Prevention (Cockroaches, Bedbugs, Flea, Ants, and Fleas)
The above pests are common in most UK households and can transmit serious diseases. Plus they're both a nuisance and embarrassment to have in your household.
Pest Exterminators prides itself of having immense experience clearing and ridding properties of all types of pests. Some pest infestations are minimal, while others are severe and interrelated. For instance, having many flies around your house can be a sign of another pest problem; such as a dead rat.
Only a professional and reputable pest control company can help eliminate such infestations effectively.
Other pests that are common during summer are moths. Moths are attracted to light and when you leave your windows open during the night, they automatically get into your house. The problem with moths is that they can cause damage to your clothes. Plus they attract more pest problems in your home.
Pest Exterminators has expertise in dealing with tiny pests such as bedbugs and fleas. These tiny insects can be hard to get rid of, especially if you are dealing with them by yourself.
Fleas are a common pest especially if you have pets around. They are hard to eliminate and their eggs can survive up to a year in your carpet, or other warm areas.
Rodent Control;
Pest Exterminators controls rodents through extermination and proofing. The population of rodents in London is increasing; about 100 rat complaints are made by Londoners each day.  These unwelcome rodents pose health hazards to people through their urine and droppings. They also cause damages to your electrical wiring and gas, which can lead to leaks and fire.
In London, most households have experienced mouse infestations at one point or another. Mice are attracted to left over foods as well as warmer weathers that make them produce fast.
Squirrels are also common pests in most homes. They gnaw and feed on plants and fruits, often around your home garden. A squirrel will not hesitate to bite its way out when it gets cornered; which is why you're adviced to call in a professional pest removal company rather than doing it yourself.
Did you know that Pigeons are categorized as pests? Well, they are lovely and we all like them; but they're nonetheless categorized as pests. They're often referred to as the flying insects. Apart from the numerous diseases they're known to cause such as respiratory problems, Pigeons damage ceilings and roofs when nesting. Their droppings can damage your roof, make rainwater that you collect unusable. Get in touch with Pest Exterminators to get humane and eco-friendly pigeon control solutions.
Their pigeon control methods include;
Netting
Use of spring wire systems
Use of anti-perch spiking
Foxes can be a nuisance when they invade your property. They are more common in warmer seasons like summer.  Apart from raiding chicken coops at night, they bring along fleas and rabies to your pets.
Pest Exterminators get rid of foxes by trapping them and releasing them into the wild. This is humane and ensures that we don't decimate their populations even as we seek to keep your property fox free. We will also advice you on the best fencing and other tactics needed to keep foxes off your property.
What Approaches do Pest Exterminators use?
The following approaches are applied by Pest Exterminators to control pests in your home. The methods take into consideration the wellbeing of your family, pets, and the environment;
Removing bee and wasp nests
Use of bird deterrent and management programs
Use of personalized consultancy
Eliminating rodents through eco-friendly methods
Inspecting your properties and advising you on the best approach.
Commercial Pest Control
Pest Exterminators offer advice on measures that can be applied to control pests in commercial properties. Are you having a problem with an existing infestation that's interfering with your business operations? Worry no more. You can get a qualified pest control expert from Pest Exterminators assigned to you. They will analyze the pest problem in your business and offer appropriate preventive measures. A follow-up inspection is scheduled to ensure that the problem will not reoccur again.
Bottom Line;
Regardless of the pest problem, you are facing in London; Pest Exterminators got you covered and they are one of the top 10 pest control companies in London. This applies to both residential and commercial properties. Only such a reputable pest control company has the skills and experience required to rid your premises of all pest infestations.
Their team of experts comprises of dedicated men and women who'll not rest until your pest problem is arrested once and for all.
Their rates are affordable, and their reputation is impressive. Few pest control companies in London as thorough, effective, and affordable as Pest Exterminators.
For all your queries and questions, drop them an email at [email protected]. You can also call them on 0800 772 3262. Talk to the experts today, talk to Pest Exterminators.