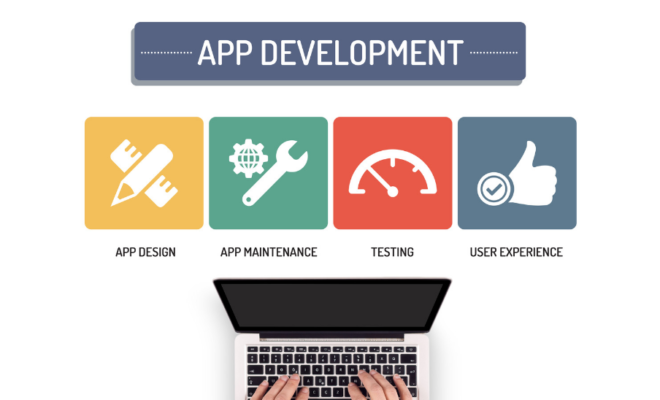 Technology
Language Learning App Development – Basic Principles
By
|
People want to learn languages. In 2020, the language learning sector revenue reached $6.18 billion with a 33% increase compared to previous years. Such popularity of these applications can be explained by several factors:
Learning in a virtual environment is self-controlled and, as to say, self-administered which increases users motivation;
Learning online also doesn't require tie for a commute like offline classes do
No pressure and gamified competitiveness allow "students" to learn without stress which is also pretty good for productivity
Cost-effectiveness — since some most popular apps like Duolingo are free;
Accessibility — all you need is a smartphone or a laptop and a network connection.
The most popular language-learning app in 2021 is reported to be Duolingo with 61% of total installs ($161 million generated revenue in 2020). 9% of users installed Mondly (estimated revenue $4.79 million in 2020) and 7% used Babbel ( €147 million revenue in 2020).
Language Learning App Development
The accessibility of language apps on the Internet, the worldwide popularity, and profitability (these apps are usually monetized via freemium or subscription models) make educational mobile app development a good choice for a startup.  The niche is wide and varied – Diversido company for almost 10 years operates in the market of educational applications development and released dozens of projects from learning management systems for teachers, training programs for students to educational apps with gamification for language learning and brain training. But still, new educational startups continue to appear and demand for apps development rises as never before.
This article outlines several effective strategies for making a language learning app truly valuable to a user.
Focus on Fast Achievements
Small steps are the best way to tackle a big goal.
Humans are problem-solvers and they love to achieve things — successful completion of tasks we want to finish makes our brains produce dopamine, a neurotransmitter that makes us feel good. "Want" is an important part of the equation — there's nothing enjoyable in doing something we do not enjoy. We can trick our brain into wanting by giving it something it could tackle easily: thus, small steps are best to encourage learning anything and using the app. Reward users for completing small sections of the study program, too — we do love rewards as well, as they're signifiers we're able to do things.
Gamification is a Key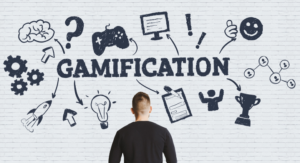 The point of gamification is to facilitate the educational process and make learning a language more fun. Gamification awakens curiosity, fosters healthy competition, and creates a sense of control over the milestones users plan to achieve. There are plenty of gamification features you can employ to keep users engaged:
| | |
| --- | --- |
| Internal Currency | Virtual points that users can earn for completing different activities and spend them to buy in-app items. |
| Social Interaction | The ability to sign in via social media pages and compete with friends. |
| Badge Awards | Award learners for their achievements (e.g. completion of different kinds of skills). |
| Progress dashboard | Illustrate the users' progress by showing the number of completed lessons and lessons-to-do |
| Levels | With each level, users get more complicated tasks that challenge them to go further. |
People tend to prefer certain forms of information for learning. Some study better when there's a visual follow-up to everything that's said in the text, some prefer video, some learn better with audio input — writing down the lecture. Learning apps might incorporate features that address all popular perception types through auditioning, pronunciation, cuts from movies in a target language, written exercises for alphabet and characters, dialogues, etc.
Gamification features enhance the efficiency of learning by following up exercises with detailed questions, quizzes, repetitions, etc. — and they can be built to require any type of response, too. To answer a question about characters, users might have to write them on their smartphone; check if they got the pronunciation right by speaking; translating from video; finding mistakes in subtitles; etc.
Networking and Speaking Practice
Language learning via apps doesn't always have to be a one-sided process (or two-sided, with a user and whatever algorithms you've integrated into the app.) Add the tool for live streaming communication with real teachers and chats for the student community. For instance, Hello Talk allows you to speak to anyone, from any country, and learn languages from native speakers. Much generic e-learning is the new trend for schools to have a virtual classroom feature — like an integrated Discord group or Zoom.
You, too, can build a feature that would allow people to listen to live lectures on the grammar and syntax of a language and ask teachers questions that would boost their learning. Alternatively, it could be a voice-based chatroom, in which people who want to learn the same language are talking about their specific interests — it's always more fun to discuss things you care about than the weather. People also retain knowledge that matters to them better than generic information.
Grammar, Vocabulary, Listening and Speaking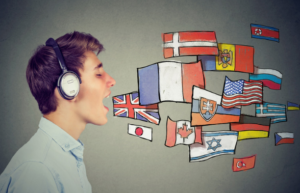 These four are essential elements of language learning — to retain the language efficiently, one should emerge in the environment that's composed of it. Here are a few features that will help you create a context like this.
| | | |
| --- | --- | --- |
| Activity | Description | Purpose |
| Connecting words with their meaning | Let users connect words in a targeted language to what their meaning in the language they're native in | Vocabulary practice, word memorizing |
| Filling-a-gap | Offer users to choose the right word to complete the sentence | Grammar, vocabulary practice |
| Speaking the sentence | Present users with a sentence and ask them to pronounce it | Speaking and pronunciation skills |
| Word lists | Let users add a word or cross out an unsuitable one from a list of words that are united by meaning or context | Vocabulary practice |
| Fill in the blank exercises (video-/audio form) | Play a song or a video and offer users to fill in with a missing word | Listening comprehension |
| Dialogues recording | Students read parts of dialogue aloud in their microphone | Speaking comprehension |
| Podcasts listening | Students choose and listen to a podcast that corresponds to their level of language comprehension | Mastering listening skills, grammar, and vocabulary practice. |
Progress Monitoring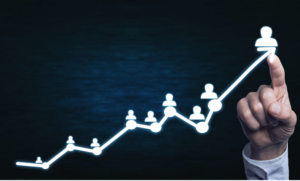 Progress monitoring features are used to track users' performance and achievements and keep them motivated for further accomplishments. Here are a few features related to it:
Small tests at the end of every unit to summarize knowledge acquired. Give rewards if users performed exceptionally well.
Progress dashboards as the visual way to demonstrate how far users have come. It's best to integrate a bit of data analytics to show users when and with what aspects of the language they performed better and what needs more of their attention.
Tailor personalized messages to analytics: motivate users with what matters to them.
Apart from that, you can collect data on users' daily, monthly, yearly performance, suggest tips & tricks to close the gaps you've discovered, and so on. Progress monitoring isn't just a source of motivation for users — it's a deep well of user data you can utilize to make learners' experience better.
Summary
Language learning apps are not revolutionary, but they're still a popular method people use to master an important skill. Language apps should be lightweight, comfortable to use, and adjustable to each users' preferences. It's also best to invite instructional designers to assist you with development — then, the technical part of the app will be enchanted with their expertise of how an efficient study program should be constructed.