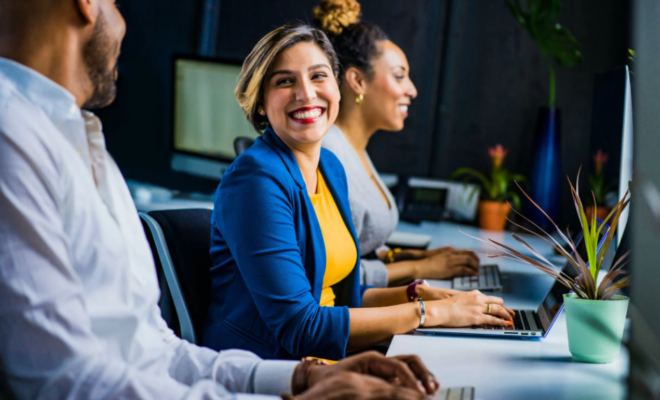 Business
Why do you need to have a Digital Mailroom for different businesses?
By
|
Imagine a multi-story corporate office with hundreds of employees occupying the building. All the employees are expecting numerous official mails that need to be sorted out and delivered to the employees promptly. You could visualize the desk to be in frenzy with piles of mails and long queues of distressed employees. Here is when Digital Mailrooms come to the rescue of your business.
Digital mailrooms automate the process of incoming and outgoing mails and packages to speed up the delivery to recipients and streamline the entire delivery process. According to statistics, the postal services have seen a recent decrease in regular mail but parcels have been increasing. In the year 2020, 14.6 billion letters have been received by the postal services, which is less than the previous year.
The advent of COVID has also increased the demand for digital mailrooms as the work from home trend has increased. The current business market needs top impact and innovative digital technologies to remold their businesses. Therefore, having a digital mailroom is now an essential business solution.
Digital Mailrooms For Small and Large Businesses
Many businesses have switched to Digital Mailroom to reduce the mail delivery time and increase the overall efficiency of the mailing system. A digital mailing system also has a positive impact on relationships with stakeholders by having immediate access to the important mail.
A digital mailroom helps in document classification in businesses.  Barcodes and image scanning using OCR technology allow the mailroom staff to scan and retrieve recipient information without manual entry. Furthermore, it is easier to find and inform the recipients with a notification. Sorting and classifying emails for departments has achieved more accuracy with the use of digital mailrooms.
Digital mailrooms also offer the service of virtual mail. While traditional mail takes around 2-3 days to be delivered, the digital mailroom sends a scanned copy to the recipient electronically that can be accessed online on the same day.
Digital Mailrooms are not only designed for large businesses but small businesses can also benefit from this. Small businesses generate correspondence mails like large businesses and it has to be dealt with rapidly, increasing the business agility.

Functions of a Digital Mailroom
Now let us take a quick rundown at the services that your business employees and mailroom staff can avail.
Mail recipients can have online access to their mails.
Mail recipients can request to forward, discard or store the mail until it can be picked up.
Mailroom management can send out quick notifications and automated reminders.
Mailroom staff has fewer mails to organize and store
There is zero manual entry, thus reducing errors and time wastage.
6 Reasons Why Businesses Should Adopt Digital Mailrooms
The demand for digital mailrooms is increasing in businesses to avoid losing important documents and to have timely deliveries. If you are a business and you are wondering if you should invest in digitizing your mailroom; here are some benefits that your business can get from a digital mailroom.
1. Improved Mailroom Efficiency
Traditional mailrooms require many staff members to process a large number of snail mail and packages. However, with digitization, manual data entry has been eliminated through the use of barcodes. Your staff is then spared to work on other things that help to improve business productivity.
With quick mail processing and sorting, you can send immediate notifications to recipients to pick up their mail. This way you can achieve same-day pick-up, subsequently reducing the need for mail storage space. It is also convenient to reach out to recipients to inform them. Thus, it saves time in chasing and informing them about their mails.
Digitization has also reduced errors, leading to accuracy in deliveries. Moreover, your office employees can request to have their mail in an electronic form. The staff will scan the mail that can be accessed online by the business employees.
2. Reduced Storage Space and Clutter
As mails are sorted and delivered quickly, fewer storage cabinets are required. Employees can also request to have a scanned version of the mails and notify the staff to discard the mail afterward. This also reduces the piles of mail for storage.
In addition to quick deliveries, barcodes and ID tagging let the staff to organize the storeroom efficiently. So, the packages and mails take up less space and can also be retrieved quickly through the help of the mailroom management software solution.
3. Improved Mail Security
PackageX mailroom software requires a photo to be clicked for records every time a recipient collects their mail. This way it can be ensured that the package has been given to the right recipient. And if there is a mistake, a full audit can be carried out.
Moreover, mail that has to be stored is first sorted out and tagged with a unique number. This makes it easy to find it when it has to be picked up. Thus, it reduces misplacement and loss of important mails and packages.
Mails are stored safely in the mailroom and can be picked up by only the specified recipient. This ensures security. Employees can identify the 'scan' and 'no scan' mails beforehand. When confidential mails arrive, the staff first sends a notification to the recipient before opening or scanning it.
4. Quick Delivery 
Businesses are time-sensitive. It is significantly important that you send and receive mails promptly to stakeholders. Delays may lead to dissatisfaction of partners and clients. It can also cause work to be on hold resulting lack of productivity.
Mail recipients can also respond to notifications and communicate with the mailroom management. They can give instructions about their mail; such as forwarding the mail to another address if they are doing remote work. Or they can also request to hand over the mail to another employee in case they are on leave.

5. Cost Reduction
You can reduce your operational cost by digitizing your mailrooms because it requires less staff to operate.
Furthermore, you can save up on the cost of the area needed to store the mail. This is because you have a same-day pickup, thus you have fewer mails to sort and store. The staff can also discard spam mail upon the recipient's request.
6. Digital Mailroom to Support Remote Work
Remote work is on the rise everywhere in the corporate world. Consequently, the demand for digital mailrooms has also increased.
Employees want access to their mails even if they are at home because they do not want delays in receiving their official mails. Digital mailrooms can provide them with online access to mails and they can forward the mail to their home address as well. All this can be done online with a click, making it easy to communicate and provide instructions.
Conclusion 
Thus, the implementation of digital mailrooms has become an optimal solution option in today's business. All the incoming mails are centralized in the mailroom and converted into a digital form for quick access. One of the excellent features of the digital mailroom is the accelerated mail delivery, which has made things easier for system operators.
It is concluded that the digital mailrooms will aid in addressing most of the major issues experienced by mail operators. The benefits are obvious as they are automated therefore they are less prone to errors. They have increased the productivity and transparency of businesses. Once your company switches to digital mailrooms, you will surely see operational efficiency in the company's performance.