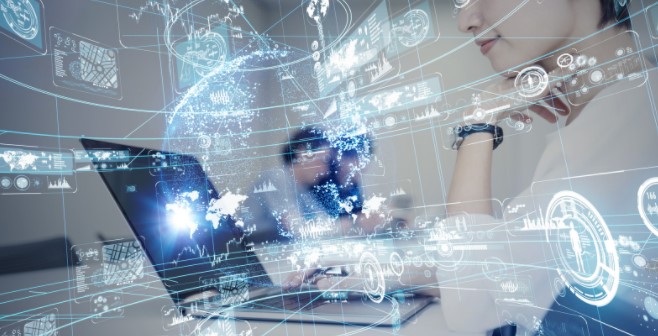 Business
Top 5 Facilities Management Software For Your Business
By
|
When you run your business in a physical structure, you are most likely going to prioritize the maintenance of this structure. There are also high chances that you're going to encounter a series of repairs, replacements, and inventory checks, and there's only so much burden a human employee can bear, hence the need for facilities management software.
The need to keep your employees in line with the assets and equipment they will be working with. Therefore, closing the bridge between human activities and the physical fixtures and fittings in the company. For efficient resource planning and reduction in the cost of maintenance, the following facilities management software are great ways to invest in your business:
Workever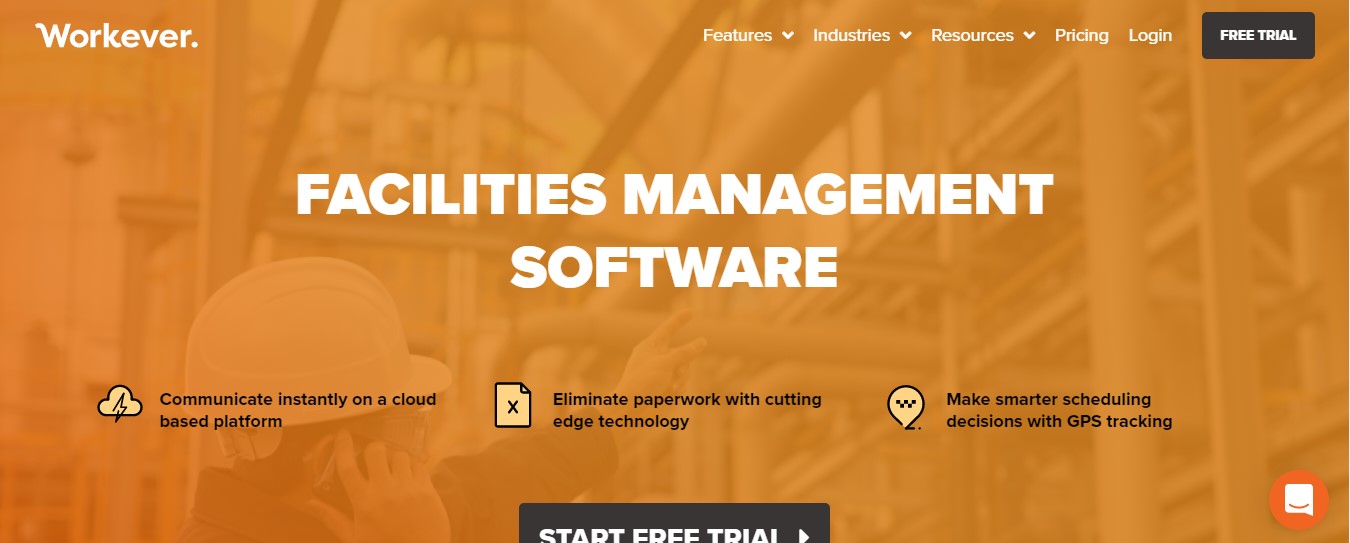 Topping the list is this multi-functional management software, Workever. This platform puts together the necessary tools needed to efficiently control the assets and equipment of a company and controls business operations taking place at the office, like scheduling and invoicing.
Workever encourages team collaboration, as the facility managers can easily collect necessary data and signatures in sync with the admin's records. Employees working in the field are never misinformed with the help of the mobile app that gives them access to jobs, notifications, and level of completion.
Customer interaction is always at its peak every time the Workever software is used in the management of facilities and business activities, as it features make it easy to add new customers and a customizable customer portal. Customers can also interact with staff, all thanks to the two-way direct messaging this software provides. Scheduling of jobs and invoice generation is swift, and just a click away.
Key Features
Scheduling
Invoice generation
Report upload and download
Push notifications
Sync data to the admin console
Cloud-based platform
User friendly
Hippo CMMS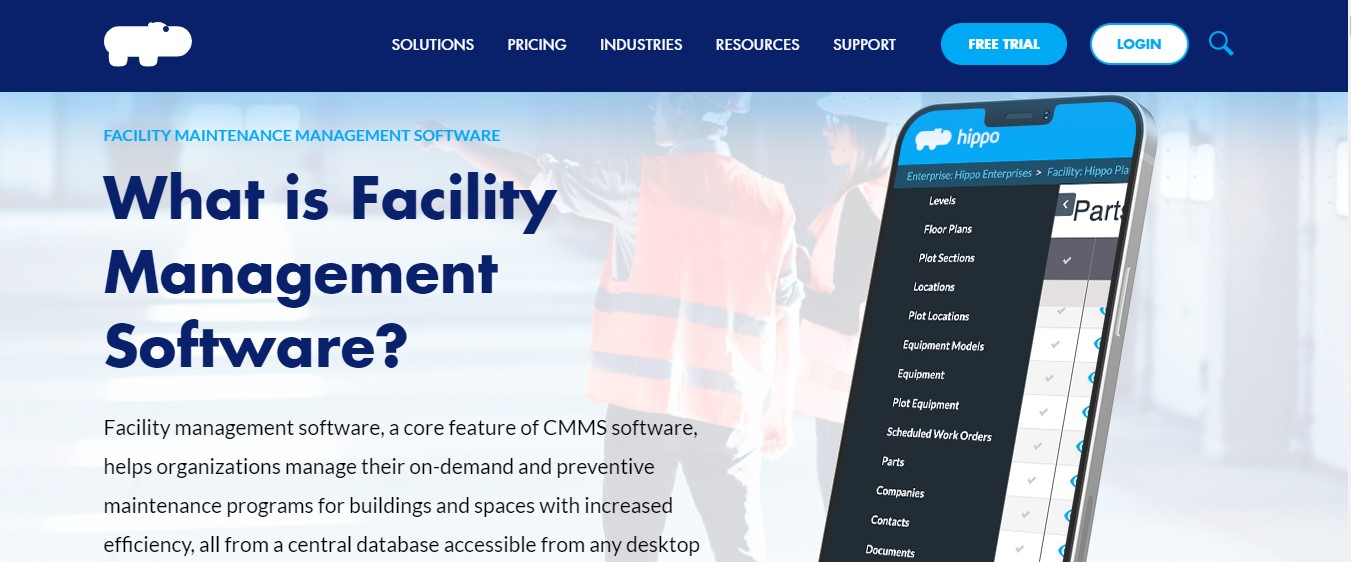 The Hippo CMMS software is good for enhancing the productivity of facility managers in a company. Facility management is made easy with preventive maintenance software that tracks down potential issues by scheduling and tracking a complete facility management program before they become too costly to maintain.
This software features a work order software that helps facility managers create, assign, and monitor maintenance work orders in the company. It keeps the daily activities in an organization in order by reducing the effect that unplanned maintenance and repairs can cost an organization.
Equipment management software also tracks assets and equipment by gathering the necessary data that helps identify issues by tracking its downtime and cost of repairs, replacement, and labor. Hippo mobile app gives managers access to important data on the go, as scanning QR codes, sending photos, and other document gets easier.
Key Features
User friendly
Complete work order management
Equipment management software
Vendor management
Preventive maintenance software
EZOffice Inventory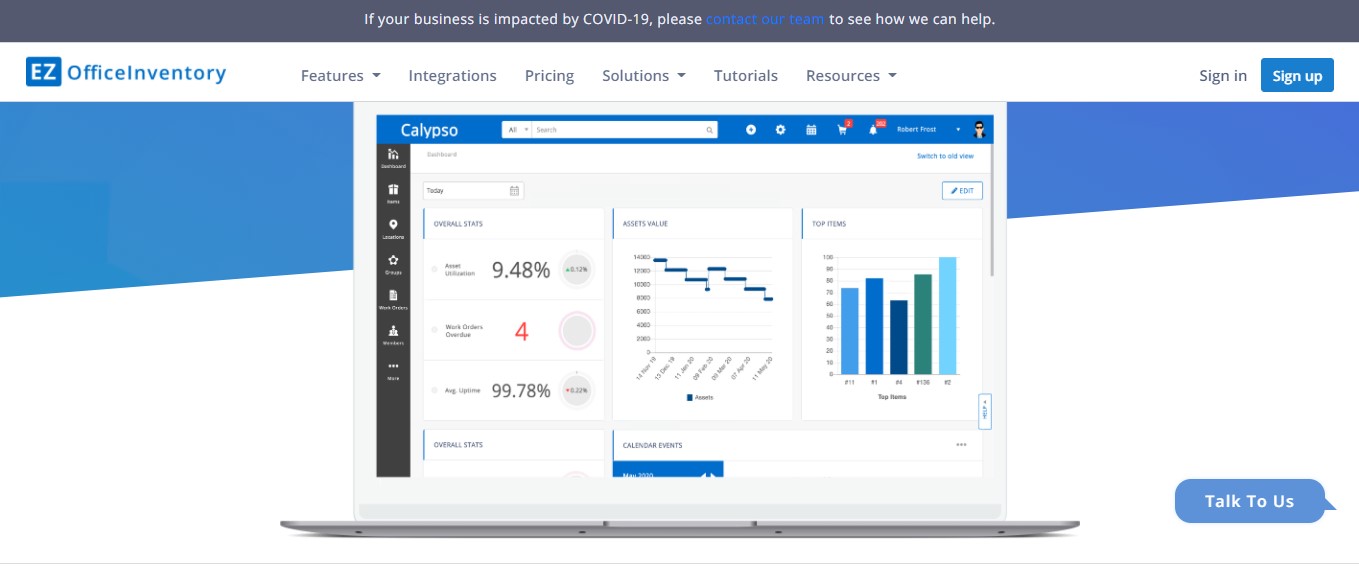 With EZOffice Inventory, the lifecycle of assets in an organization can be closely monitored from the date of purchase till the date of disposal. Using this software is effortless, as it is easy to navigate every time you make use of this software. With third-party integrations like zendesk, you can easily streamline the workflow of your organization.
A work order can be created and assigned to employees who are logged on to this software, to ensure that daily goals are achieved. There are push notification features that remind employees of recurring and one-off jobs.
The EZOffice Inventory not only has a mobile app that makes working at any time and anywhere easy, but its mobile app also makes it easy to scan barcodes and QR codes, which will give immediate access to the scanned assets and equipment. End to end inventory tracking also help you monitor inventory checkouts and plan reservations when necessary.
Key Features
User-friendly interface
Third-party integration
Mobile apps
Asset lifecycle management
Tracking purchase orders
Dashboard calenders
Equipment management software for assets check-in and check-out.
FMX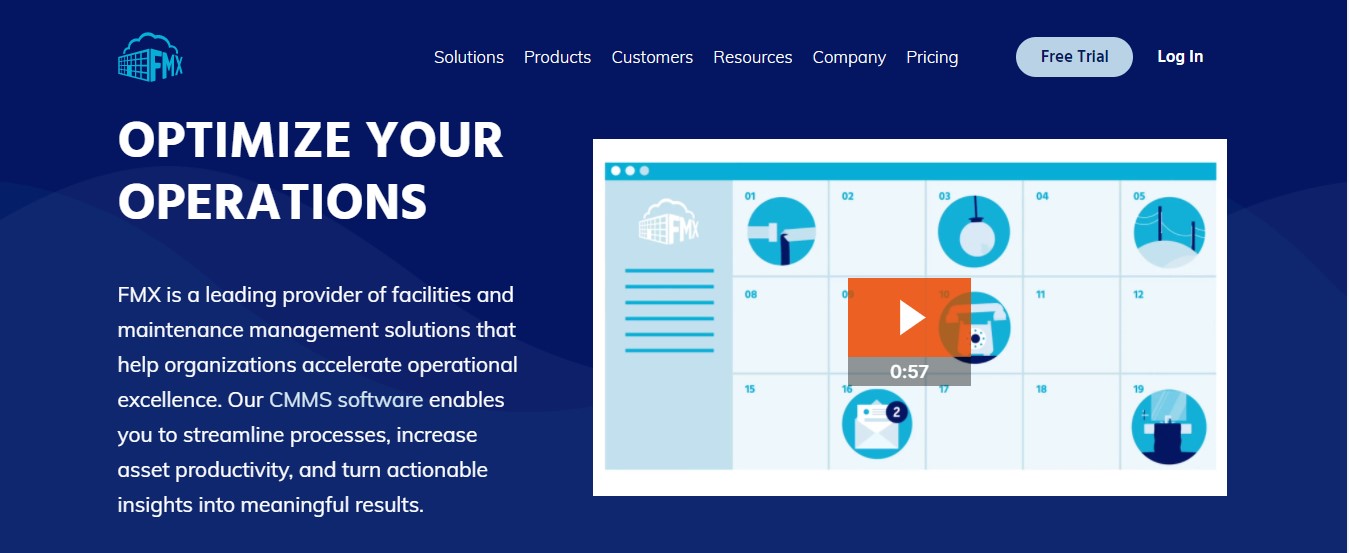 Next, we have this user-friendly cloud-based software that facilitates equipment and assets management in an organization. With the help of a calendar-based interface, scheduling is made easy for users. Team members can create work orders and access ready-made orders by logging in with their smart devices.
The FMX software features a maintenance scheduler that automatically plans maintenance operations based on estimated time and meter readings, to reduce the cost and effects of a long-overdue repair. You can generate a QR code for each asset, making it easy to draw out information and history on these assets by scanning the codes.
With the drag and drop function,  events can be easily scheduled and streamlined to prevent a clash in events, which reduces productivity and distorts work order. FMX supports a visual display that facilitates decision making based on trends.
Key Features
Fleet management
Inventory management
Work order management
Facility scheduling
Reporting and analytics
Maintenance scheduling
 Audits.io

Finally, we have another cloud-based software that is suitable for all smart devices, thereby facilitating access to workflow and projects. The Audits software is perfect for both small and large scale business as it makes it easy to keep track of all assets and equipment in an organization's possession.
Scheduling maintenance and routine check on each asset are possible with this software, as you also ensure that the necessary actions have been taken. It features an in-app camera that captures images to be sent for documentative purposes; as well as attachments too. The need for paperwork is reduced as you use excel and your mail as a tool for making reports.
Key Features
Third-party integration
Automated statistics
Reports
In-app camera
User friendly
Final Verdict
As long as the maintenance of your assets and equipment is concerned, the need for facilities management software cannot be overemphasized. the above-reviewed software has proven to streamline work order, facilitate maintenance scheduling, and reduce the extra expenses incurred from overdue repairs.
The good news is, this software are suitable for mobile devices, making it possible to keep tabs on every asset owned by your organization. Each software also comes with a free-trial that aids your experience before finalizing your purchase. For an increase in productivity and a smooth workflow, invest in one of this software.