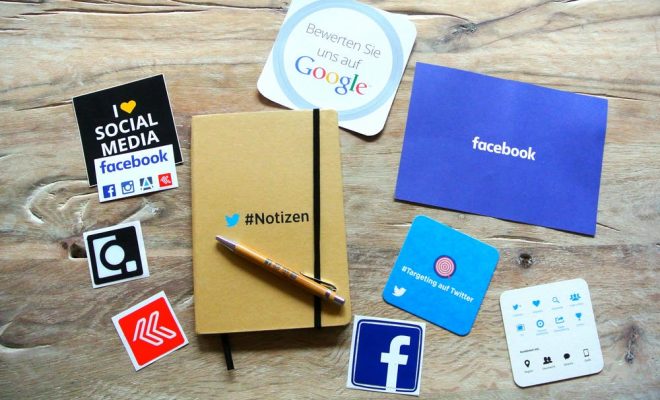 Online Marketing
5 Social Media Marketing Mistakes That Can Wreck Your Business to Oblivion
We've often heard of how pivotal social media platforms have become for businesses.
Of how Facebook has brought a company truckloads of leads. How a business coach garnered countless clients through Linkedin. And how an Instagram influencer brought thousands of sales for an e-commerce business.
The list goes on…
These stories are without a doubt true.
It doesn't matter what business you're running, whether you're into creating logo designs for businesses, creating websites for coaches, or writing articles for B2B companies, running a social media marketing campaign can take your business to the next level.
It just solidifies the point of how social media marketing (if done right) can take businesses to the next level.
Even having said all these good things about social media marketing, however, it's also worth pointing out that SMM can also wreck your business — that is, if you aren't careful with how you run your campaigns.
In this guide, we're going to share with you five social media marketing mistakes that can be detrimental to your business.
1. Not Publishing Unique Content.
As a child, the game of "I'll repeat everything you say" was cute.
As an adult, it's not cute anymore.
Here's the thing, while there is value to be had from sharing other people's content, if you want to get stunning results out of your social media marketing campaigns, you can't be doing just that.
On top of sharing other people's posts — which can be perfect for relationship building — you need to come up with your very own content, as well.
It's not as hard as you'd think, actually.
To help you come up with a content topic that is likely to go viral. You can use an online tool like Buzzsumo.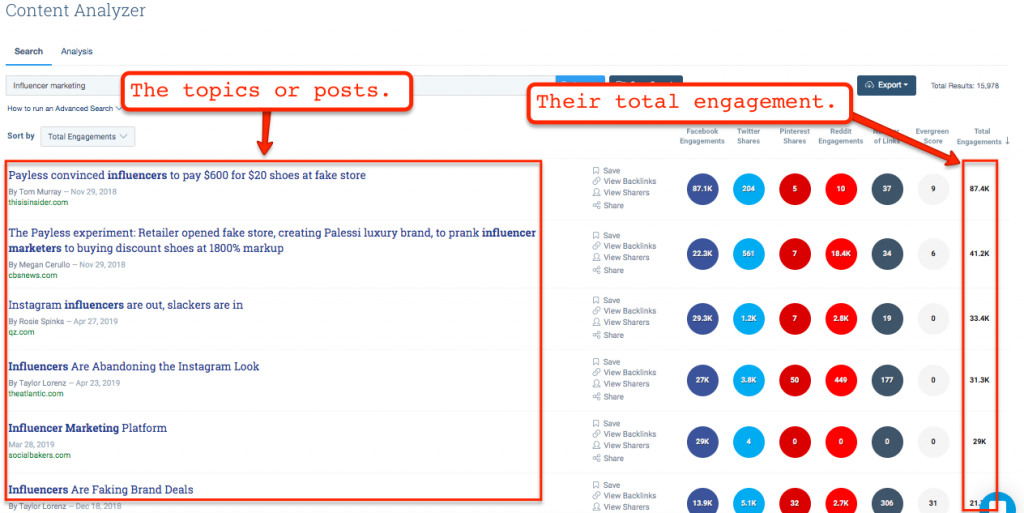 As you can see in the screenshot,  you can view the posts and their topics, and their share count.
With how the tool works, you can uncover topics that your audience are most likely to engage with.
You can create a spin-off or write your own opinion on the topic instead of just sharing what's already on the web.
Using Buzzsumo is just one of the things you can do, of course.
You can also do competitor research so you know what your competitors are up to. From there, you can build upon their marketing methods or strategies so you can produce something better.
Creating better content will almost always bring you better results.
Targeting the same audience they're targeting while offering something better can also do you wonders.
Take the time to study your competitors and you'll be able to come up with unique social media posts that your audience will love.
2. Ignoring Your Metrics
If you want to get the most out of your marketing campaigns and the amount you spend for them, then you need to track your numbers.
Without tracking, you'll never know what to improve, how to improve, and when to implement your new initiatives to get better results.
It'll all be just a blur.
When you track, however, you'll know based on numbers what works and what doesn't. In case you're wondering how this all looks. Here's an example of how your numbers look in Facebook ad manager.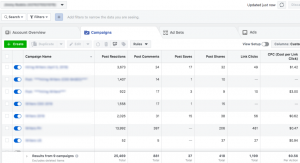 As you can see, you'll know which campaign garnered more comments, reactions, etc. You can use these as a benchmark of sorts to determine what works and what doesn't.
Imagine running a duplicate Facebook ad with the only difference in the ad image you used.
Since everything is the same (like your audience, date and time your ad ran, and your ad copy, etc.), you are bound to see better results on one ad over the other.
This tells you that the image you used on the ad that gained better results is better — all because you track your numbers.
With that information, you can use the same image on your other ads so you can get better results.
If you find tracking your numbers too complicated, as some online entrepreneurs do, then you can go to freelance market platforms to look for a seasoned social media marketer to help you with running your paid ads.
With the help of a seasoned freelancer, you won't have to worry yourself with the social media jargon and the complexities of running a paid campaign.
They have you covered.
They know what they're doing.
And they'll be able to optimize your ads so you can get better results.
3. Overloading Your Followers
Another major mistake is pounding your followers with tons of posts and tweets without a clear theme or strategy.
If you are one of the companies that share something every few minutes … STOP!
Most followers say that anything over 5+ posts is too much and that they will unfollow a business, even if they like it.
You should really keep it to 1 to 3 posts per day to be on the safe side.
You can, under certain circumstances, break the rule of 1 to 3, but you shouldn't most of the time. If you've started noticing a decline in followers, consider the fact that you may be overloading them.
4. Not Staying Up-To-Date On Current Events
In today's societal climate, being labeled insensitive can crush your brand in a matter of minutes.
A perfect example of this would be the Papa John's debacle where the CEO decided to make comments concerning NFL players kneeling were hurting the franchise's bottom line.
The CEO was removed from the board of directors and can no longer make any decisions regarding the company.
That's fairly extreme, but it's a great example of what had to happen to fix his insensitive comments.
When using social marketing, make sure you are up-to-date on major current events. From political stories to anti-gun sentiments, to LGBTQ movements, make sure you stay on the upside by staying out of any VOLATILE current events.
And if you are using automation tools such as chatbots when a new story is affecting the news, turn it off (for safety).
As much as you can, learn from how big companies are also running their social media campaigns. Because they're established companies with deep pockets, the chances are they spent thousands of dollars just to come up with their social media marketing strategy.
This tells you that should you follow them, then your strategies would also be based — at least, to some extent — on something that's been researched and studied.
When you are updated with the current events of your industry, not only will you be able to avoid needless firefighting, but you'll even be able to relate with your audience better.
You can talk about the recent news that has an impact on them and strategically position your brand as a solution — if it's possible. Sometimes, you can just share your opinion and speak life to your audience especially if the even is causing them to be anxious.
To know how trending a topic is, you can use a free online tool like Google Trends. To give you an example of how the tool works. I entered the phrase "Influencer marketing."
This is what Google Trends came-up with.

As you can see, the topic is still pretty popular.
This tells you that if you post something about influencer marketing, you know that you're posting something relevant to your audience.
5. Sharing Everything
Another big no-no, similar to overloading your followers and becoming a repeater, is sharing everything you can think of.
Old social marketing techniques believed in the mantra of "in their face, in their minds." Because of this belief, they would post anything they could think of under their social media accounts.
What happened, over time was they lost their followers.
And you could too…
Unless it is relevant to your brand or your company message, it is best to leave it alone. Remember, you have 1 to 3 posts per day to make the best impression. Don't waste it on an unrelated meme and/or political message (which could be social suicide itself).
Think about the advocacy of your brand.
Think about the things that are important to your audience.
Post something that relates to those instead of something irrelevant and potentially harmful to your business.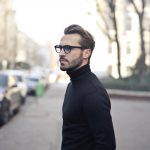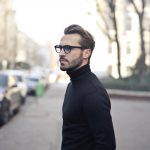 Latest posts by Ryan Bradman (see all)