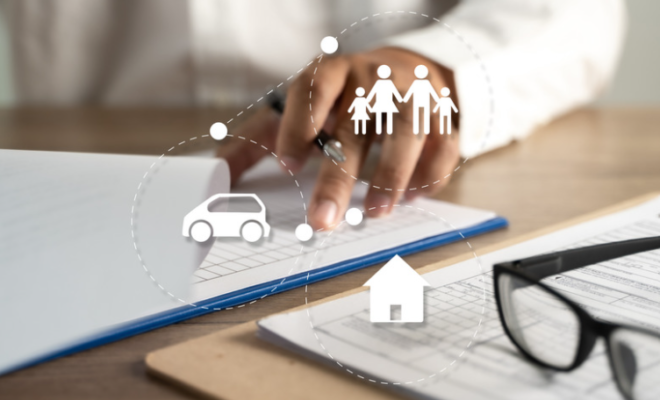 Home & Living
Life Insurance in 2022 – Top 6 Considerations
By
|
The past two years have been extremely challenging for many both from an emotional and economic perspective because of the devastating impact of the COVID-19 pandemic.
At the time of writing this article, there had been 159,839 deaths in the UK as a result of Coronavirus. This devastating statistic has led to a surge in people taking out life insurance cover to protect their loved one's financial future.
In simple terms, life insurance is a financial safety net for a worst-case scenario. You determine the cover amount you require (the sum assured), the length of time you need cover for (the term), and pay a monthly fee (the premium) to receive the protection.
If you were to pass away during the policy term, a cash lump sum payout will be issued to your loved ones to lessen the financial burden now you are no longer around to provide.
The proceeds from life insurance payout can be used as your family wish, however, commonly they help cover;
Mortgage repayments
Household bills (electricity, gas, water, council tax, broadband)
Family living expenses (food, drink, schooling, leisure activities, clothing)
Childcare costs
Funeral costs
Outstanding debt
The monthly cost of your life insurance is largely determined by the level of risk you pose to the insurer – the greater the chances of a pay out, the higher your premium.
Therefore, your age, medical history, and smoking status are integral factors when calculating cost. However, if you are young and in good health you could secure £200,000 of cover for approximately 20p-a-day.
In a post-COVID-19 world, there are several key elements you should consider before securing life insurance. We asked leading broker Reassured to run through their top 6 considerations in 2022…
Top 6 Life Insurance Considerations
1. Life Insurance With Free Gifts
I am sure you have seen a SunLife or Legal & General advert on the TV promoting a free £100 Amazon or M&S voucher?
Insurers have long used a gift incentive to encourage you to take out life insurance directly from them, as opposed to through a 3rd party, like a broker or comparison website.
But is this a good option? The answer is it depends.
The most important activity is to compare multiple quotes from different insurers as the cost of premiums can vary due to different underwriting processes. A life insurance term could last up to 40 years and therefore even a small monthly saving could add up to a significant sum and one that dwarfs the monetary value of the free gift.
In contrast, if the provider offering the gift is providing a competitive quote then it makes sense to utilize the gift.
Reassured.co.uk has published (and importantly update) this life insurance with free gift guide if you want to compare the best offers currently on offer.
2. Calculating Your Cover Amount
Another important consideration is calculating your cover amount (or sum assured).
Why? Because as a rule the greater your sum assured the higher your monthly premium (as insurers seek to mitigate their financial risk).
Therefore, take the time to calculate how much life insurance cover you need.
Consider;
Your existing mortgage debt
Monthly family living costs (food, drink, schooling, leisure activities, clothing)
Childcare expenses
Household bills (electricity, gas, water, council tax, broadband)
The age of your children (or how long until they are financially independent)
Rising funeral costs
Providing an inheritance
The impact of future inflation on all the above
If you receive a death in service benefit through your employer (usually 3x your annual salary), you may want to factor this into the level of personal cover you secure. That said, please note this benefit will not travel with you if you change employer.
The key is not to undercover yourself, therefore, leaving your loved ones financially exposed and not over cover yourself and therefore pay an unnecessarily high monthly premium.
3. Calculating Your Term Length
As mentioned above, the greater the chances of a payout the higher your premium is likely to be, and a longer policy term obviously increases the likelihood of a claim. So, again take the time to consider how long you require cover protection.
Consider;
When will the mortgage be paid off?
How long until your children are likely to be financially independent
Are your children likely to attend university?
Whether you are likely to have more children in the future
How much longer do you have left until you retire
4. Non-Disclosure; be Open and Honest
To lie or withhold important information during the application process is known as non-disclosure. Whilst this may be tempting in order to secure a lower premium, it is really important that you are always open and honest with the insurer.
It later transpires that you mislead the insurer, for example regarding your smoking status, it could invalidate your policy meaning your selfless investment was a total waste of money.
You may also be surprised to learn that insurers have the right to request access to your medical records if they are suspicious. In an absolute worst-case scenario, you could even be charged with insurance fraud.
5. Compare Different Policy Types
Above, we mention the importance of comparing multiple quotes to identify the cheapest quotes. However, it is also important to compare different policy types too, as each is better suited to protecting certain aspects of our lives and differ in cost.
For example, if your budget is tight and you only need to protect your repayment mortgage, then decreasing term cover may be a good choice. This is usually the cheapest option as the sum assured (and therefore the risk to the insurer) decreases over the policy term. It can be set to mirror your reducing mortgage balance, protecting the family home.
Alternatively, if you wish to cover the mortgage whilst also providing an additional cash lump sum to your dependants then the slightly more expensive level term life cover may be more suitable. Again, you are protected for a set term, however here the cover amount is fixed (or level) and does not decrease over time.
Lastly, if you are aged between 50 – 85 and only wish to provide a small inheritance and/or cover funeral costs then an over 50s plan could be the right policy. This option guarantees acceptance (if aged 50 – 85 and a UK resident) and no medical questions are asked during the application process, great if you have a pre-existing medical condition.
6. Secure Life Insurance Whilst You are Still Young(ish)
The most influential factor when it comes to calculating the cost of life insurance is your age. Therefore, the most cost-effective time to secure cover is when we are in early adulthood when you can lock in a super low premium over an extended term.
However, when in our early to mid-20s securing life insurance is not generally a top priority. In fact, often we only consider financial protection after a significant life event such as buying our first property or having a child. In more recent times the impact if the COVID pandemic has also been identified as being a prompt for people to take the plunge.
Why not save your future self a sizeable sum and take out life insurance whilst you are still young?
So, there we have it, the top 6 life insurance considerations in 2022 – we hope this article has been informative and helpful.
We often do not know we require life insurance until a life event forces the need for it upon us. Why not be proactive and seize the day, before getting on with enjoying life safe in the knowledge your family's financial future is secure.