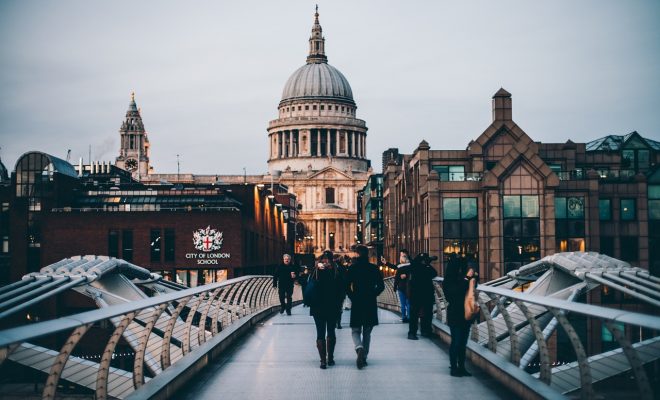 Business Tips
Revealing How the UK Workforce Would Look as 100 People
By
|
The total workforce in the UK now totals close to 30 million people, almost half the population of the entire country. The UK is a diverse place, with people from all races, religions and backgrounds coming together to form our community, but how well are these different groups represented in the workforce?
Office furniture and stationery suppliers Viking recently completed research into the makeup of the UK's workforce, aiming to increase awareness and understanding of the diversity that exists within it.
The Theory
Due to the sheer number of people making up the UK's population, it would be almost impossible to create a simple comparison of the workforce in its totality. For this reason, Viking distilled down both the UK's population and workforce to 100 people. This provides a clear visualization of where diversity exists and where it can be improved, giving a reference to the total UK population in the process.
In order to calculate the workforce as 100 people, Viking used census data from the Office of National Statistics. This was then split down into different groups that can be found in the UK's working population and worked out as a percentage of a whole. The percentages were then rounded up to give a number out of 100 for each element. This was done for both the workforce and the general population, in order to provide a comparison.
From this breakdown, we are now able to gain visual insight into representation within the workforce and areas where different groups are well-represented or where representation could be improved.
Religion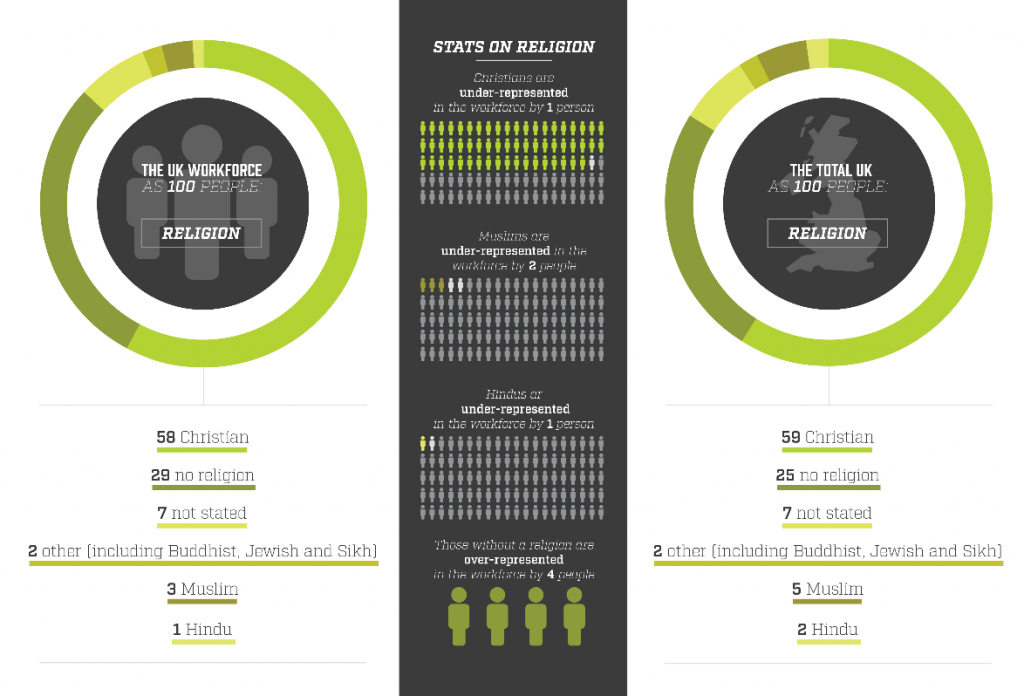 The UK is fortunate to have a rich mix of different faiths and religious beliefs, so it would be expected that this is reflected in the makeup of the workforce. In the UK's general population as 100, there are 59 Christians, this is reflected in the workforce by 58 people, an under-representation of one. The same can be said for those of the Hindu faith, where there is 1 person represented in the workforce compared to 2 in the general population.
Muslims are also under-represented in the workforce, although they find themselves under-represented by 2 people. In the general population as 100, there are 5 Muslims, with only 3 in the workforce as 100. One group that is over-represented in the workforce are those of no religion. The total UK population as 100 has a quarter of people with no faith, however, in the workforce this is over-represented by 4 and has 29 people.
Gender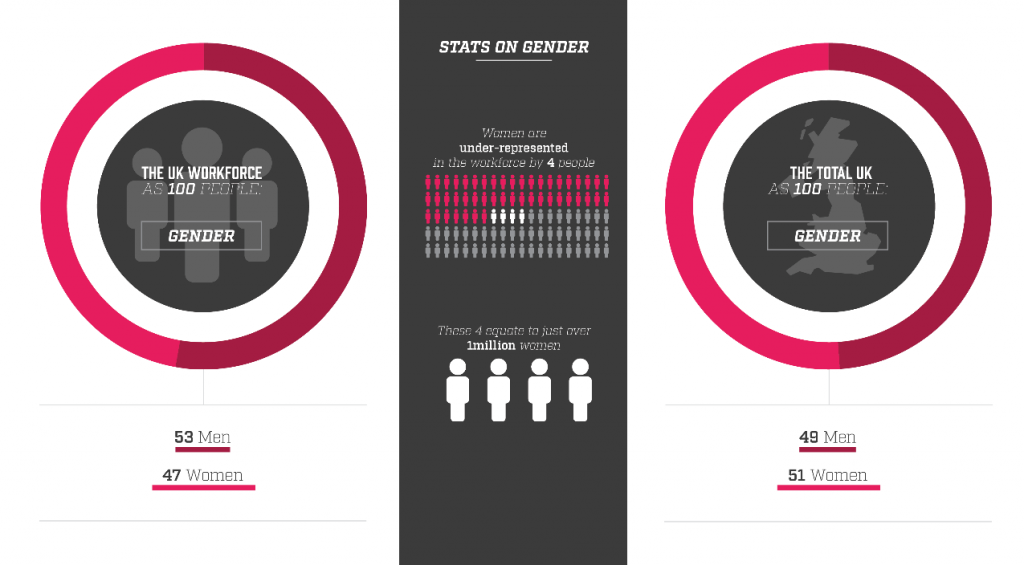 In recent years, gender equality in the workplace has become a big talking point and with good reason. The fight for equal pay and rights in the workplace is an ongoing battle, but how does the UK currently look when it comes to the split of males and females in the workforce? In the general population, there are more women than men, with 49 men compared to 51 women overall in the population as 100.
When it comes to the workforce, however, this is not reflected. There are actually 53 men to 47 women in the workforce as 100. This means that women are under-represented by 4. Although 4 may not seem like many, when this is increased to the actual figures where each person represents 269,669 workers in Britain, this under-representation equates to just over one million women and a large imbalance when it comes to gender in the workforce.
Health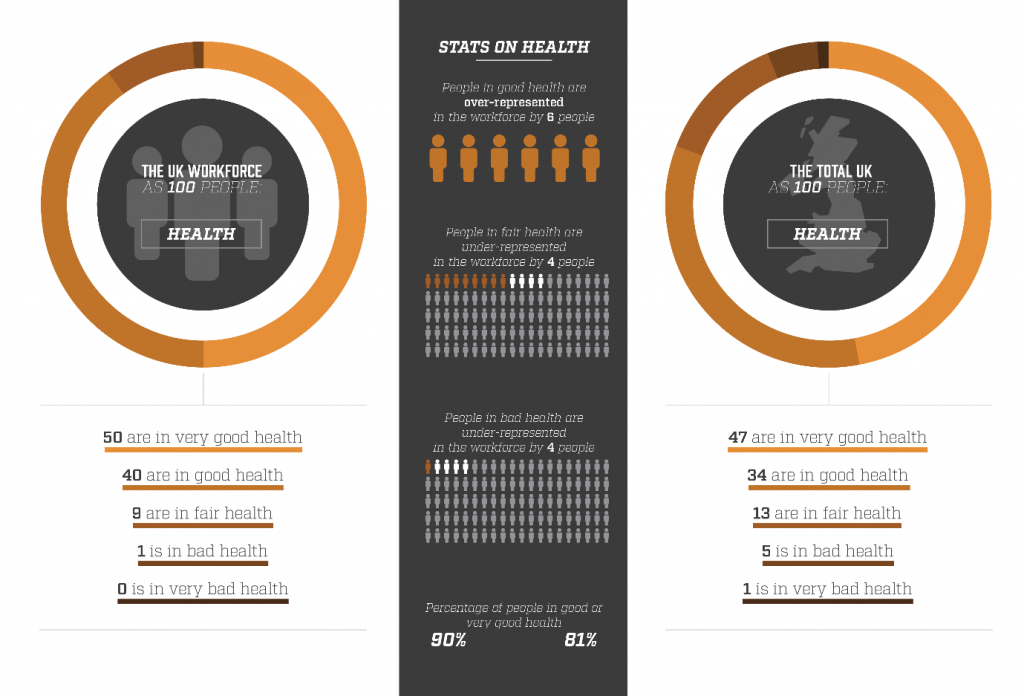 Poor health or illness can signal an unfortunate and premature end to the working lives of many people. Although some have to retire due to a condition, many people in the UK continue to work and this means that employers need to be as inclusive as possible and offer the necessary means to help workers do their job on a daily basis. In the UK as 100, 94 people said they are in fair health or better and 81% are in good or very good health.
When it comes to the workforce as 100 people, there is a clear gap highlighted between those who are in good health and those who identify as being in bad health in the workforce. There is only 1 person who identifies as being in bad health in the UK workforce as 100, meaning that people in bad health are under-represented by 4 people. Further to this, those in good health are over-represented by 6 people. This suggests that employers may not be doing enough to either actively hire those who are in bad health, or those in bad health do not feel employers are accepting of them.
Ethnicity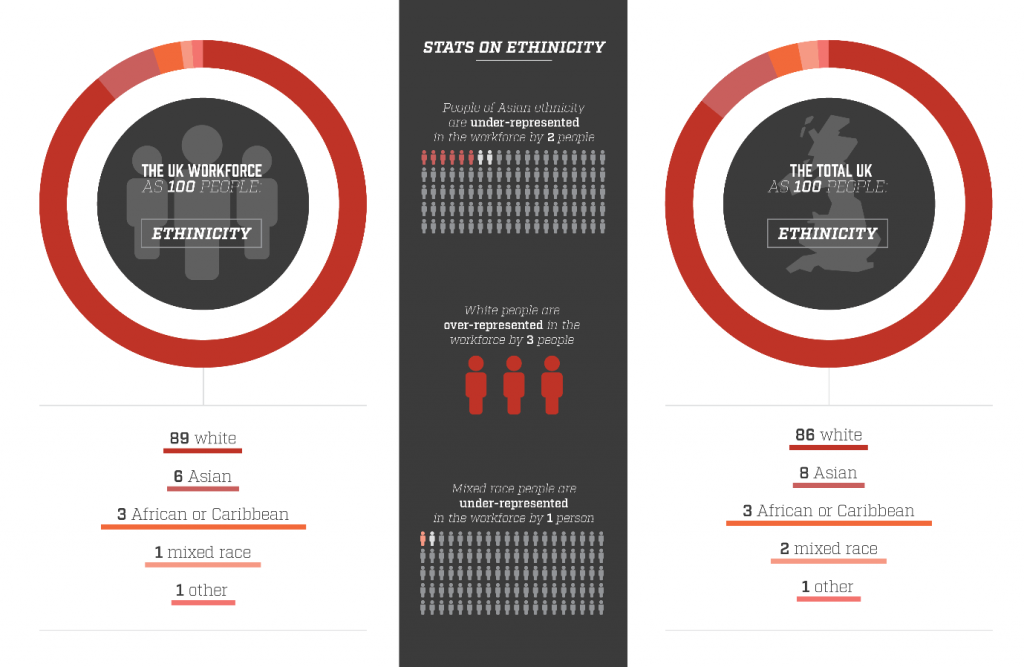 In a country as diverse and multicultural as the UK, you'd expect the workforce to show a mix of many different ethnic groups. In Britain's population as 100, there would be 86 white people, with 8 Asian, 3 African or Caribbean, 2 mixed race and 1 other, showing a broad range of diversity.
When it comes to the workforce as 100, there are clear areas for improvement. In the breakdown, white people are over-represented by 3 people, whereas people of Asian ethnicity are under-represented by 2 people and people of mixed race are under-represented by 1 person. The gaps exposed here are by no means insurmountable but do provide an area for focus when it comes to improving diversity in the UK workforce.
How to Improve your Workforce Diversity
Hopefully, these visual representations make it easier for employers to see exactly how the UK's workforce is made up, and prompt them to think about diversity issues in their own organizations. Rather than take dramatic and potentially damaging steps to address any issues within your workforce, there are numerous things you can do to ensure a nurturing environment for any employee.
Set the Environment
If you're hoping to close some of the gaps when it comes to under-representation in your workforce, it's important to look at your business from the perspective of a potential employee. Here are a few things to bear in mind:
Do you have the appropriate access for disabled employees such as ramps and lifts?
Is there a private place for prayer? This can be important to followers of certain religions who might require this throughout the day.
Is office furniture adaptable to those with different conditions?
Do you have toilet facilities for those with disabilities?
These are just a few of the questions that any employer should be asking themselves when it comes to the suitability of their office to address any imbalances. It's not just the physical layout of an office that needs to be right in order to attract employees, the atmosphere and culture of a workplace can play a big part, for instance:
What kind of social activities do you engage in? If work socials are purely alcohol-related, you're likely to put off those who don't drink.
Do you have any issues with bias within your current workforce? Try running an anonymous survey with your team to establish the current attitudes and uncover any underlying issues.
Recruitment
Once you have the right environment in place, you're set to examine your current recruitment strategies. Proactively considering any imbalances within the workforce can help you attract the right people and address any issues within your business.
Start by looking at how you word any job adverts. Does the language include any words that could be considered male-oriented? Adverts should be inviting for anyone with the relevant skills to apply, regardless of their background, so bear this in mind when writing.
Similarly, think about where the job advert will appear. Women tend to search for jobs on digital platforms, whereas men focus on LinkedIn listings. Having your job advertised across numerous sites will help you attract these different applicants.
As an employer, identifying issues and taking proactive steps is not just an important part of being a good employer, it plays an important role in helping ensure the UK has an inclusive and diverse workforce.