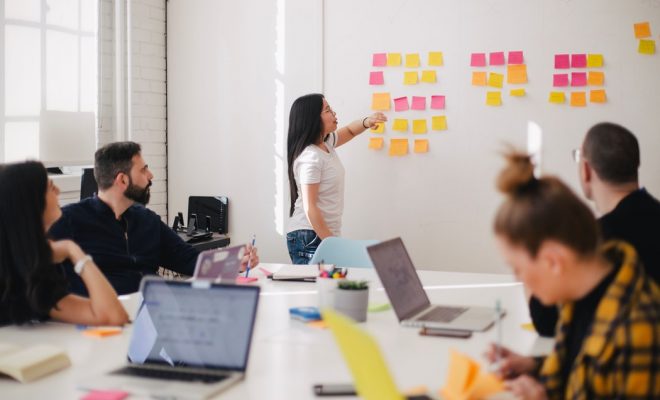 Business Tips
What is Gumtree and How it helps your UK business?
By
|
What is Gumtree and How does online advertisement website helps UK business
You may have come across the site Gumtree and might not be sure what Gumtree is about or how it works. Gumtree, also known as Gumtree.com is an online classified advertising and community website based in Britain.
In November 2010, it was the largest website for local community ads and classifieds in the UK. It was also among the top 30 sites in the United Kingdom, with nearly 15 million monthly unique visitors according to a 2010 traffic audit.
It is the top classifieds website in UK, Australia, Singapore and South Africa.
Gumtree was founded in early 2000 by Michael Pennington and Simon Crookall. It was started as a local classifieds ads and community site in London. It was started to enable Australians, New Zealanders and South Africans who had arrived in the city to help them move, find places to stay, find employment or just meet new people.
The term Gum tree was coined from an Australian phrase used by locals for the Eucalyptus tree. It was chosen to link the communities in the UK, Australia, New Zealand and South Africa.
In spite there being different varieties of gum trees in all countries, the founders believed the term would reflect the branches and deep roots of the community.
It is used by about 1 in 3 adults in the UK each month and has over 1.5 million ads on the site at any one time. It is an ideal place to buy and sell second-hand goods and cars while looking for jobs, property for rent or to buy. You can also find professional services on the site, community events and a lot more.
It is estimated that 33% of the UK digital population use Gumtree each month and the Gumtree app has been downloaded over 16 million times.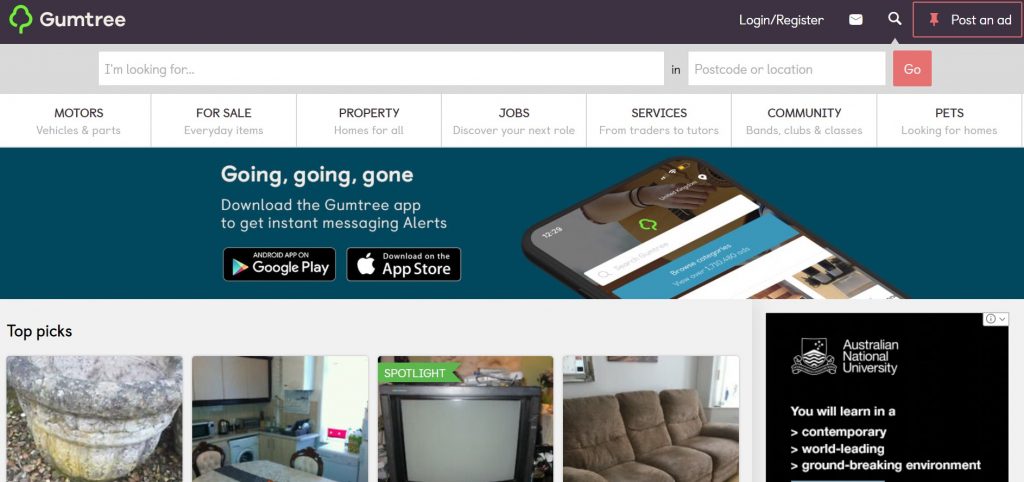 History
In 2005, eBay acquired Gumtree and 3 other classifieds sites for slightly over $80 million with Gumtree being the biggest company of the 3 which included LoQUo and Opusforum. By the time of this acquisition, Gumtree was available in cities across the globe including the UK, France, Australia, Poland, Canada, Ireland, New Zealand, Hong Kong and South Africa.
In 2004, Gumtree launched a site in Warsaw, Poland. In May 2005, it was launched in Berlin, Germany and in June, Gumtree expanded into Rome, Milan and increased it coverage across 30 cities.
In 2007, Gumtree set it sites to the United States targeting the expat communities based in New York, Chicago and Boston. It intended to reach over two million British, Polish and Australian expats in the United States.
Early 2016, Gumtree rebranded and was available on a number of apps. It has an impressive social media presence on Facebook and Twitter with over 450,000 followers and 35,000 followers respectively. It makes use of social media to share information and news about the company as well as launching promotions and competitions to encourage new listings while driving users to the site.
Gumtree is mainly a free listings website where users can post their free ads. There is an option for paid promotions for users seeking heightened advert visibility. Any user can pay a fee to bump up their adverts in the listings for added visibility.
Over the years, Gumtree has extended its services to business people by selling classified advertising packages to companies and businesses looking to post multiple properties and job vacancies.
In 2013, they offered bulk classifieds listings to dealers selling cars. 2010 saw the launch of Gumtree Media to offer services to its business clientele. With over 2 million ads listed on Gumtree at any time, it is a great site to find what you seek and find a buyer for your goods, property or cars.
Video Source – Gumtree
How Businesses can benefit by using Gumtree
Gumtree is a great tool for any business to use. This is due to the fact that online classifieds sites are becoming increasingly popular especially for small and medium business enterprises as a way to source for business, sell their wares and find the right people to fill vacancies. They give businesses an affordable platform to advertise. With the increase of online trade, Gumtree has made it even easier for people to access services and products. This is why it's important for every business to have a strong online presence. With the high costs of advertising, not many businesses can afford to run full-scale digital campaigns and this is where Gumtree comes in.
It is an affordable way for businesses to post their services and products while reaching a global market. This gives businesses an added advantage of being able to reach millions of users every day.
The online market research stats
According to Gumtree statistics, businesses and individuals are missing out on over £6.5 billion in savings due to lack or poor negotiating skills especially when buying online. This is about £497 per person that every person can save on yearly. These statistics show there has been a rapid growth in the resale economy and Brits are starting to see the value of buying preowned items.
More statistics show that about a fifth of the people interviewed (18%) stated they have never used an online marketplace where 29% admitted to preferring using websites they've used before.
What are some of the tips business people who have used Gumtree over the years shared?
The quality of the photo matters – Posting a clear photo of your items goes a long way in showing users what to expect and what they are buying.
Highlight defects – If items have any issue or defects, it is best to share this information well in advance to avoid duping clients and to maintain your reputation.
Promote your ad – Placing an ad is the first step to get your ad noticed, it is a good idea to promote the ad to get even better leverage
Share your location–sharing your precise location helps the app find buyers in your location so that you can make a sell quickly in your precise location.
Follow up on leads quickly – if anyone makes an inquiry, it is best to respond immediately or as soon as you can to avoid losing a potential customer. Give the person a call soonest, it depicts professionalism and good customer service.
Effective Buying and Selling skills on Gumtree
Video Source – Gumtree UK
To help buyers and users on how to effectively
buy and sell online
, here are a few tips that you can use when posting on
Gumtree
and how you can deal with customers effectively.
Do your research to find a reasonable price to be able to sell your goods at a fair and realistic price
Advertise your goods with photos and words to describe the product in detail to give users a realistic view of what benefits the product offers.
Be honest. Share the facts as is, don't exaggerate to make the items appear to be something they aren't. If there are any defects or issues with the item, share this too to avoid giving false information to potential customers.
Respond quickly to any inquiries to show good customer service skills and professionalism.
Agree on a time and place that works for both parties. This ensures you're both able to keep time and ensures a win-win scenario.
When doing business, focus on the objective (making a sale and giving customers value) rather than focusing on the customer's personality.
Upon meeting, don't be embarrassed to count the money or give the item a thorough check before paying to ensure that everything is in order,
Categories
There are a number of categories for different users. Some of which include Property, Services, Jobs, Community, Motors, Pets and For Sale categories.
How to Use Gumtree.com;
Go to Gumtree.com or use your browser to search for "Gumtree" and it should be the first result on the search list. Using your iPhone or Android Smartphone, you can download the Gumtree app on Google's App store. Click the app and install the app.
Create a username and password. To post an ad on Gumtree, you need to have an account. Create a user name and choose a password suitable for you. You can choose to give a name that gives you some anonymity or you can choose a nickname or a variation of your real name. If the username of your choice has already been taken, you can add some numbers at the end of it to own the name. Be sure to choose a password that you can remember and one that is strong. This means the password should have a combination of letters, numbers and symbols so as to make it difficult to guess.
Include a profile photo – it's a good idea to add a picture of something interesting or catchy to add legitimacy to the profile and make it stand out. Profile photos add appeal to buyers and attract buyers to your profile and make your ads stand out. Choose photos that are striking and add some personality to your profile. Keep in mind that having a profile photo is not mandatory.
Select the category for the item you are selling. For example, if you are selling a home appliance, you can choose the 'Home and Garden' category. If you are selling a laptop or desktop, you can choose the 'Computers and Software' category. It is a good idea to add subcategories like 'Electronics' in the 'Computers and Software' to better describe your item to make it easier for buyers to search and find your item. There is the option of filling in the 'Tell us what you are posting' tab which allows you to type in what the item is and describe it and the site will then categorize if for you.
Share location – it is important to share the location where you are selling the item by sharing your postal code. This allows for buyers to search for items within their location and buyers can then share thins information with potential customers. It is important to note that your postal code and location will not appear in the ad. The site uses your postal code to share your item to buyers in certain locations looking for specific items.
Share a detailed description of the item – be sure to share the type of item you are selling, share features of the item, share the material it is composed of, what condition it comes in and added features like measurements, colour and other features to describe the item fully. You can also share a reason to why you are selling it. Its important to be honest and not lie when describing to oversell the item. If there is damage or an issue with the item, it is best to share this information first upfront so that buyers can be fully aware of what they are buying.

Choose a great photo – take clear photos of the item. You can take several photos and choose the very best one that shows the item in a focused and clear way. It should not be blurred or out of focus. Take the photo in good lighting so as to give buyers a clear picture of what the image looks like. Good photos encourage buyers to reach out to you while fuzzy or poor-quality images put off interested buyers. It is also advisable to take several shots of the item from different angles. You can take photos of the sides, back and sides as well as taking long shots and wide shots of the item while paying attention to any special or unique features. The better the photos, the better your chances of attracting prospective buyers and selling it.
Share the price – its vital to let users know the cost of the item. If you want to sell it at a fixed price, indicate 'Firm' or 'No negotiating' for buyers to know that this is the final cost. If you are willing to negotiate on the cost, you can put down 'Or Best Offer' or the abbreviation 'OBO'.
Give your ad a title – Use a short, catchy, attractive description as the title to attract buyers. Show your item in the best light by adding descriptions like Rare, Unique or Great Deal if this if your item falls under this description.
Post the ad – once you have chosen the category, shared a detailed description, shared great photos, the price, location and given your ad a good title, then you are ready to publish your ad. It is free to post ads on the site and you can respond directly to buyers through your Gumtree account. If using the app, you can chat one on one with buyers. 
How to engage buyers on Gumtree;
Here are a few tips on how to engage buyers
Respond to buyers quickly to avoid losing the buyer. Through the Messages tab, you can keep track of all conversations and follow up on any inquiries.
Answer questions posed by buyers – it's good to get back to buyers on any questions they may have. Be short, concise and help them make a decision to purchase. Be friendly and polite in answering questions to encourage buyers to make the purchase.
If you get more than one offer, take the best offer. If you get multiple offers then you can pick the offer that offers the best value. You can let other buyers know that the item has been sold.
Make payment arrangement– it is a good idea to be paid in cash for the item in person. Arrange a pickup place that is convenient for you like a nearby parking lot and if you offer to deliver, agree on a drop off point with the buyer. Always get the cash for the item first before handing over the item. For added security, you can bring along a friend and agree to meet in a public place.
Summary
The benefits of using an online market place like Gumtree includes the wide range of items on offer, the favourable pricing, and the convenience of being able to find rare items locally.
It is a great place to find unique items, sellers can also sell their items and find them a home elsewhere.
Frequently Asked Questions about Gumtree – FAQ's
How long does an ad run in Gumtree?
An ads lifespan depends on the category it is in.
For Ads in the Property, Services and Jobs section, the ads are live for 60 days.
For Ads in the Community, Motors, Pets and For Sale category, the ads will be live for 30 days.
When the ad's time runs out, Gumtree send users an email notification stating the ad is about to expire. Users can then decide to reset the clock and add more time for the ad to remain live. If no Bump up is applied and the time expires, then the ad will be removed and moved to the 'Inactive Ads' list.
How to advertise on Gumtree?
You can just sign up for the Gumtree directory and update your profile details. Once the account setup has been done perfectly, select the category of the item which you are selling, add the title, description, location, price about the product that you are selling and add the nice image of the product. Once this is done, you are ready to post the ad.
How to get leads from Gumtree?
Once you have posted the ad, then you should be always available to respond to the user's queries on Gumtree quickly. Also, you should be answerable to the questions posted by the buyers. All these will help you get some conversions for your business.
What kind of products/services I can sell on Gumtree?
Using Gumtree, you can buy/sell products related to automobiles, real estates, all kind of professional services, etc. You can even post job requirements in Gumtree.